Registering at Unibet
Unibet is a sportsbook that operates on an international level, with availability in countries like Australia, Belgium, France and the UK. The company opened its first sports betting site in New Jersey (and the US) on September 10, 2019. Since then, Unibet has expanded its sportsbook into Pennsylvania as well.
The sportsbook in New Jersey offers nine sports to bet on including some less common sports like darts and cricket, however, the popular American sports like baseball, football and basketball are of course available on the site. 
Unibet NJ comes with a variety of lines like moneyline betting, point spreads, totals, futures and live betting. In order to begin playing at Unibet, you first need to create an account and make the first deposit. You can read our full review of Unibet in our sportsbook reviews section.
1) Step One: Sportsbook Registration
The process for registering an account is much simpler on the Pennsylvania site. From there, only two steps remain. On the New Jersey site, there will be a little bit more to the process, however, registration is still quite straightforward. 
To begin the New Jersey registration process, there is a yellow button labeled 'Join Now' at the top right hand of the screen. After clicking on this button, you will begin the registration process.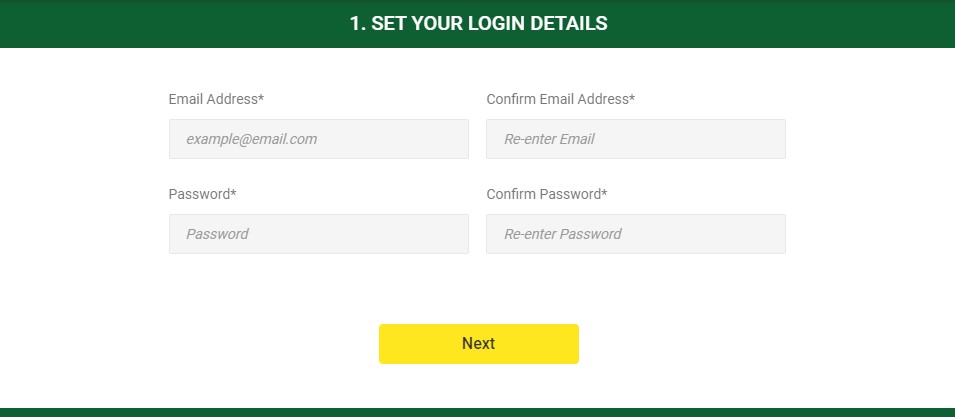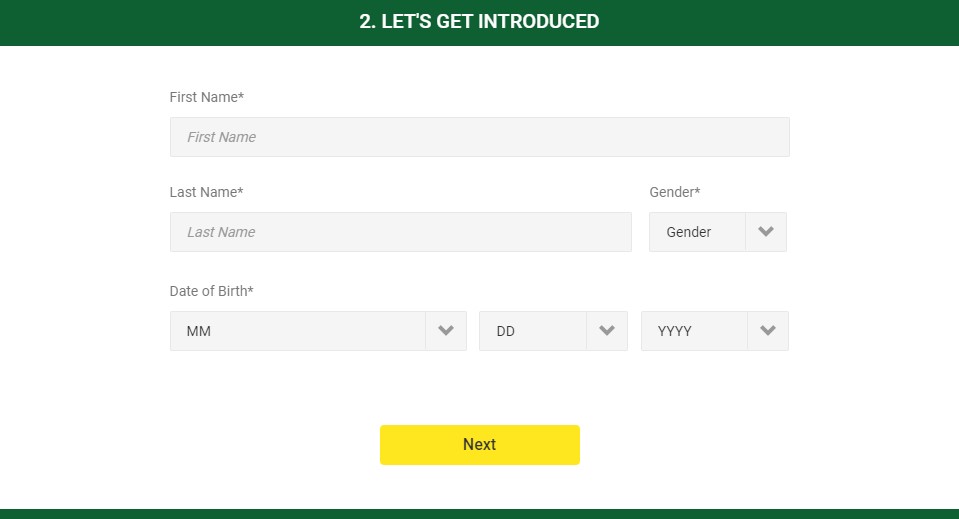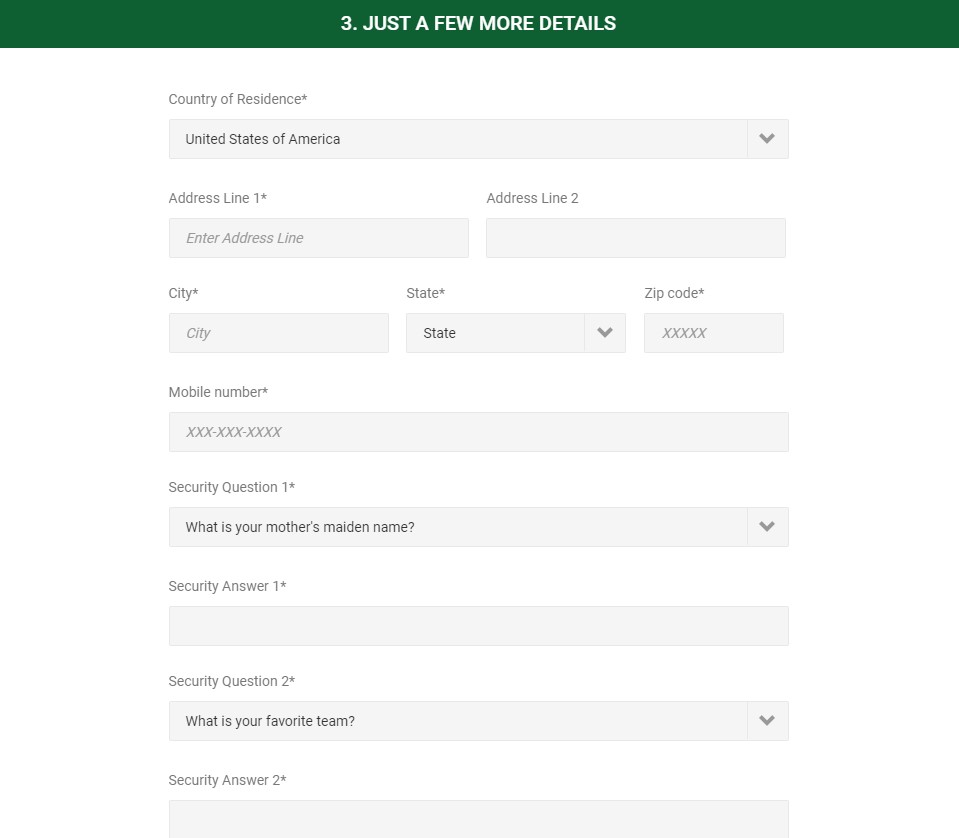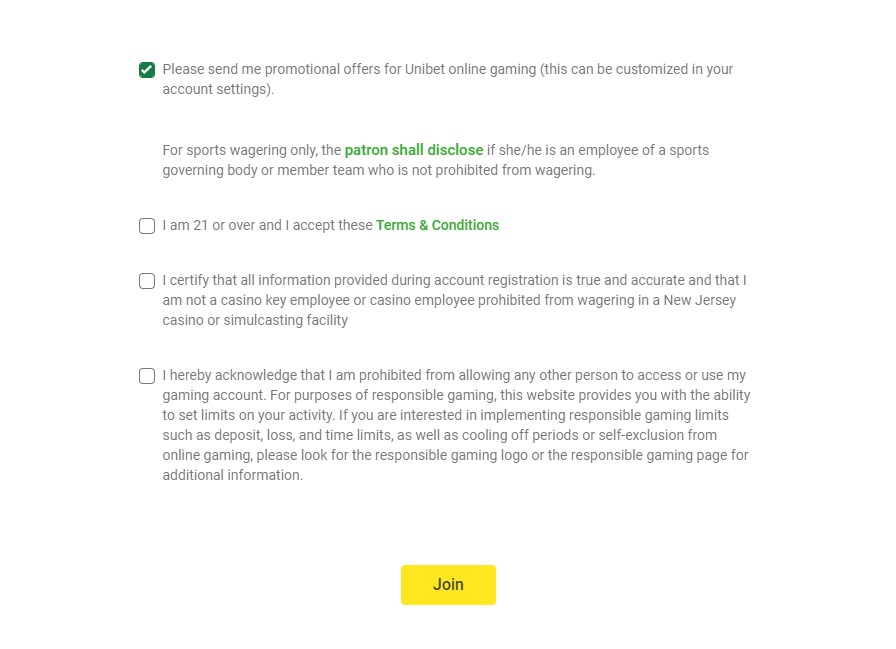 During the registration process, you will need to correctly enter all information required. This means real names, addresses, contact information, etc. If you fail to enter something accurately, this could result in you not being able to sign up for an account at Unibet.
The process towards creating an account at Unibet is a fairly easy one. There is one page that the player will need to fill out, which is divided into three sections. 
You will need to complete three outlining sections:
Login Details (Username, Password
Personal Information (Name, Birthday, Gender)
Additional Information, Terms and Conditions
The first two sections are extremely easy and will only require a couple of minutes at most to get through. They match up with just about any other website signup, asking for your name, birthday and gender as well as have you create a username and password that you will use for your account.
Your birthday is important, as you are not allowed to gamble in New Jersey if you are under the age of 21. When completing your registration, you will need to adhere to both Unibet's rules for its site as well as New Jersey's laws concerning its brand of sports betting.
After creating and answering a couple of security questions, you will be prompted to enter in any bonus codes that you may have. Bonus codes are not always necessary, but they can be found in the bonuses' descriptions on the Unibet sportsbook.
These codes will instantly add the related bonus to your account once you have completed the requirements for it. If you do not enter the bonus code during registration but still would like to receive it, the recommended option would be to talk with Unibet's customer service. 
2) Step Two: Complete Registration - Unibet and New Jersey terms and conditions  
The main two things of concern during registration for a sportsbook are your age and your location. The first state that Unibet started operations in was New Jersey so they will need to abide by New Jersey's sports betting laws. 
Sportsbook rules do not have much variation between the states, although with regards to betting New Jersey will have more relaxed rules than most other states outside of Nevada.For the terms and conditions as well as identification you will adhere to both federal law and Unibet's own rules.
There are a few boxes at the end of the registration outlining key points that you will need to agree to: 
Must be over the age of 21 – In the state of New Jersey, you must be 21 years or older in order to legally gamble. These are state laws, therefore any sportsbooks that open up in either of these two states will need to enforce this. Unibet will use your Social Security Card or driver's license in order to verify your age.
Key employees -  If you are a key employee of the casinos that Unibet operates out of or any other casinos within the states who are prohibited from gambling. Unibet does this to ensure that no employees are illegally profiting from their respective workplaces. If you are a key employee but for some reason or another eligible to bet, you will need to fill out an application disclosing this fact. This can also apply to members of a sports governing body or team member in New Jersey, with the process remaining much of the same.
Geolocation -  The federal law pertaining to sports betting states that you must be within a state's borders in order to gamble in that state. Unibet will verify your address through a form of identification, however, in New Jersey Unibet will also verify your location using geolocation verification services. This will check your exact location each time you log in to the mobile app and periodically throughout use.
In every state you bet in, these are the three things you are going to see the most when registering at a new sportsbook. Finishing off there are two optional boxes and one required that you need to check before finishing registration. These will not take much time and are all quite simple.
The required box and will ask you to acknowledge that you are the only one who is able to access your account. This is pretty self-explanatory, simply do not allow anyone else to use your Unibet account at any time.
As we stated earlier, verification of your information will be done mainly through the use of the player's social security card, however, Unibet may ask for additional documents if they deem it necessary. The user's location will be continuously verified through geolocation services.
3) Step Three: Deposit into Your Unibet Account
Before putting wagers on games, you will need to make your first deposit on the site. Unibet does have bonuses available for creating an account that will enable you to play, however in order to bet real money with no specific terms and conditions or requirements, you need to make a deposit.
After completing the registration, you will be prompted towards making the first deposit. If you come back to deposit at a later time, you can find the 'Deposit' button where the 'Register/Join Now' button previously was. The minimum deposit at all times (except for specific bonuses) will be ten dollars.
Of all the different deposit methods, Unibet NJ has these available:
Mastercard
Visa
PayNearMe
PayPal
Play+
ACH/ Online Banking
VIP Preferred E-Check
The deposit methods are the same with one addition in each state. In New Jersey, you will also be able to deposit money into your account at the Hard Rock Casino in Atlantic City. In New Jersey, there are also over 27,000 PayNearMe locations available throughout the state at stores like 7-eleven and CVS Pharmacy.
After you choose your preferred method of deposit, you will then need to fill out the relevant payment information and select how much you want to deposit. From there, the deposit may take some time to register but is usually instantly added to your account. After this is completed you are finally able to begin making bets.
4) Step Four: Making Bets
The sports betting at Unibet is very enjoyable and the company's experience shows. The available sports are listed on the left side of the screen.
There is a section for popular sports to bet on at the time and then a section with all of the sports below it. There are a couple of differences between Unibet New Jersey and the sports that they offer in states like other states like Pennsylvania.
New Jersey Exclusive Sports:
This means that if you want to bet on cricket, you will only be able to do this on the New Jersey version of Unibet. However, the most popular sports remain the same throughout the different states.Bets on football, basketball, baseball, soccer and tennis are available on both sites. Hockey is not available yet on either site but is expected to appear before too long.
Both sites feature the same outline and design with a yellow and green color theme. Upcoming and trending events will appear on the center of the screen with the main odds for these games.
Making a Wager on Unibet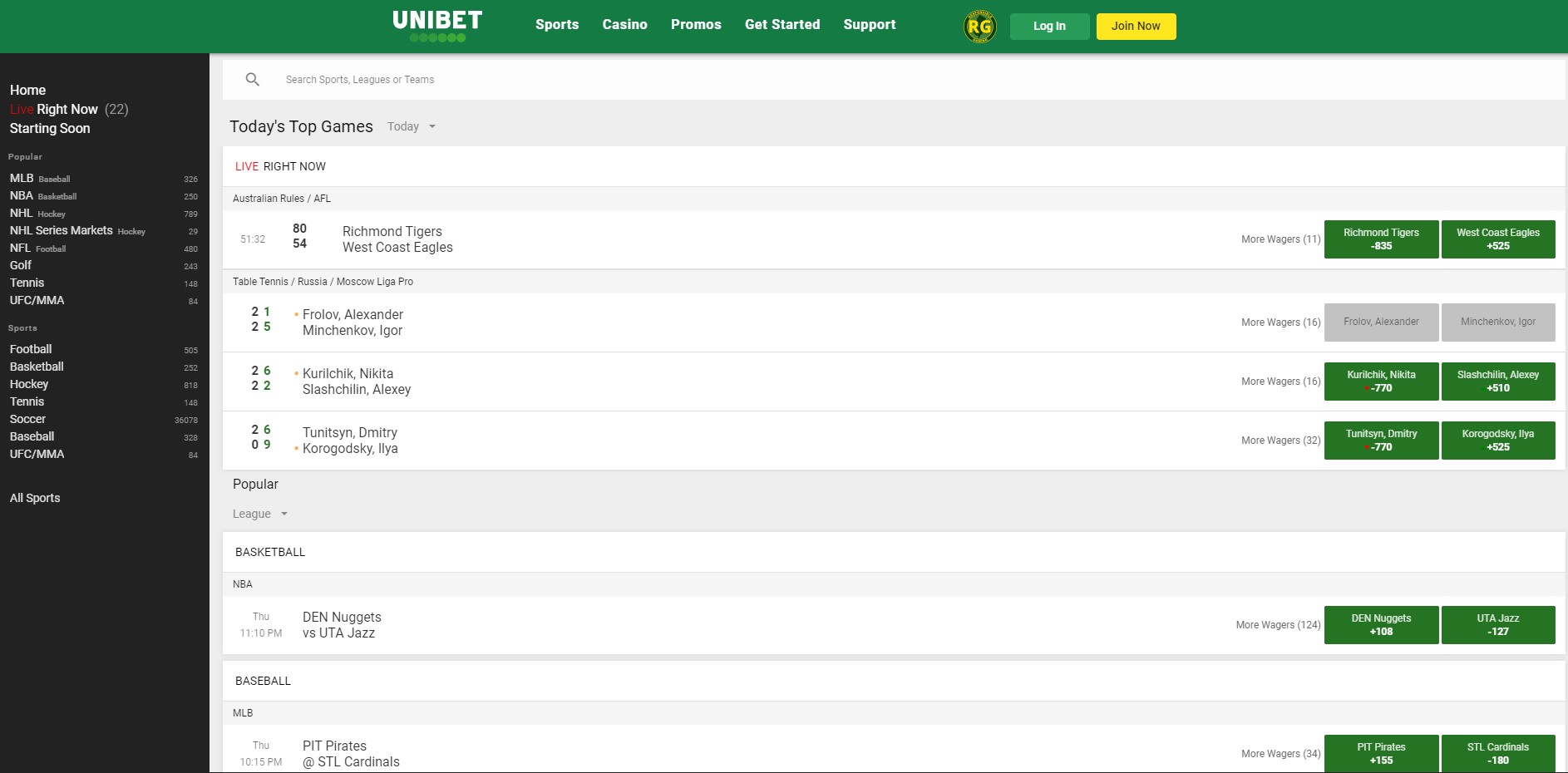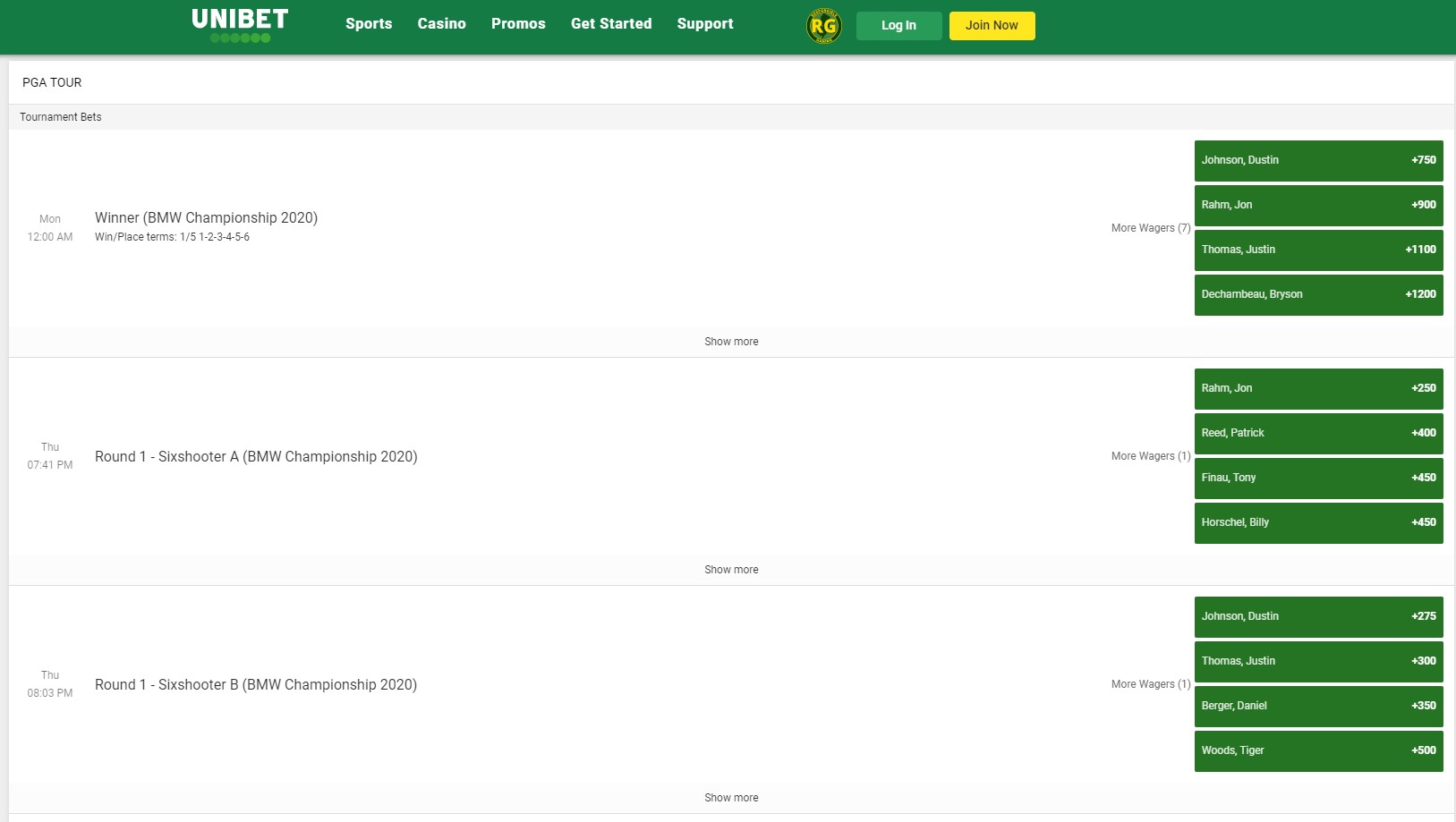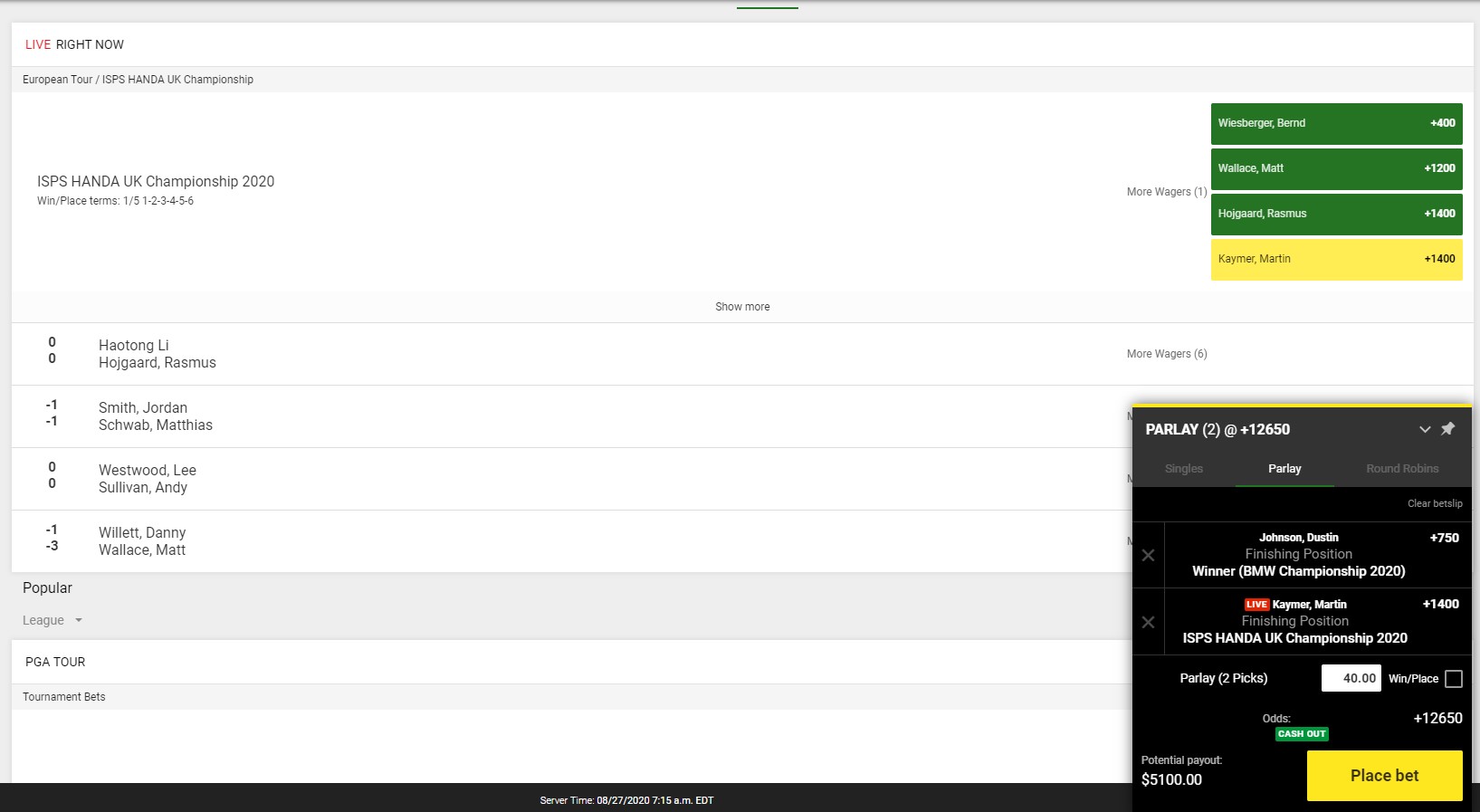 In addition to prop bets, moneyline, totals, futures, and point spreads there is a section on the sites for live betting, called 'Live Right Now'.
Here you can see all of the current games being played and make quick bets on them by clicking on the odds and entering the stake in the bet slip. The lines for all of the games will also be available after clicking on the game's title, and you can follow each game with Unibet's match tracker.
It is important to know that Unibet Sportsbook in New Jersey will have more lines and games available on its site not just in the live section, but in general between the sites. There are mobile apps available for both sites that can be used on Android and Apple devices.
5) Step Five: Making Withdrawals
After playing on Unibet for a while and hopefully building up a nice profit, you will at some time wish to withdraw your money.
Withdrawals can be made at any time for real money transactions, while bonus money or winnings will have special requirements before being withdrawn. You can make withdrawals by clicking on the cashier button and selecting withdrawal.
The methods for withdrawals currently available are:
Bank Transfer
Play+ Card
PayPal
Withdrawing through PayPal is only available to the player if they have previously made a deposit onto the site through PayPal. The minimum deposit regardless of method is ten dollars. 
Every withdrawal made will be reviewed by Unibet within 72 hours. Depending on some things like which method you used to deposit, you may need to provide additional documents when making a withdrawal.
These can include bank statements, credit or debit cards, proof of address or a photo ID. You may also be required to verify a list of previous deposits to your account. If necessary, this must be done within 14 days or the withdrawal will not go through.
Unibet has mobile apps available that work in all states that the sportsbook operates in. They can be found for both Apple and Android devices. On both sites, you can find a section that will help you to download the apps. You can go directly from Unibet to download the Apple version of the app.
For Android users, you will need to download the app directly from Unibet's site. You can do this by going to the site on your mobile device, temporarily allowing unknown sources in your setting and then clicking on the link that Unibet provides.