Registering at BetMGM
MGM is one of the biggest and most well-known names in America. You can find it on hotels, resorts and casinos in some of the biggest US cities. The company is always on the forefront of the entertainment industry, and this explains the quick progression and expansion of BetMGM.
Through its hotels and casinos, BetMGM automatically has access to licenses in 16 states. So far, BetMGM has opened its sportsbook in multiple states including Indiana, Michigan, Nevada and of course, in New Jersey. The company went live in New Jersey on September 9, 2019.
The sports betting at BetMGM is unsurprisingly combined with casino and poker sections that are also available after creating an account.  The sportsbook however is more than ordinary as it includes lots of different sports to bet on as well as up to date odds and lines for all events. 
1) Step One: Sportsbook Registration
To get started betting on BetMGM, you will need to create an account first. When you get to the site, you will see a 'Register' button in the top right corner of the screen. Clicking on that will get you started creating an account. 
(Signing up on the BetMGM Sportsbook can be completed from any US state, however to actually make bets you will need to be physically present in the state you are betting in)
Registering a BetMGM Account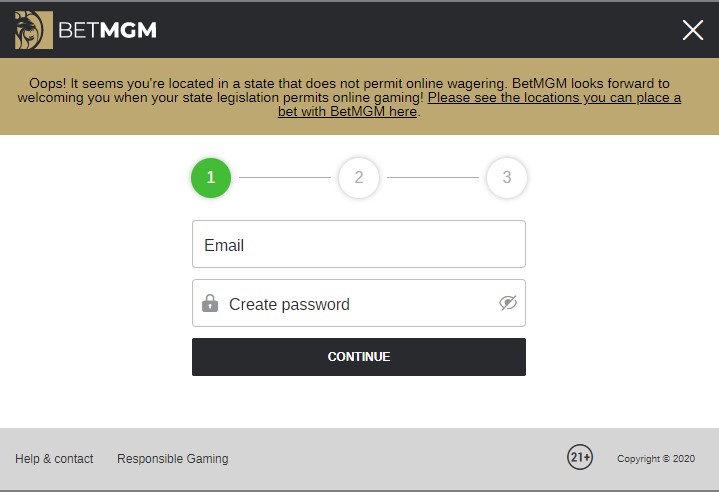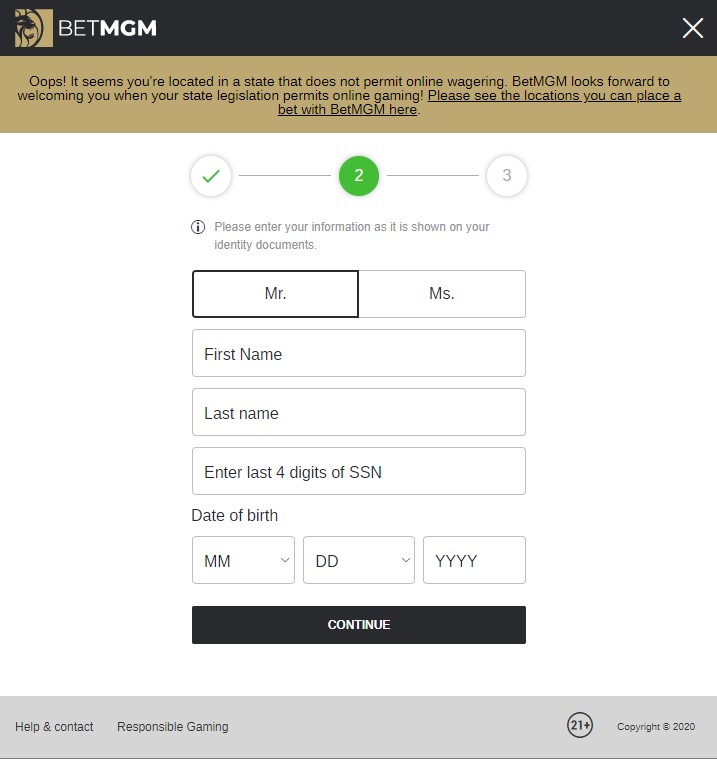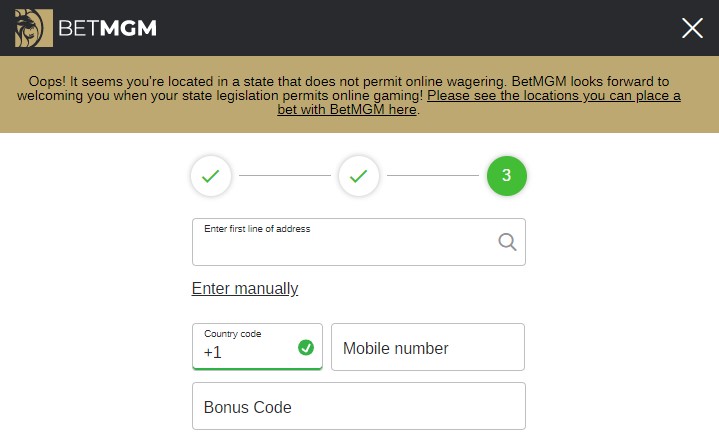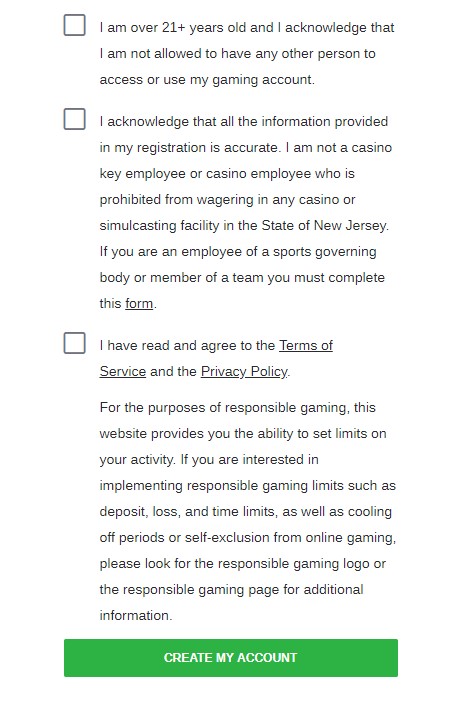 Before beginning the registration, make sure you are at least 21 years of age and live a legal sports betting state. The second one is not as important, as you will still be able to create an account, however you will not be able to make a bet. 
Beyond those two things, you should carefully enter all information requested in the registration process as accurately as possible, with no mistakes. The information you enter will all be used to verify you as an eligible player in accordance with New Jersey and federal rules and regulations regarding sports betting. 
There are four sections included in the registration process:
Personal information
Account information
Address
Terms and conditions
After filling out these sections correctly BetMGM will verify your information and contact you with an approval. Once you are approved you can then deposit into your account and start playing. We will go through the key features of betting on BetMGM and the main points throughout the registration process.
2) Step Two: Complete Registration - BetMGM and New Jersey Terms and Conditions
There are three sections within the BetMGM registration process. The registration will be nearly identical between all states, although you may find subtle differences. As a whole the process is very straightforward, and should not last more than ten minutes. 
First Section - Personal Information (name, email address, date of birth)
Second Section - Account Verifiation (documents, last four of SSN)
Third Section - Location (Address, information on geolocation)
The first one is simple enough. You are agreeing that you are 21 years of age or older and that you will be the only person who accesses your account.
When you create an account you are in charge of making sure you are the only one who uses it. If you find that someone else has accessed your account, you should immediately reach out to the customer support at BetMGM.
When you create an account you are in charge of making sure you are the only one who uses it. If you find that someone else has accessed your account, you should immediately reach out to the customer support at BetMGM.
Next, you will need to confirm that you are not a key employee who has been prohibited from betting at BetMGM. These include employees of the casino, households where an employee lives or any key employee of a sports governing body or sports team and agree to the terms and conditions as a whole.
Key employee could mean coaches, players, owners, etc. If one of these positions applies to you but you have permission to make sports bets, you will need to disclose that information by filling out a short application stating your name, occupation and league or sport. There is a link to this form within the boxes' text. 
3) Step Three: Deposit into your account
The last thing you will need to do before betting on BetMGM is to deposit money into your account. You can make a deposit by logging into your account and going to the banking section of the site. This is done in the casino portion of the site. If you log in to the sportsbook there should also be a cashier section that allows you to go to deposits. 
BetMGM Payment Methods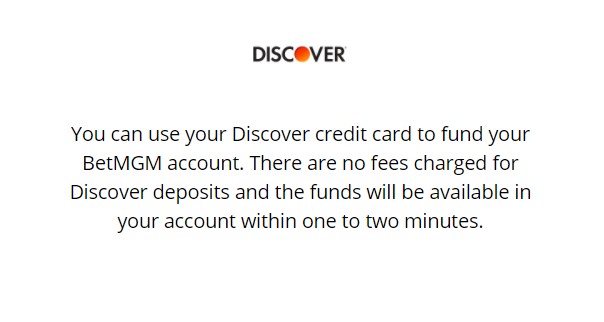 The amount of deposit methods available on sportsbooks vary with each one. Luckily, there are a large number of methods for deposits on BetMGM. The sportsbook has some of the most common methods as well as some more unique ones
Deposit methods on BetMGM:
VIP Preferred

Play+

Visa/Mastercard

PayPal

Online Transfer

PayNearMe 

Skrill

Borgata

American Express

Amex

PlayMGM/BetMGM Play+
Like many other sportsbooks with casinos, you can also make cash deposits at the physical locations. There are plenty of different physical locations for BetMGM, many of them located at the company's own properties. 
For BetMGM NJ, you can deposit cash at the Borgata Resort in Atlantic City. Doing this will require some form of identification with you. You will also need to already have created an online account at BetMGM. If you live close, this may be the best option as funds will be available instantly after approval. 
The PayNearMe option also gives you the opportunity to deposit funds when you are on the go. PayNearMe payslips are accepted at 7-Eleven stores throughout New Jersey. To deposit using this method, you need to enter the amount you want to deposit and then click on generate payslip. Then take this payslip to any authorized 7-Eleven store and give it to the cashier. 
4) Step Four: Making Bets
Betting on BetMGM is made very easy to do, and with all of the options available for playing like the casino and poker sections it is nearly impossible to get bored. Lots of different lines and betting markets are available such as over/under totals, moneyline, handicaps, live, double chance and more. 
The sportsbook itself is incredibly vast. Expect lots of different betting lines for things like totals, handicap and correct scores for major games. BetMGM also has all of the major American leagues and sports available as well as a large collection of sports that range from moderately understoof to completely unknown. Overall, a great selection of sports and betting markets are available on BetMGM.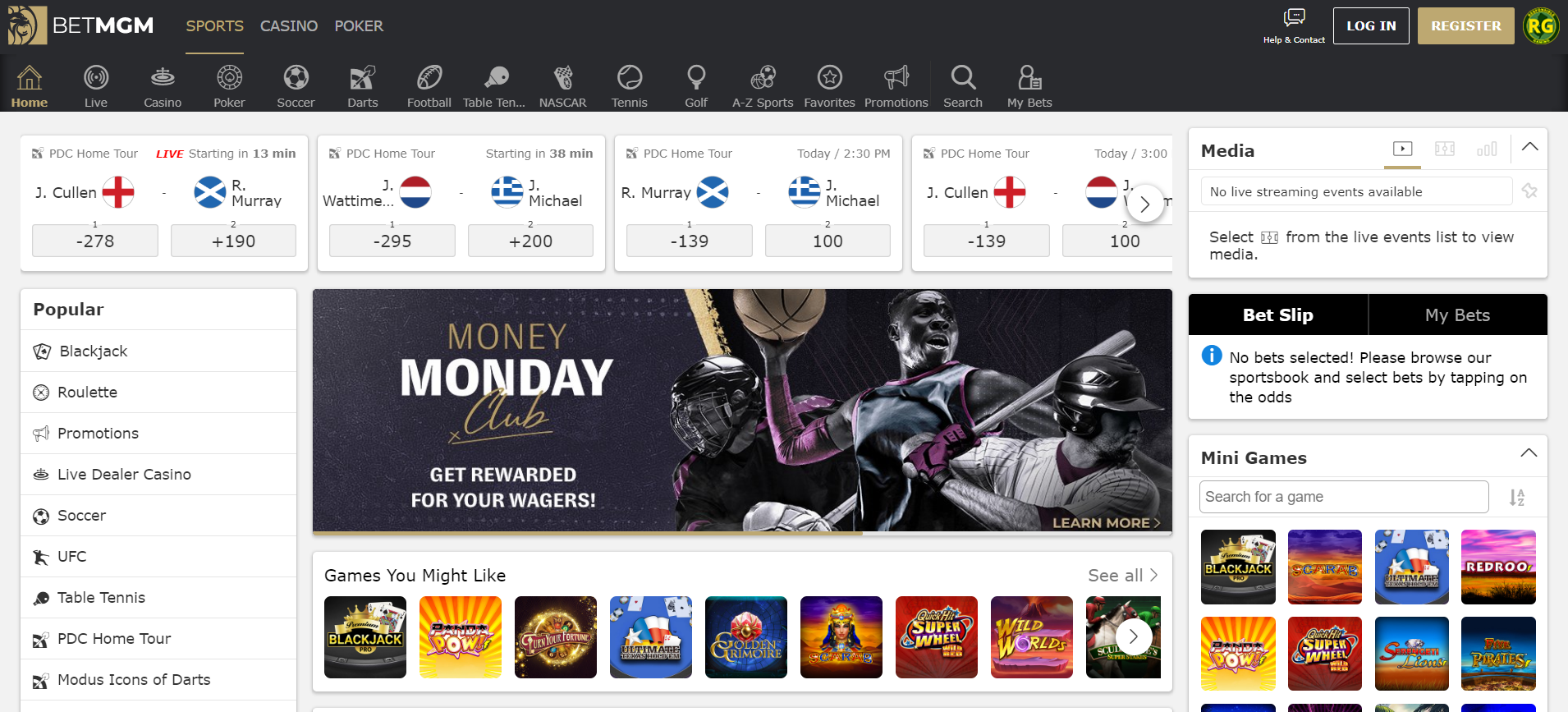 The promotions section is also usually filled with new and existing offers for players. There are normally at least four different promotions ongoing on the site, in addition to the welcome bonus offering a $500 risk-free bet for new players.
The live section on the site will allow you to bet on games and sports on BetMGM as they are being played. The live section does not have live streaming available for every game or sport, but itdoes feature live streaming for a decent number of competitions. 
5) Step Five: Making Withdrawals
At any time while you are playing on BetMGM, you can withdraw your funds from your account. This can be done by going to the cashier section and clicking on withdrawals. Like making deposits, you will need to select a withdrawal method and enter the amount that you wish to withdraw. It may be necessary for BetMGM to conduct an additional verification check when withdrawing.
BetMGM will not charge any additional fees for making withdrawals, however the method that you use for withdrawing might. Therefore, it is best to contact the payment company to make sure. 
The withdrawal methods available on BetMGM:
Play+

PayPal

VIP Preferred

Check By Mail 

Skrill

Borgata
The best thing about these methods available is that all of them except for a check by mail can be used to make deposits as well. The wait times to receive your money depend on the withdrawal method that you are using. You can check all of the expected wait times for each method in the cashiers section on the site.
If there are any disputes that arise during the withdrawal process, you should always contact the support team at BetMGM. The 'Help & Contact' button can be found in the upper right hand corner of the screen next to the login.
There are three ways to get in touch with BetMGM. You can call them at the provided phone number, email their support team or use the live chat feature on the site. The live chat is recommended as it is quick and operates 24/7. 
BetMGM does have apps available for both Apple and Android devices. The apps will feature all of the benefits of betting at BetMGM, although odds may differ slightly at times. The Apple version of the app can be downloaded in the Apple store.

To download the Android version, you will need to visit BetMGM's site and click on the New Jersey button. From there, you will be provided with a link allowing you to download the Android version directly from the site.