Registering at Resorts
When it comes to New Jersey gambling, Resorts Casino Hotel is a historical representation of where it all started. That is because on May 26, 1978, Resorts became the first casino/hotel to open up in Atlantic City. It was also the first legal casino outside of Nevada. The building has undergone multiple renovations since then and is still one of the most popular sites in the city.
Resorts is partnered with both DraftKings and has the sportsbook of the same name on location. However, Resorts has its own sportsbook as well as its own online sports betting site. The online edition of the sportsbook launched in late January 2019 and is powered by well-known SBTech. 
In this guide, we will take you through the necessary steps to get started betting on Resorts as well as some of the sportsbook's main features.
1) Step One: Sportsbook Registration
The first thing you will need to do to begin playing at Resorts is to register an account on the site. After going to the Resorts website, you can go to the sport betting section of the site by clicking on the sportsbook tab at the top of the screen. 
Once there, you will see a green Join Now button at the top of the page on the right side. Clicking on this button will start the registration process. 
Resorts Casino/Sportsbook Registration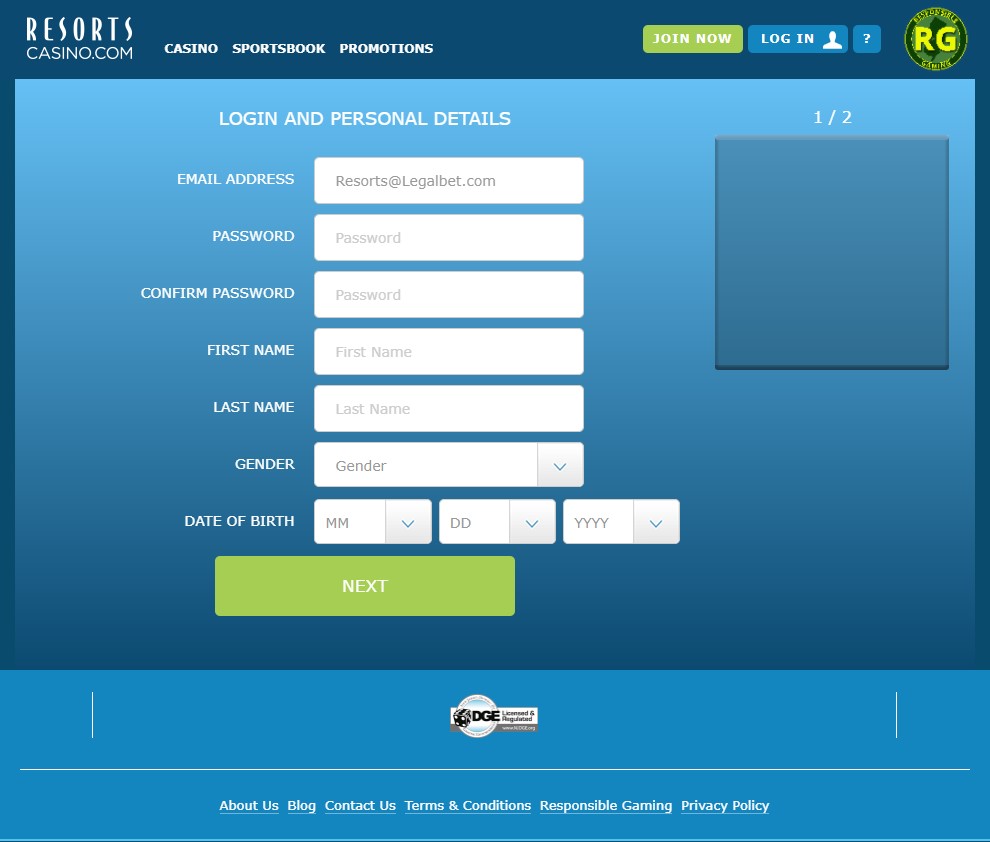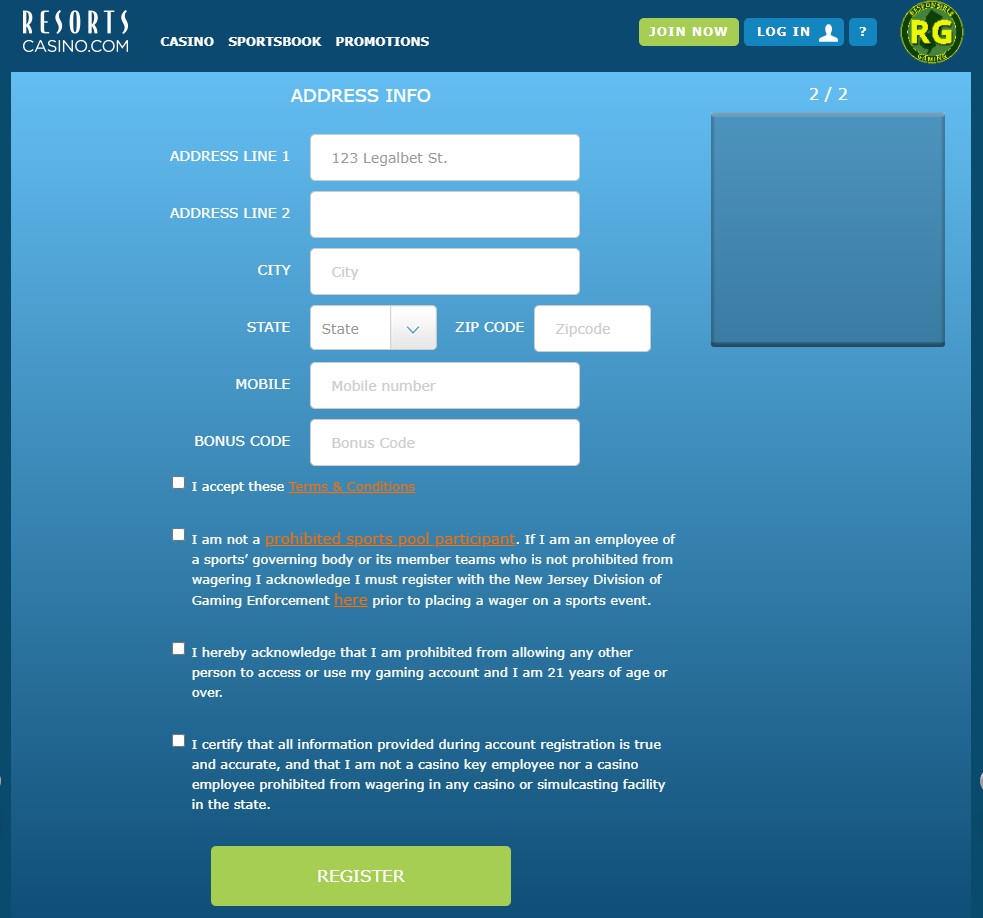 The information that you are asked for throughout the process needs to be provided accurately and needs to be up to date. Resorts will need to verify all of the information that you provide to make sure that it is acceptable with regards to federal and New Jersey state law. 
The registration at Resorts will be shorter than other sportsbooks as there are only two sections that need to be filled out. However, the main information that you need to provide will of course be included. When filling out a sportsbook registration form, there are a few key points that need to be verified.
The main points of a New Jersey sportsbook registration:
Age/ Birthdate

Location/ Address

Occupation/Key Employee
These three things will all need to be verified and are the most important points of the registration. Keep in mind that before starting registration, you need to be at least 21 years of age and be physically present in New Jersey when logging into an account and making bets.
After registration is complete, Resorts will review your information and will send you an email confirming that your account has been approved. 
2) Step Two: Complete Registration - Resorts and New Jersey Terms and Conditions
Like we stated earlier, there are two sections that need to be completed in order to create an account. Most of the information will be basic things that can be found when registering at any website.
The final section will contain the bulk of the information. Although nearly everything is straightforward, this section should take longer as you should take time to read through the terms and conditions listed at the bottom of the page. 
Filling in your address is the first part of the second section. One of the major federal and state laws relating to sports betting and gambling is that you must be located within the state of New Jersey in order to make a bet.
However, this does not mean that you must live in New Jersey to create your account. With the use of geographic location information, you will be able to log in to your account and make bets whenever you are visiting or in the state.
This is outlined more in Resorts' terms and conditions. You will need to agree to the use of these services and allow the site or mobile app to determine your location while using the sportsbook. 
This helps to keep everyone betting safely and legally. It can also make life easier for the bettor. If you live in Connecticut but are traveling to New Jersey for the weekend, you can immediately access the app and start making bets as soon as you enter the state. Some sportsbooks may allow you to log in to your account when in other states however placing bets will always be restricted.
The next part that needs to be filled out is your phone number and a bonus code. Bonus codes are optional but if there is a promotion ongoing for new users you will definitely want to find the code for it and enter it.
You can go to the promotions section on Resorts and click on the relevant promotion for new users. The bonus code should be listed along with the bonus requirements. Once you have that you can enter it here to receive the bonus after signup.
Finally, you will need to check off four boxes at the end of registration. One of these is an agreement to the terms and conditions on the site.
 Key employees can include both employees of a New Jersey casino or sportsbook and employees of a sports organization such as a player, coach, owner, referee, etc. you will likely  already know if you are one of these employees. 
If however, you are one of these employees and are not prohibited from betting, you will need to fill out a small application to register with the New Jersey DGE. The link for the application is included in the box's information and will ask for things like your full name, who you work for and what league and your signature.
3) Step Three: Deposit into your Account
Now that the registration is complete and your account has been approved, you will need to deposit funds into your account. In order to make a deposit on the site, you can go to the banking section in the casino and click on deposit. This can be done after logging in. 
Resorts Payment Methods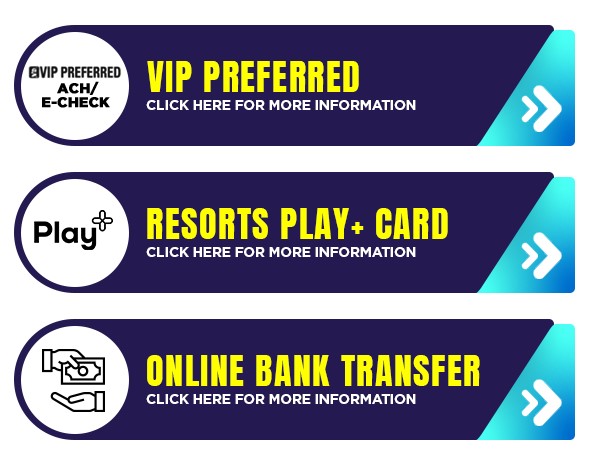 All sportsbooks will offer their own methods for deposits and the number of methods available varies depending on the 'book. At Resorts, there is a long list of deposit methods offered on the site. These include both online transactions and deposits that you can make in person at various locations. 
Deposit methods available on Resorts:
Visa

MasterCard

VIP Preferred

PayPal

Resorts Card

Online Banking Transfer

PayNearMe

Cash at Cage
The last option refers to depositing money on location at Resorts Casino Hotel in Atlantic City. As the title suggests, you will need to pay in cash during the location's business hours. This will be the easiest way to verify your identity if necessary and generally among the quickest ways to deposit.
PayNearMe is another option that allows you to deposit in person. In the cashier section on the site, you can click on PayNearMe, enter an amount and print out the pay slip.
From there, you can go to any participating 7-Eleven location in New Jersey and give the slip to the cashier. There is also a link in this section that can help you to find the nearest location to you. 
In person deposits along with the Resorts Card will generally be the quickest ways to deposit. With online banking transfers, it is important to check with your bank first so you can be informed about possible fees associated with the transaction. 
4) Step Four: Making Bets
The sportsbook design at Resorts is simple and quite standard. However, the betting and depth of the sports betting site is very impressive. Resorts has a large list of sports to bet on. The number of sports with bets offered at this time is 12. 
It also includes multiple leagues for most of these sports, with the American leagues at the forefront. Bets you can make include moneyline, over/unders, handicaps, parlays, props, teasers, each-way bets and futures. 
Resorts Baseball Betting Markets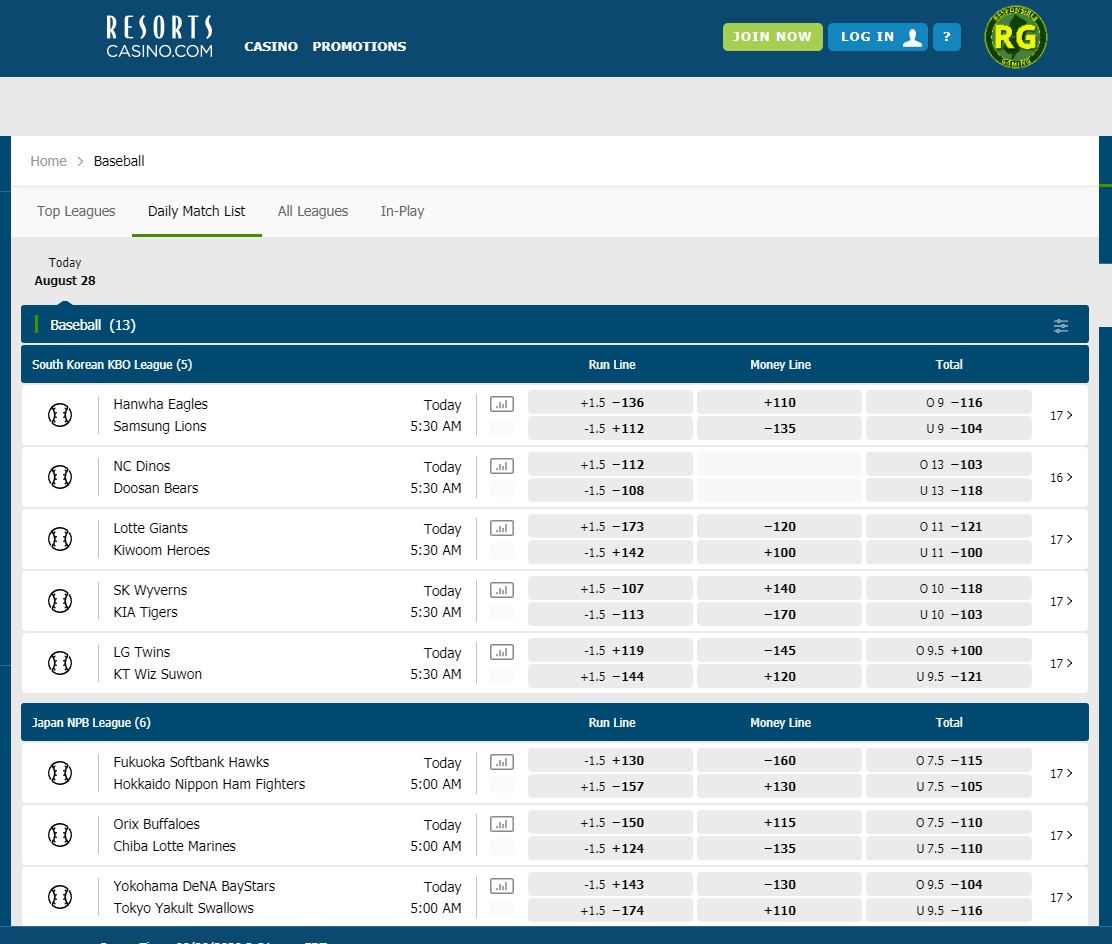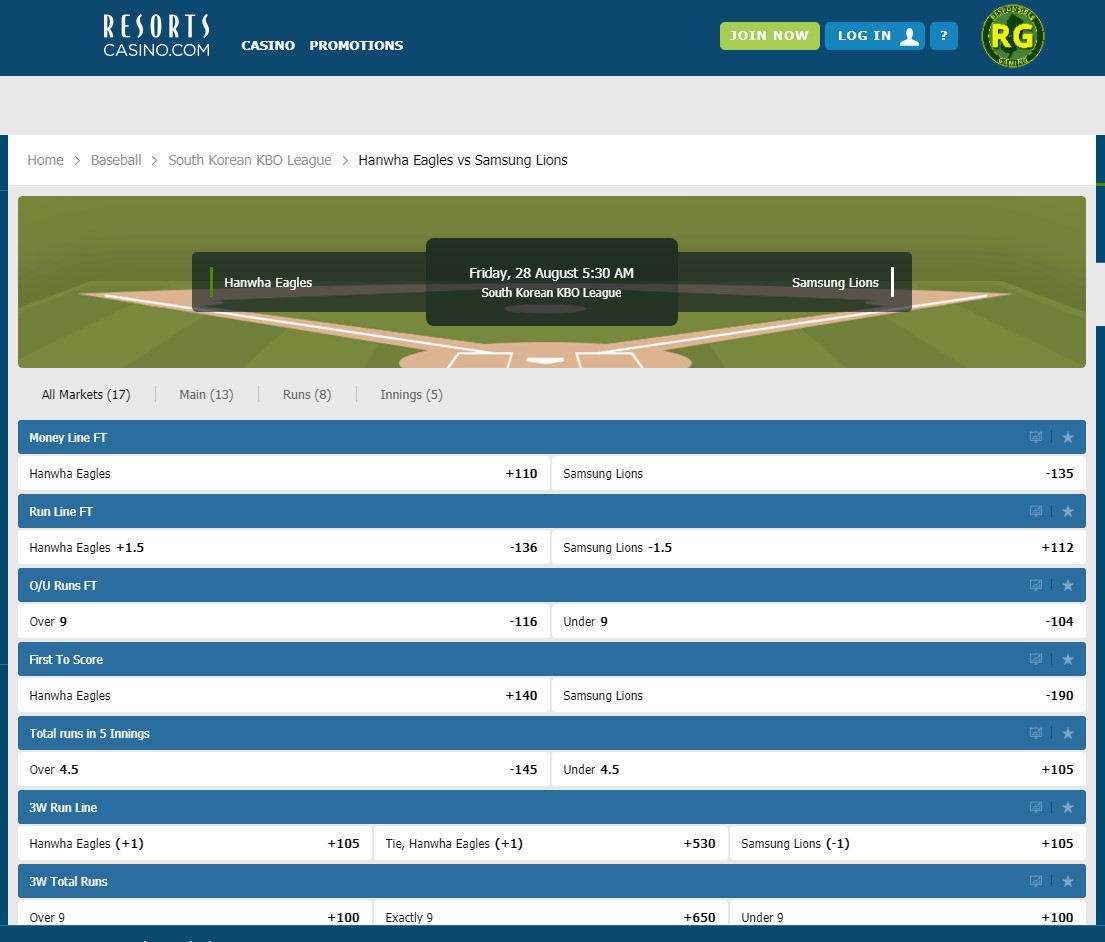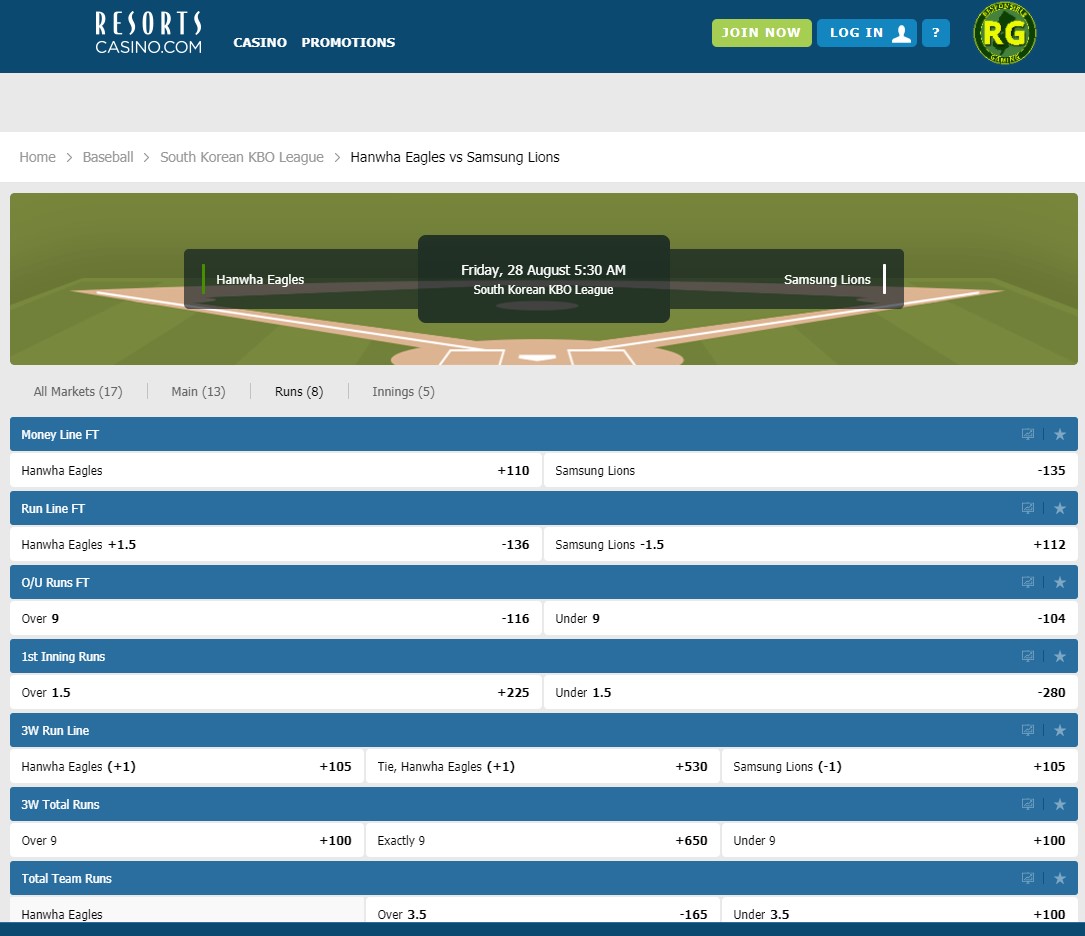 There is also a live betting section on the sportsbook where you can bet on games as they are being played. To access this click on the 'Live Betting' section which can be found on the left side of the screen above the list of sports.
Here you can see all of the games and odds for live events separated by sport. There is not yet live streaming on the site, however you can safely watch the scores of all the live games on the left side of the screen while betting. 
Resorts promotion section is also consistently stocked with extra bonuses for both the sportsbook and casino. With your sportsbook account, you will be able to go back and forth between the casino section as often as you want.
Beyond the welcome bonus on the site, you can find sportsbook promotions for free bets, parlay bonuses and more at any given time. These promotions are always changing so it is easy to find something new.
5) Step Five: Making Withdrawals
At any time while playing on Resorts Sportsbook, you can decide to withdraw funds from your account. This can be done in the same way as making a deposit by going to the cashier section and clicking on withdrawals. 
This can be done either on location or by uploading a form of ID to the site. Not all of the methods that are available for deposits will also be available for withdrawing funds.
Resorts offers these methods for withdrawals:
VIP Preferred

PayPal

Resorts Card

Casino Cage
The Resorts Card and making withdrawals from the Casino Cage will be the quickest ways to make a withdrawal, as they are normally processed instantly. There may also be a minimum amount necessary to withdraw money. For example, for PayPal the minimum withdrawal amount you can make is $100. 
Although you cannot use PayNearMe to make in person withdrawals, you can go to Resorts on site location in Atlantic City to withdraw funds. This can be done during normal business hours. With any withdrawal methods you may need to confirm your identity by using a form such as a Drivers License ID or utility bill.
You can download a mobile app for Resorts Sportsbook by going to the main page of the casino and scrolling all the way down. The apps are available for both Apple and Android devices. The IOS version can be downloaded in the Apple Store.


The Android version can be downloaded directly from the Resorts site. To start the download, click on the 'Download for Android' icon and then click install once the download is complete.