Registering at BetAmerica
BetAmerica was founded in 2007 and was bought by Churchill Downs Incorporated in April of 2017. Churchill Downs Inc is the home of the famous horse race The Kentucky Derby, and also owns multiple casinos and racetracks. 
The purchase made perfect sense, as BetAmerica had previously operated as an advance deposit wagering platform for horse and greyhound racing.On February 2, 2019, BetAmerica launched its sportsbook in the state of New Jersey.
The sportsbook launched right before the Super Bowl and was the fourth sportsbook within a month to open in the state. It has since moved to multiple other states like Indiana and Pennsylvania. 
The sportsbook works with SBTech for its sports betting software, and is licensed with the Golden Nugget Casino in Atlantic City, NJ. We will guide u through the necessary steps to get started betting on BetAmerica's online sportsbook.
1) Step One: Sportsbook Registration
The first thing that you will need to do before wagering at BetAmerica is to create an account. You can do this by going to the site and clicking on the red 'Join Now' button in the upper right hand corner of the screen. Doing so will take you to the starting page of registration where you can begin to create an account.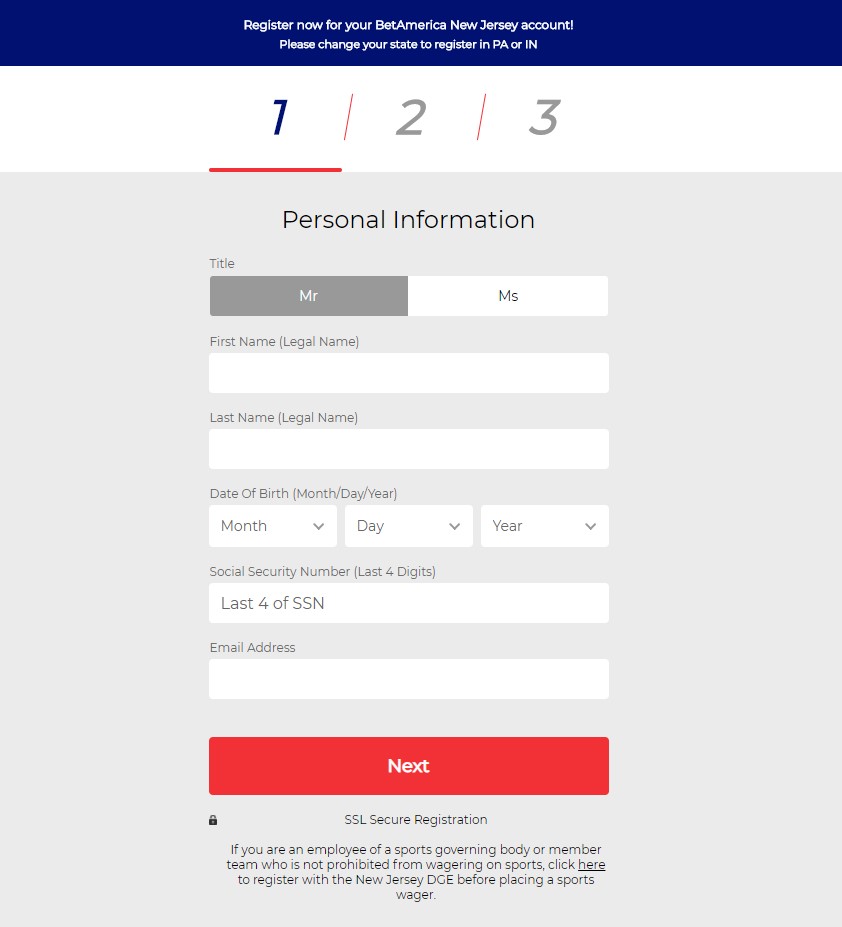 Throughout the registration process it is important that all of the information that you enter is both correct and up to date. BetAmerica will verify all of this information after registration is completed. If something is not correct or not verifiable, BetAmerica will not be able to approve your account and may ask for additional documents.
Within the terms and conditions will be three different points that are key to account creation:
Age/Birthdate

Location/Address

Key Employees
We will go over these in further detail later in the guide. It should be understood that in order to make bets in New Jersey you will need to be at least 21 years old and be physically present in the state.
If at any time you are not within the state you will not be able to place wagers, even if you are a permanent resident. Once you have completed the registration process, BetAmerica will review your information and notify you of approval.
2) Step Two: Complete Registration - BetAmerica and New Jersey Terms and Conditions
The registration on BetAmerica will begin with the first section, which will have you fill in a bit of personal information. Here you will need to include your title, full legal name and the last four digits of your social security number. BetAmerica will use this to verify your identity and the information that you provided. 
The last things you will need to enter will be your email address and date of birth. In accordance with New Jersey state law, you cannot legally gamble if you are under the age of 21. If the information does not match your documentation, BetAmerica will not allow you to continue the process. 
In order to bet in New Jersey you must be physically located within the state. However, this means that you do not have to permanently reside in the state to create an account. You can still register and create an account with an out of state address. Then, if you are ever visiting New Jersey you may access your account and make bets while you are in the state.
Sportsbooks like BetAmerica are able to do this through the use of geographic location technology. Information on this will be in the terms and conditions that you will need to agree to. You will need to allow BetAmerica the ability to access your geographical location in your device's settings.
BetAmerica will access your location whenever you attempt to log in to your account, and periodically when placing bets. This is to ensure compliance with both federal and New Jersey state law. This is written that no one outside the state with legal sports betting will be able to make bets using a sportsbook within that state.
The final section will entail account setup information. BetAmerica will ask you to enter a username and password for your account. Under that will be a few different boxes that you will need to check. 
We have gone over the main points necessary for an account creation, however there is still a lot of useful information within that will help you to better understand the rules for wagering on BetAmerica so it is a good idea to read through them. 
There is a link to the key employees form at the bottom of the page. This will require you to list your full name and disclose from which organization you are a key employee. Once signed and registered with the DGE, you may be given certain rules and restrictions on the bets that you are able to make, depending on your case.
3) Step Three: Deposit into your Account
Now that registration is out of the way, you can begin to make a deposit and start playing. Though you may have been given bonus funds depending on when you signed up, you will need to deposit real funds to begin playing without restrictions.
BetAmerica features many popular payment methods for both deposits and withdrawals. To make a deposit on BetAmerica you will need to be logged into your account. From there you can go to my account and funds. You can then select a method of deposit and choose an amount.
Online Banking Transfer

PayNearMe

VIP Preferred

Visa

Mastercard

Play+ Card

Skrill

Cash at Cage
Two of these methods can be completed in person and are generally some of the quickest ways to deposit. First, during normal business hours, you can go to the Golden Nugget Casino in Atlantic City and deposit in cash.
You can also use the PayNearMe method which will give you a lot of convenient locations to deposit at. In order to use PayNearMe, you can select this method of payment, enter the amount you wish to deposit and print out a payslip.
After providing a photo ID your money will be placed in your sportsbook account. No matter which method of deposit you use, BetAmerica has the right to ask for additional documentation when making a deposit.
4) Step Four: Making Bets
The BetAmerica sportsbook is decked out in an American-themed design that looks great from top to bottom. The design is consitent with other sections on the site as well. There is a separate casino section also on the site, as well as a horse racing section which is unsurprising given the history of the company. You can switch back and forth between the sportsbook and these different sections with your account.
You can bet on all of the popular American sports like basketball, baseball and football. There are also some niche sports like table tennis, cycling and darts. BetAmerica constantly updates its sports giving players the best options for betting.
BetAmerica Site Overview 
The live section can be accessed by clicking on the tab labeled 'Live'. This will display all of the games that are currently being played, separated by sport. Here you can make all of the same bet types as you could when betting on upcoming games. These include moneylines, over/unders, handicaps, props, specials, totals, parlays and teasers. Unfortunately, live streaming is not yet available so to watch the games you will need to access other means.
The bonuses on the site are constantly changing giving you the most chances to win free bets, extra money and more. To access this section, click on the sportsbook and then go to promotions. This will show all of the promotions available for both the sportsbook and the casino. To use a promotion, simply select and click on one and meet the requirements.
In the horse racing section, you can see all of the races and what time they will start at. Clicking on a race will take you to a list of all of the participating greyhounds/horses, their numbers, trainers and the odds on each. To bet on a participant, all you need to do is select them and click on submit.
5) Step Five: Making Withdrawals
During your time playing on BetAmerica, you can make withdrawals from your account at any time. To do this, log in and go to 'My Account' and click on funds and withdraw. This can be done either on location or by uploading a form of ID to the site. Not all of the methods that are available for deposits will also be available for withdrawing funds.
Withdrawal methods available on BetAmerica include:
Cash at Cage

PayPal

Play+ Card

Skrill
Although you cannot use PayNearMe to make in-person withdrawals, you can go to BetAmerica partner Golden Nugget Casino on site location in Atlantic City to withdraw funds. The quickest ways will be to use either your Play+ Card or to head to Golden Nugget and withdraw cash. The verification process will be quicker using these methods, leading to a lower waiting time.
BetAmerica has mobile apps available for both IOS and Android devices. To download the IOS version, you can go to the apple store on your device and click get and install.


You will need to download the Android version directly from the BetAmerica site. Once you select to allow downloads from this source in your device settings, you can click install and begin betting on mobile.