Registering at Bet365
Even before coming to the US, Bet365 was one of the biggest sportsbooks in the world. The company was founded in Stoke-on-Trent, England in 2000. It is known for its wide range of sports betting, sponsorship deals and horse/greyhound racing. 
In 2019, SBC Gaming awarded Bet365 as the ' Sportsbook of the Year' for the sixth year in a row. Today, Bet365 has offices in Manchester, Gibraltar, Malta, Bulgaria and Australia. 
Bet365 was a little late to the party in New Jersey, becoming the 16th sportsbook to open in August 2019. The company is partnered with the Hard Rock Hotel & Casino in Atlantic City for its New Jersey license. The online sportsbook can be accessed from anywhere in the state. Our guide will give you all of the necessary information for betting on Bet365.
1) Step One: Sportsbook Registration
Before betting on Bet365, you will need to complete registration and create an account. You can do this by going to the New Jersey version of the site. From there, you will find a yellow 'Join' button in the top right hand corner of the screen. Once you click on this the registration form will come up and you can begin to create your account.
While filling out the required information, it is important that you enter everything accurately and up to date. FanDuel will need to verify all of your information in order to confirm that you are eligible to place wagers on sports in New Jersey. 
Bet365 Registration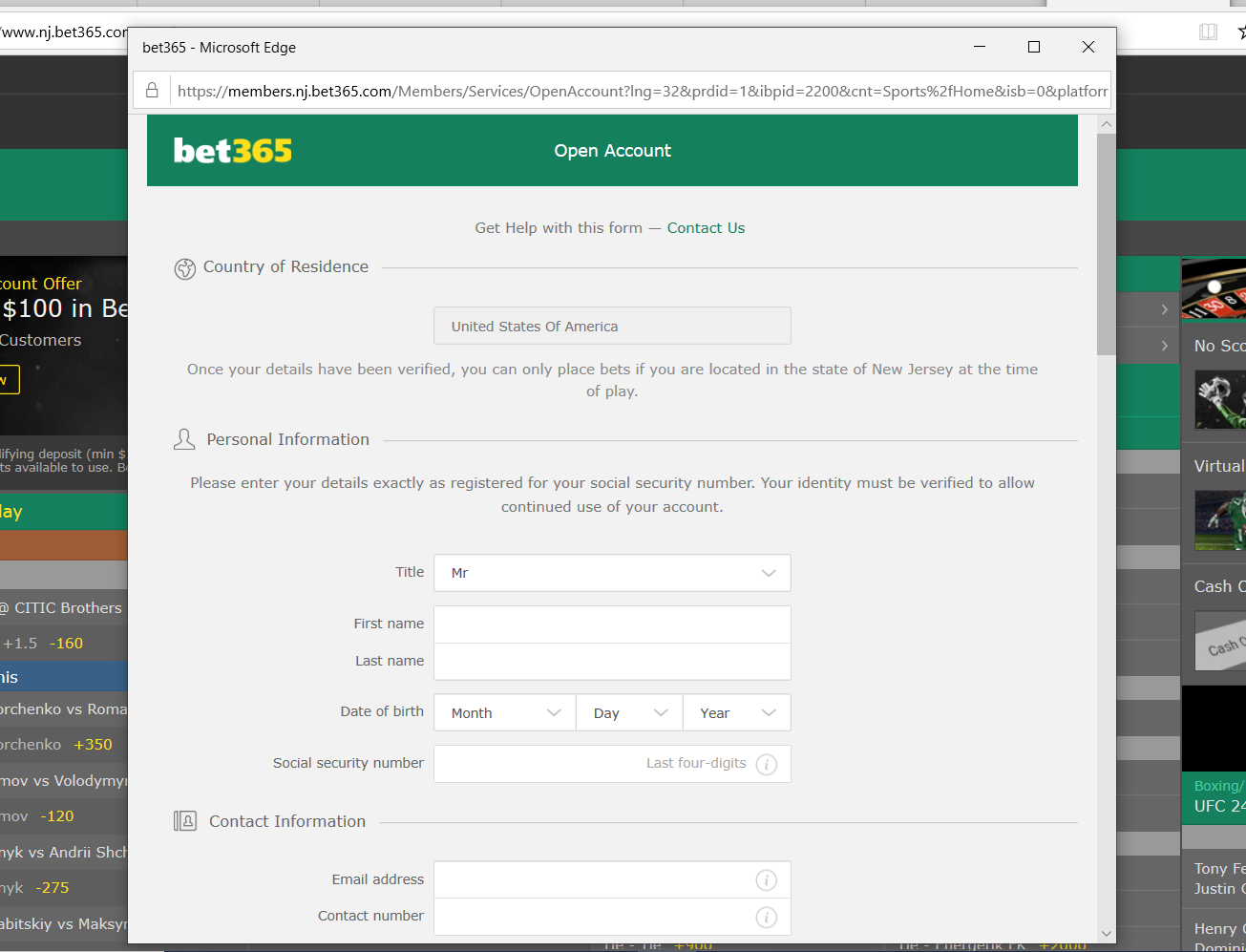 Failure to fill out the correct could mean that your account will not be accepted. The registration at Bet365 will be stretched out onto one form. There you will need to fill in all of the necessary information and agree to the terms and conditions at the end of the registration process. 
Once the registration has been completed, Bet365 will use the documentation that you have provided in the form to verify your information. This will involve the use of your social security number. Unless Bet365 requires additional documents you will receive a notification that your account has been approved. 
2) Step Two: Complete Registration - Bet365 and New Jersey Terms and Conditions
The registration process on Bet365 will take place on one sheet that is broken up into different sections. You will begin with a little bit of personal information. In this section, you will be required to enter in your full name, date of birth and the last four digits of your social security number. Like we stated earlier, this will be what Bet365 uses in order to verify your identity including your date of birth.
Due to New Jersey state laws regarding sports betting, it is illegal to participate in gambling if you are under the age of 21. This is one of the key points of registration/ verification and you will not be allowed to continue if you enter an incorrect date of birth.
The next section will ask for some simple contact information such as your email address and phone number. There are also some optional choices regarding how you would like to receive notifications from Bet355. You can select no on all of the choices to opt out of notifications, however you will still need to enter your email address for account verification.
The section after this will be important as it also relates to major laws. Here, you will need to enter in your address. According to both federal and New Jersey state law, you must be physically located within the state in order to make bets. However, this does not mean that you need to live in New Jersey to create an account.
Due to the use of geolocation services, sportsbooks will always be able to verify whether you are located within the state or not whenever you attempt to log in or access your account. However, if you are on a trip to New Jersey or live out of state you can still create an account and access it the entire time you are in the state.
The next two sections will both be quite straightforward and will relate to your account information. In these two sections, you will need to choose a username and password for your account. You will also need to choose and confirm a four-digit security number.
Finally, you will come to the last section in the registration process. Before the terms and conditions, there is a place where you can set a few preferences for yourself on the site. This includes the time zone, a place for a bonus code and which types of odds you want to see displayed. 
Bonus codes can be found by going into the promotions section on Bet365 and clicking on the promotion that correlates with new players or first time deposits. In the information of this offer, you will find a bonus code that you can enter in this section of registration. Once you have entered this code and completed the requirements, you will automatically have the bonus deposited into your account. 
After the preferences have been set, you can move on to the terms and conditions outlined on Bet365. Three of these boxes are quite straightforward. You will need to certify that you are 21 years or older, that you will be the only one who accesses your account and that you are a legal citizen of the United States. 
You will also need to agree to the terms and conditions including information about the use of geolocation location services and certify that you are not a key employee that is prohibited from betting. Geolocation is used by sportsbooks across the country in order to verify that everyone who is playing is doing so within the state. 
Key employees are persons employed either by casinos, sportsbooks or sports organizations in the state that have been prohibited from sports betting. For members of sports organizations such as players, coaches, referees, owners, etc., there is a possibility that you are an exception to this rule. If this is you, then you can fill out a short form stating who you are and what organization you are a part of. This will allow you to register with the New Jersey DGE and continue playing.
3) Step Three: Deposit into your Account
Once you have finished registration and your account has been accepted by Bet365, you will then be able to deposit funds into your account. 
Each sportsbook will have different methods available for depositing. The more options a sportsbook has gives you the opportunity to find the best method for you. Bet365 features a good amount of deposit methods, including some of the most popular.
Deposit methods available on Bet365:
Online Banking

Visa

Mastercard

Bet365 Mastercard

PayNearMe

PaySafe Prepaid Card

Skrill

Cash at Cage
The minimum deposit for each method will be ten dollars, except for depositing on location at the Hard Rock Atlantic City, where the minimum deposit is one dollar. This represents one of two ways to deposit in person, the other is by using PayNearMe. 
To use this option, click on PayNearMe in the deposits section, enter an amount you wish to deposit and print off the pay slip. You can then take this pay slip to any participating 7-Eleven locations and hand it to the cashier. These also must be done in cash. Other stores like CVS Pharmacy and Dollar General may also participate in PayNearMe. 
The maximum amount for each deposit depends on the method that you have chosen. The highest that you can deposit is $38,000 which can be done using Skrill. PayNearMe has the lowest at a $500 maximum every 24 hours.
4) Step Four: Making Bets
Bet365 came into New Jersey with a ton of sportsbook experience. It was already very successful on an international level. The same design and layout of the original Bet365 can also be found on the New Jersey edition of the sportsbook. The home page can seem overwhelming to a new player, as it is filled with different games, markets and a lot of different lines.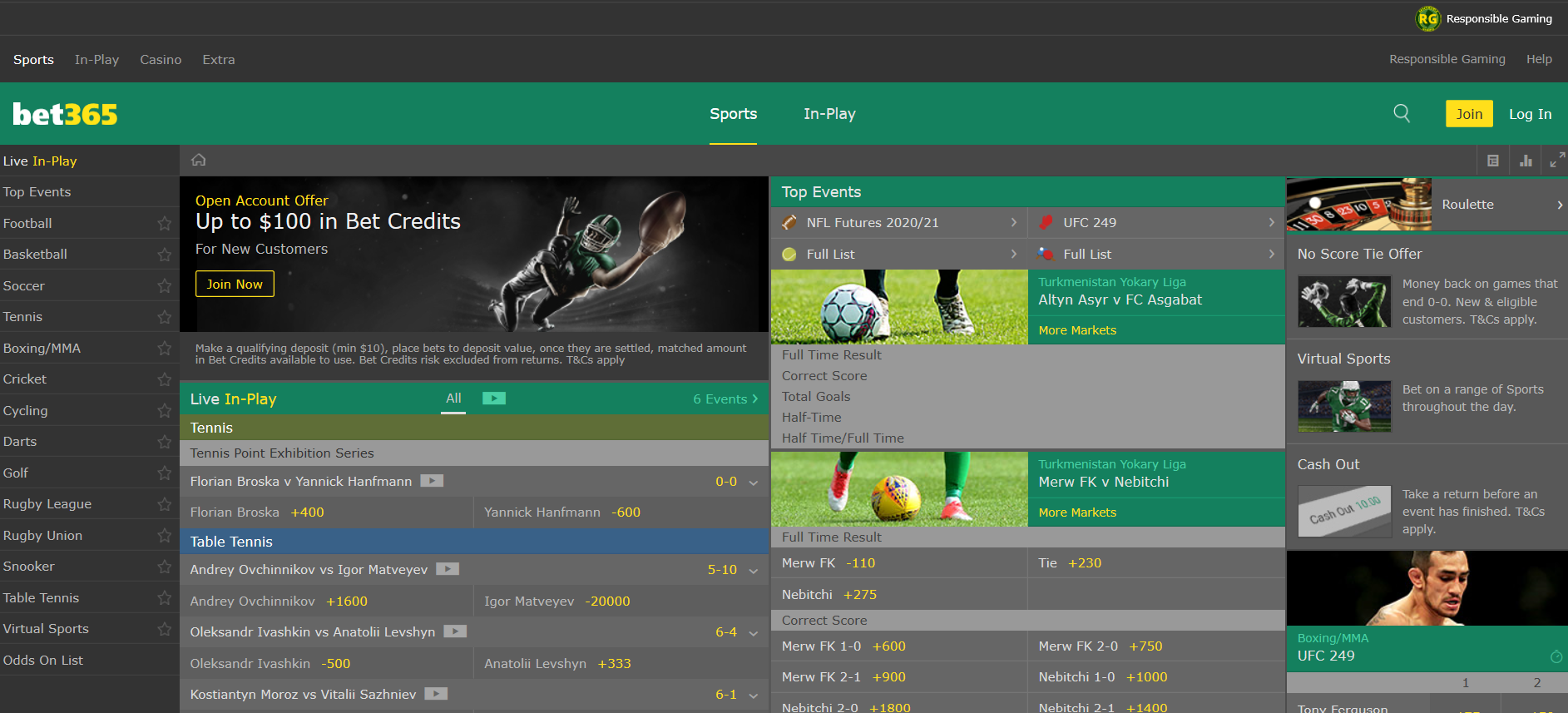 There are currently 13 sports that you can wager on at Bet365. The sports will be listed on the left side of the screen not in alphabetical order, but by the popularity of each sport. Naturally, sports like football, basketball and soccer will be at the top of the list whereas more niche sports like table tennis, snooker and rugby will be near the bottom. 
There is also a section for virtual sports on Bet365. These can be played at any time and include things like virtual races and soccer games. The live section on Bet365 is one of the few sportsbooks in New Jersey that features live streaming. This is a huge added bonus for live betting.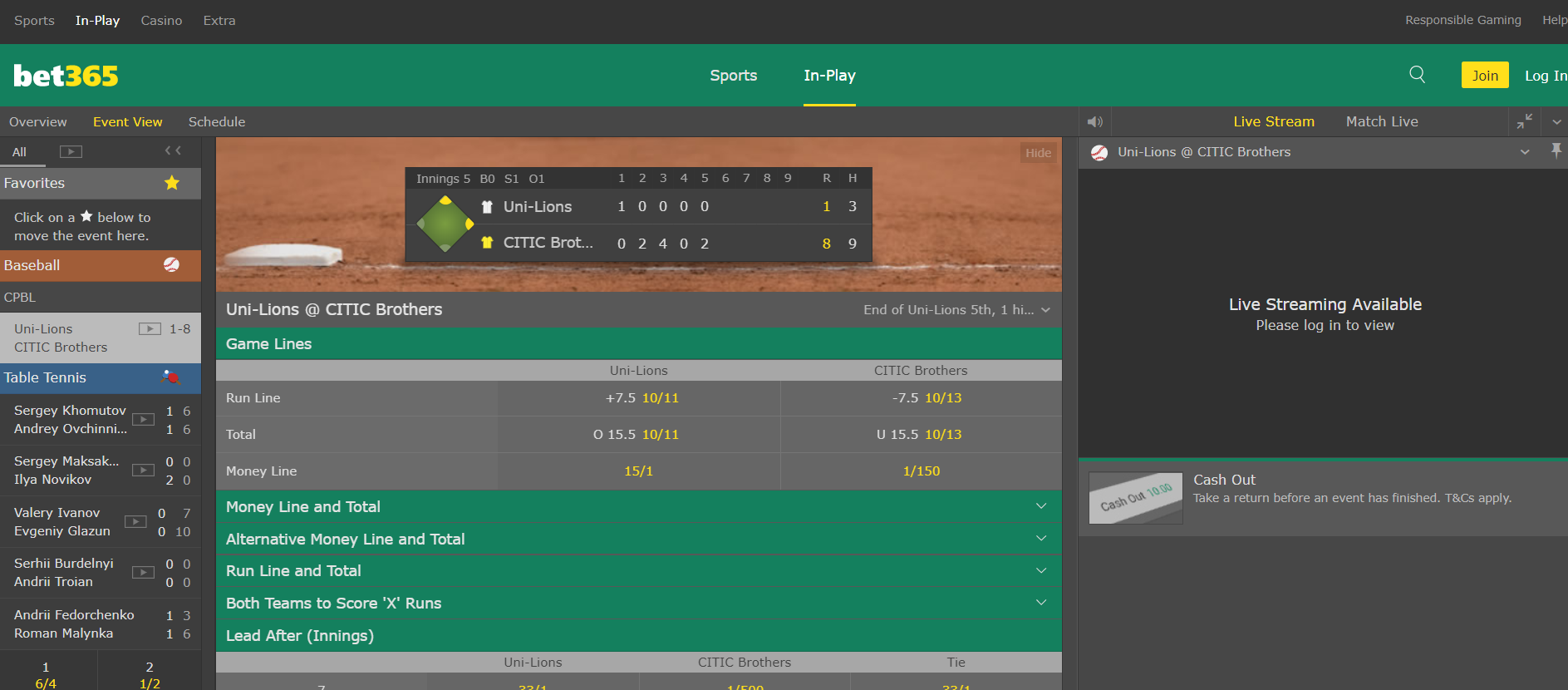 Live streaming will not be available for every event, but is available for many popular ones. For the events that do not have live streaming there will be a match tracker where you can follow the games along with added statistics. 
Bet365 features a lot of its own unique promotions on the site as well as promotions that you won't find on many others. The 'Early Cash Out' promotions are a good example of this and allow you to win a bet before the game even ends. Bet365 constantly updates its offers and gives you a good variety when betting on the site. Beyond the welcome bonus, you can find offers for different types of bets and sports.
5) Making Withdrawals
After spending some time betting on the site, you can withdraw funds from your account back into your pocket. Withdrawals can be made at any time by going to the cashiers section on the site after you have logged in and clicking on withdrawals. 
The options for withdrawing on Bet365 are above average. One of the unique things that the sportsbook does is allows you to withdraw money back onto your Visa or MasterCard as well as other debit or credit cards the site may accept. 
Withdrawal options on Bet365:
Online Banking

Bet365 MasterCard

Debit Card

Visa

MasterCard

Skrill

Cash at Cage
The time that it takes for withdrawals to be verified and processed will depend on the method that is being used. The Bet365 Mastercard and Cash at Cage will be instant and is the quickest method, followed by Skrill which is processed within 24 hours.
If you have any questions when making a withdrawal you can contact the customer support team on the Bet365 website. There are three options available to get in contact. You can either send an email, call the phone line or open up the live chat.
Bet365 has apps available for both Apple and Android devices. These can both be downloaded for free. The IOS version of the app can be downloaded from the Apple store.

The Android version must be downloaded directly from the sports betting site. To do this go to the Bet365 mobile app page and click on the download Android app. You will need to allow downloads from unknown sources in your settings. Once downloaded, go to the app and click install.