Registering at Borgata
The Borgata is located in Atlantic City and is owned by MGM Resorts. Due to this, the sportsbook very much resembles the BetMGM sportsbook, although there are some differences.
The hotel, casino and spa opened on July 2, 2003 and the online sportsbook was launched in May of 2019 and consistently features a large variety of sports to bet on. You can access the sportsbook by going to the Borgata website and clicking on the sports tab at the top of the screen.
The site itself has not only sports betting but also a casino and poker section available, all of which coincide with each other. With your new account, you will be able to switch between these sections and play with only a couple of clicks!
1) Step One: Sportsbook Registration
In order to get started betting on BorgataSports, you will need to register and create an account. This process can be started by clicking on the blue register button in the top right hand corner.
This will take you to the registration form on the site. Before signing up for an account, it is important to know that you must be 21 years of age or older and must be physically located in the state of New Jersey to bet on sports.
During the registration process, you will need to meet the necessary requirements for betting and agree to terms and conditions laid out by Borgata along with rules and regulations in accordance with New Jersey and federal laws regarding sports betting.
Borgata Sportsbook Registration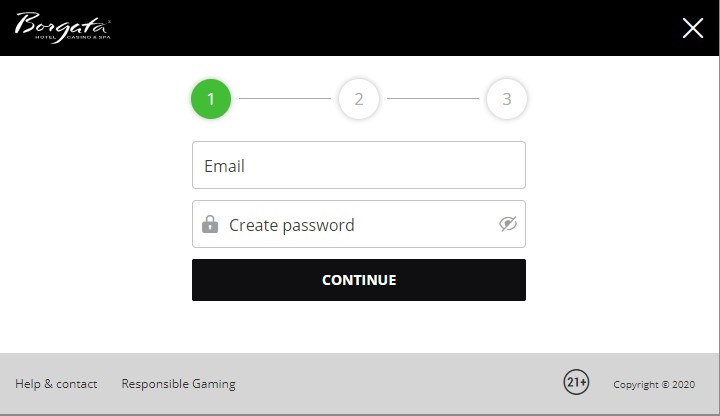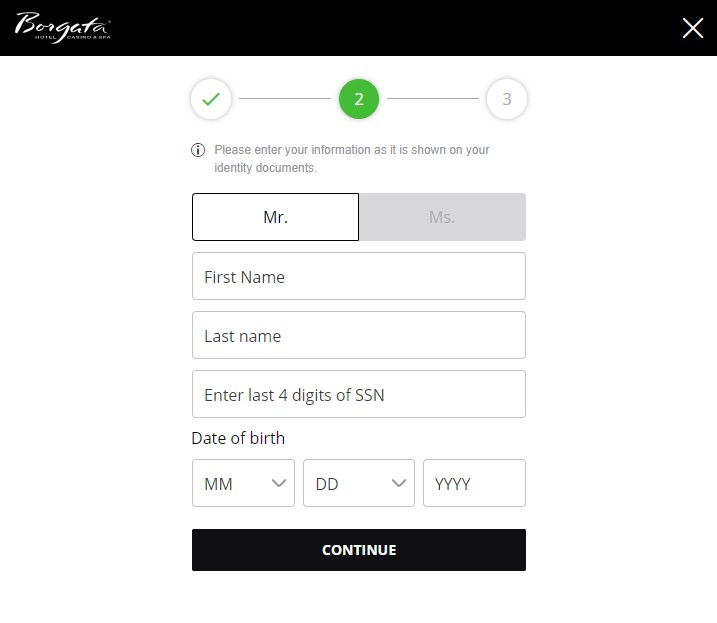 The Borgata sportsbook rules can be located in the terms and conditions towards the end of registration. There are four sections that you will need to complete in order to create your account.
General information takes up most of the registration. Things like your name, email and account information are straightforward and can be completed quickly. 
There are three main things of importance in the registration process:
These can quickly make the difference between being able to bet or not, and will be the same on every sportsbook in New Jersey. We have already talked briefly about the first two points, and will go further into detail about all three in the next section. 
You will need to provide the last four digits of your social security number for verification. You will be notified of your account's acceptance through email shortly after completing the process. 
2) Step Two: Complete Registration - Borgata and New Jersey Terms and Conditions
There are four different sections that must be completed to create a Borgata sports betting account. Each section will ask for different information. The terms and conditions will all be included in the last section while basic information completes the first two. 
You will begin the registration with a small amount of personal information, including your full name, email address and date of birth.
In New Jersey, you are not able to legally participate in gambling or sports betting if you are under the age of 21. If you enter a date of birth indicating that you are under 21 years of age, you will not be allowed to continue the registration process. 
Borgata will then ask you to create your account information in the second section. This includes your user ID and password, the last four digits of your social security number (verification document) and your phone number. After completing this section you are halfway to creating your Borgata account.
The fourth and final section of registration begins with selecting security questions and answers for your account and then moves on to the terms and conditions. These will ask you to confirm or agree to:
Being 21 years or older

Confirm you are not a key employee 

Agree to Borgata terms and services
While the first one is quite clear, the second refers to your professional occupation. Key MGM and Borgata casino and gaming employees and employees of sports organizations will not be able to create an account or make bets at Borgata. The latter can include players, coaches, referees, owners and more.
There are however exceptions to this rule.If you happen to be a key employee of one of these organizations that is not prohibited from betting on sports, you can fill out a small form stating your name and profession. The link to this form is included in the terms and conditions. 
3) Step Three: Deposit into your Account
The final step between finishing the registration and betting on sports is to deposit money into your account. Depending on when you create your account, there may be bonus money already added and available for use. However, to get started playing straight up for real winnings you need to deposit real money. 
Borgata Payment Methods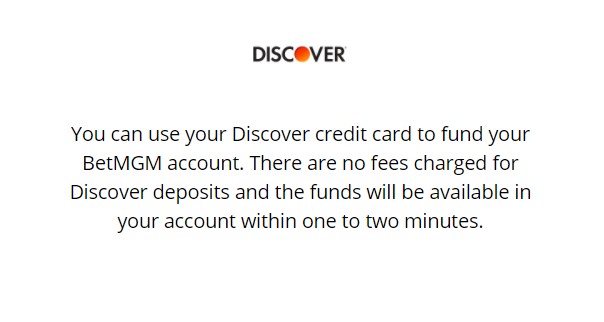 Every sportsbook will have a different number and different options for depositing into your account. The more options there are the better as it's more likely they will carry one that suits you. Luckily for users on Borgata, there are a lot of deposit options available both online and in person. 
Deposit methods currently on Borgata include:
Visa

Skrill

PayPal

Borgata Cage

MasterCard 

VIP Preferred

AMEX

Borgata PayPlus

PayNearMe

Online Banking
As you can see, there is a great number of deposit options available to the player. To choose one of these options, go to the cashier section after logging in and click on deposit. After that you can select your preferred method of payment and choose an amount. 
The time it takes for the money to be reflected in your account differs by method. Many of the methods like AMEX, and online banking are deposited instantly, however others like PayNearMe may take up to 15 minutes.
You can also deposit money into your account in person. You can do this either one of two ways. First, you can go to Borgata's location in Atlantic City and deposit cash at the casino cage. The second way is to use PayNearMe.
4) Step Four: Making Bets
After completing the first three steps you will be all set up to begin making bets. The online sportsbook at Borgata really has the feel of a Vegas casino. There are lots of different ads for promotions and even a section displaying casino games you can find on the casino section of the site.
However, there is still more than enough for sports betting. Right now there are 17 different sports that you can bet on. These include things like baseball, basketball and football as well as more niche sports like cycling and table tennis, with a lot in between.
Some popular types of bets featured on the site include:
Moneyline bets
Handicap/ Spread bets
Period bets
Over/unders
Prop bets
Live bets
Future bets
There is also a price boost that is applied to certain games each day. This takes the normal odds for a specific bet and raises them. For example, a bet on the New Jersey Devils to win and for the total score to be over 5.5 could have its odds raised from +525 to +600. If you think the bet has a good chance, it's a great way to earn a little bit of extra profit. 
Making bets on games that have already started is called live or in-play betting and can be done in Borgata's 'Live section'. Once clicking on the live button in the row at the top of the screen, you will see all of the games that are currently being played, divided by sport. 
Borgata Live Betting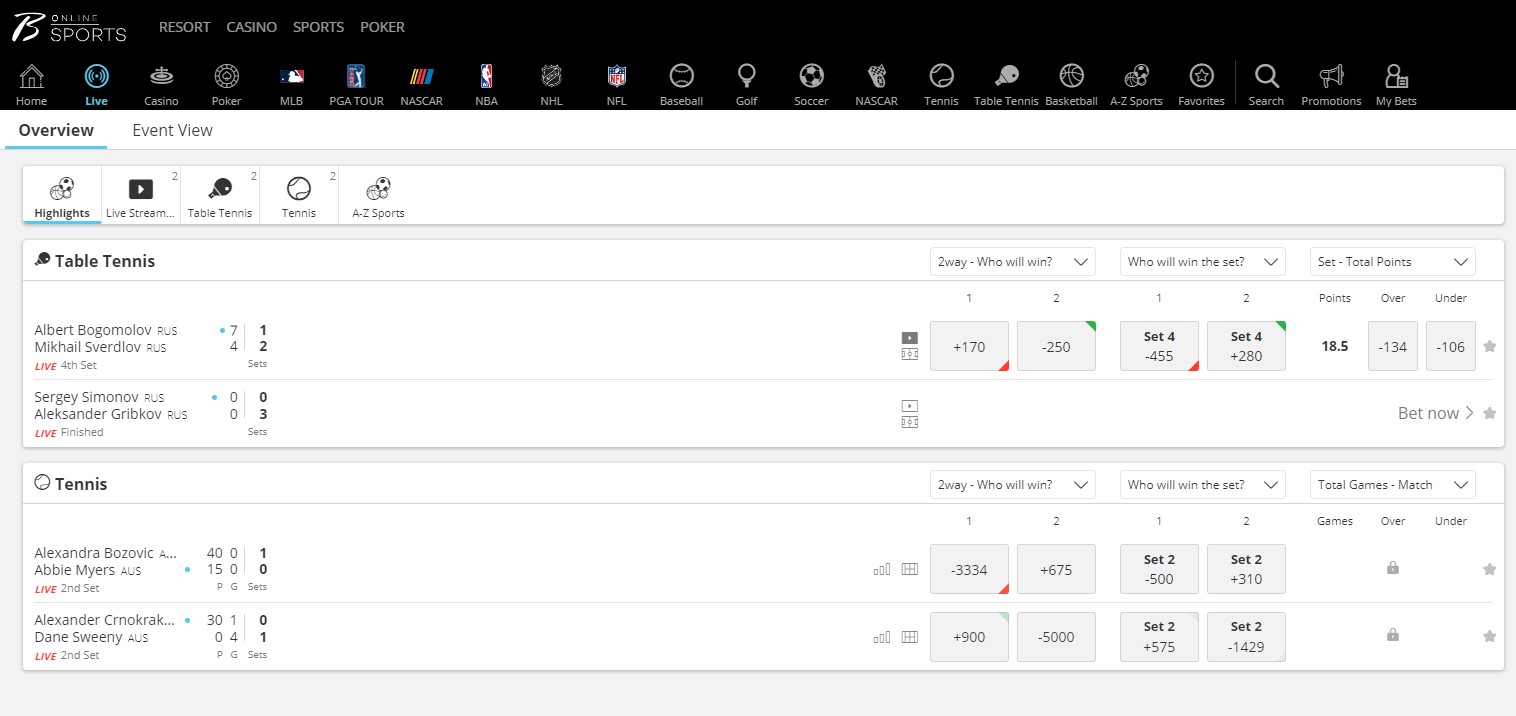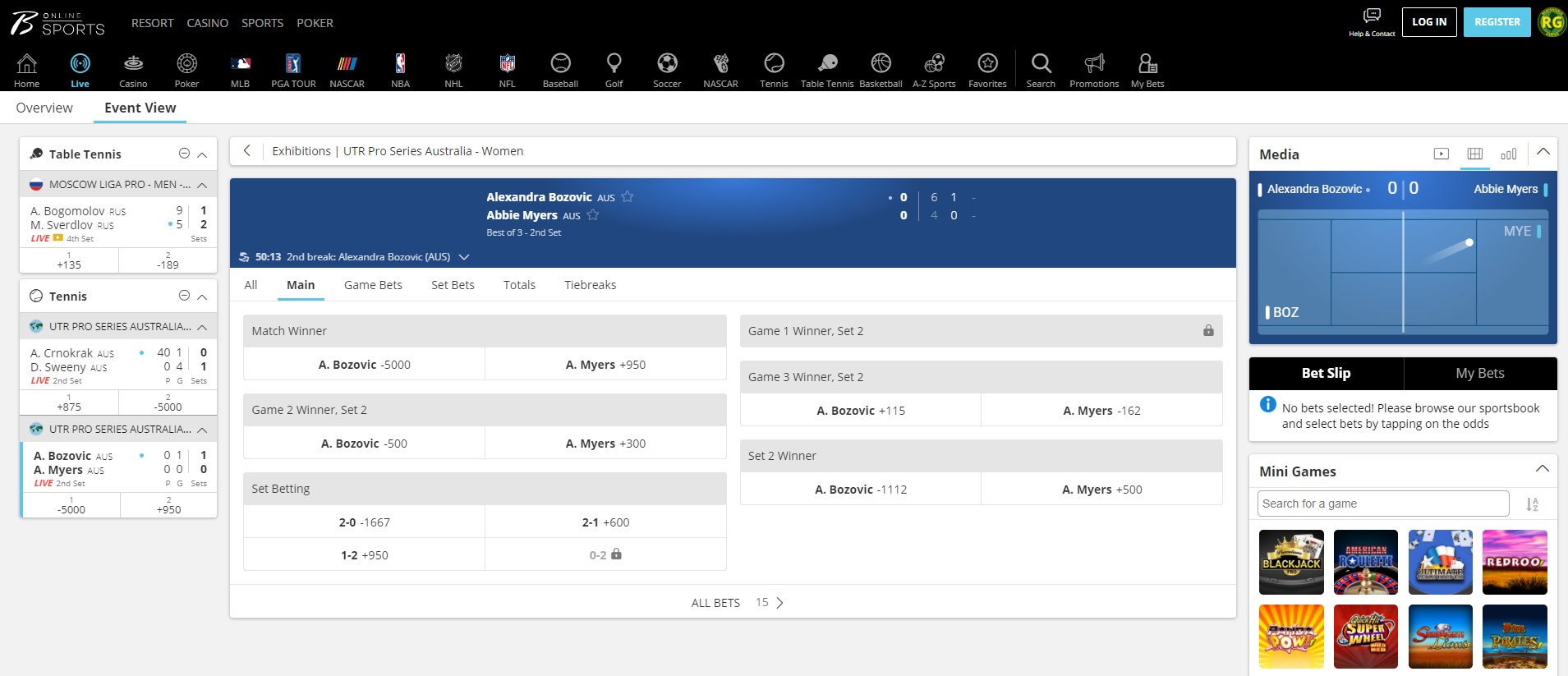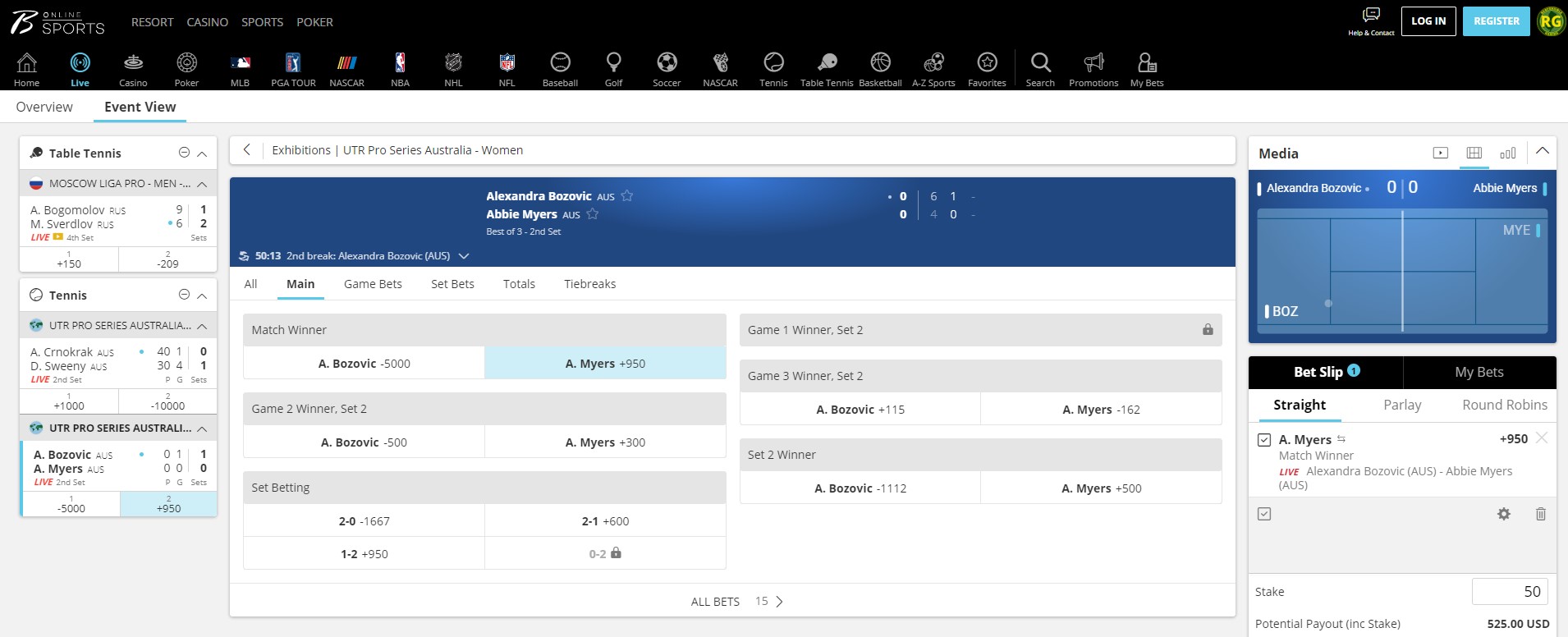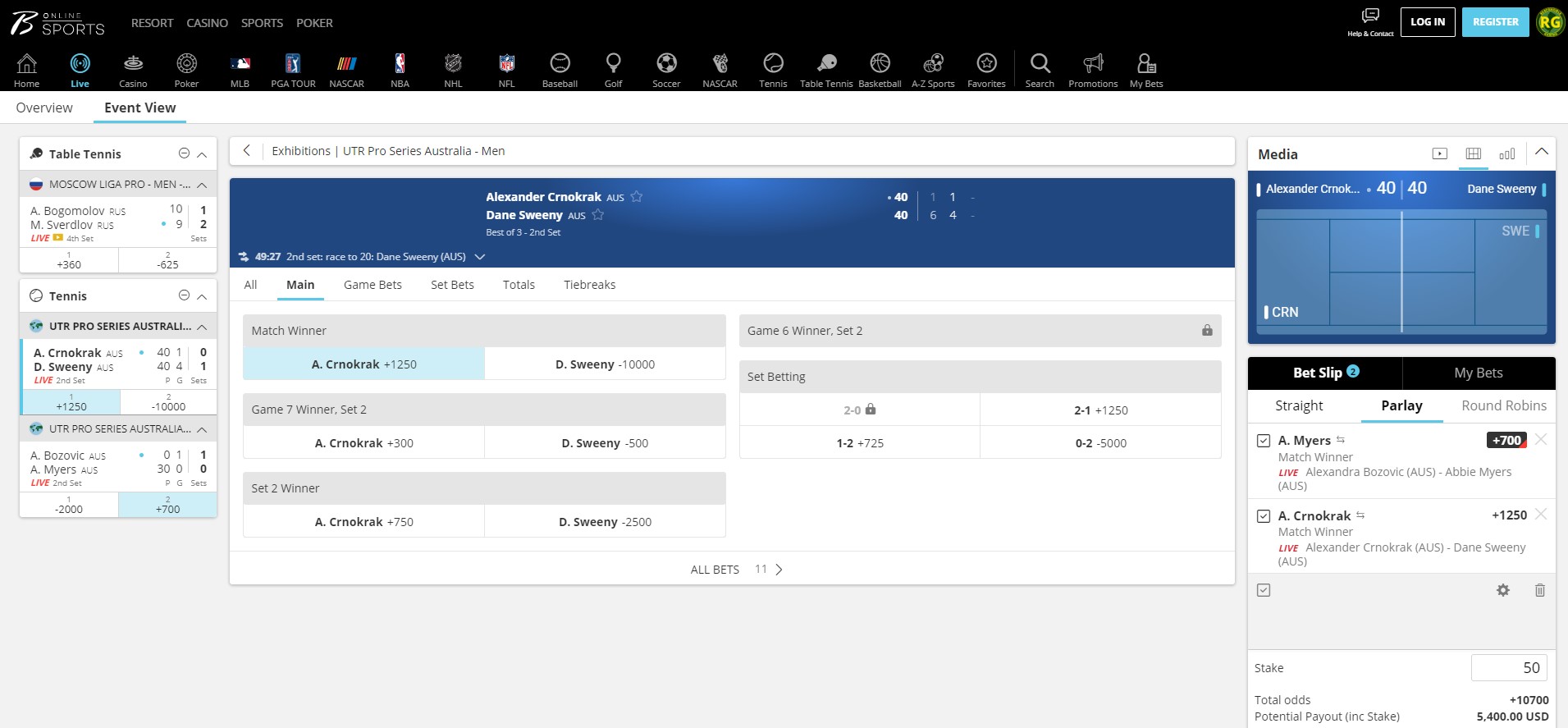 The one thing that will be shown is the score of both opponents in the competition. However, one thing that is helpful is that the list of live games will still remain on the left side of the screen; so if you bet on multiple games you can see the scores of all of these games without leaving the page. 
Promotions on Borgata are constantly updating and some go quite quickly, so this is definitely a section to pay attention to. Besides the welcome bonus and the price boosts, you can find many other great promotions offered. This section is one you will constantly want to moniter once you have began betting on the site. 
5) Step Five: Making Withdrawals
Anytime after you have been playing on Borgata, you can withdraw funds from your account. This can be done by going to the cashier section and clicking on withdraw. There you can select the method you would like to use and enter the amount you wish to withdraw.
There are currently three methods of withdrawal available on Borgata, that include both online and in person. The time it takes for the withdrawal to make it back to you depends on the method.
Withdrawal methods available on Borgata:
ACH (Online Banking) - (3-7 days)

Skrill - (3-4 days)

Cash at Borgata - Instant
The quickest method is of course getting cash paid out to you at Borgata's Atlantic City location. To check the status of your withdrawals using the other two methods, you can go to the cashier section and click on transaction history. 
Borgata has the right at any time to request that you visit the Borgata in Atlantic City in order to provide extra documentation. If for some reason this is not possible, you can talk to the customer support to discuss different options. Borgata's customer support includes a phone line, an email address and a live chat on the site. 
Borgata Sports does have mobile apps for its sportsbook available for both Apple and Android users. To download the apps go to the Borgata Sports main page. The IOS version of the app can be downloaded in the Apple store.

To get the Android app, you simply need to click on the Android button on the screen and the download will start immediately and directly from the Borgata site.