Registering at PointsBet
The state of New Jersey was just the first stop for PointsBet. The Australian based online sportsbook has since moved to other states including Indiana and Iowa, with bigger plans yet to come in the USA. 
PointsBet has the main types of betting markets that you would like to see, including teasers, moneyline, over/unders, prop bets and more. The main attraction though, is the unique 'pointsbetting' style found on the sportsbook. 
Step 1: Create an Account on PointsBet
Registration at online sportsbooks can have different processes depending on the state that you are signing up in. However, for fully legal mobile states registering an account will take you through nearly the same process. 
To get started in your state, go to the official PointsBet website. On the opening page there will be a drop down menu where you can select the state you want to bet in. This selection also determines how you will sign up in your state. 
PointsBet Registration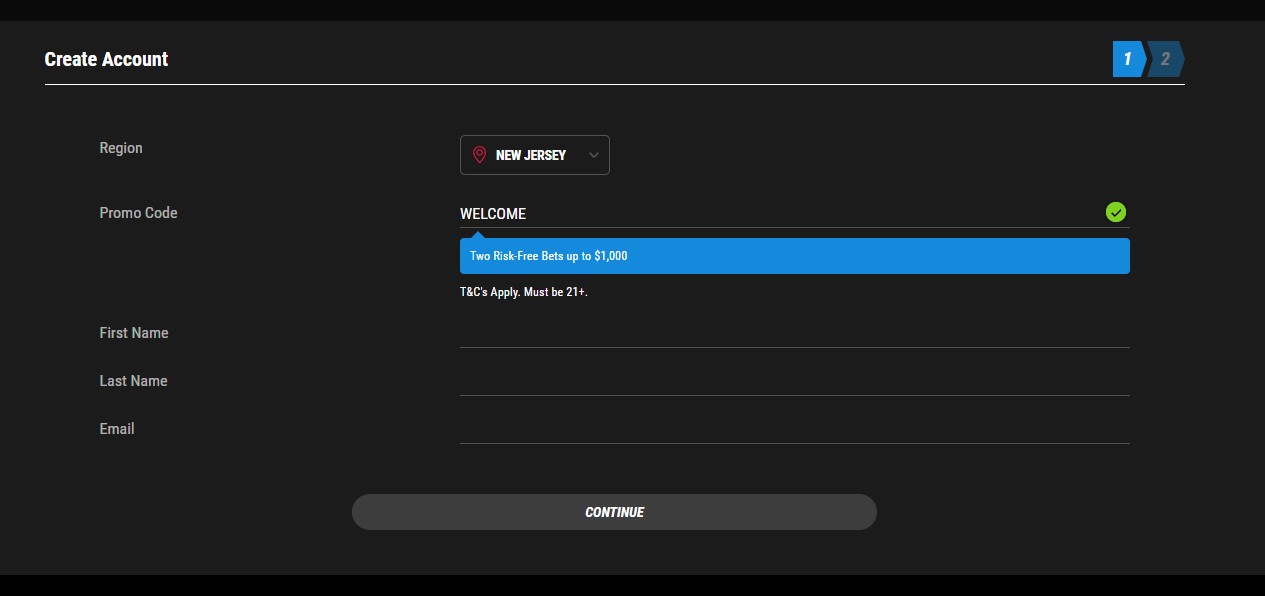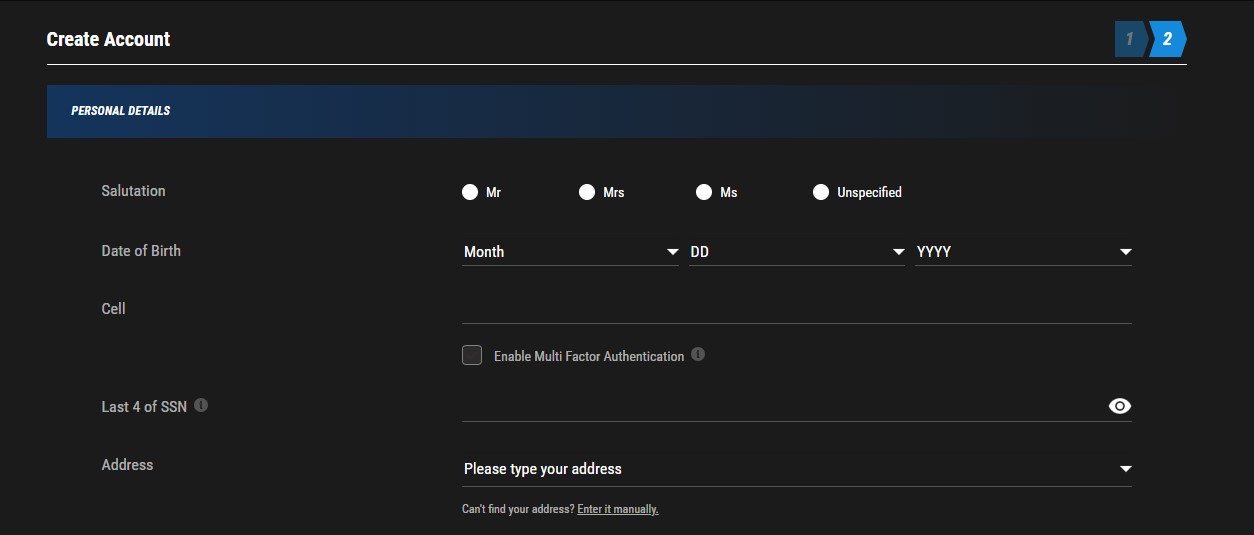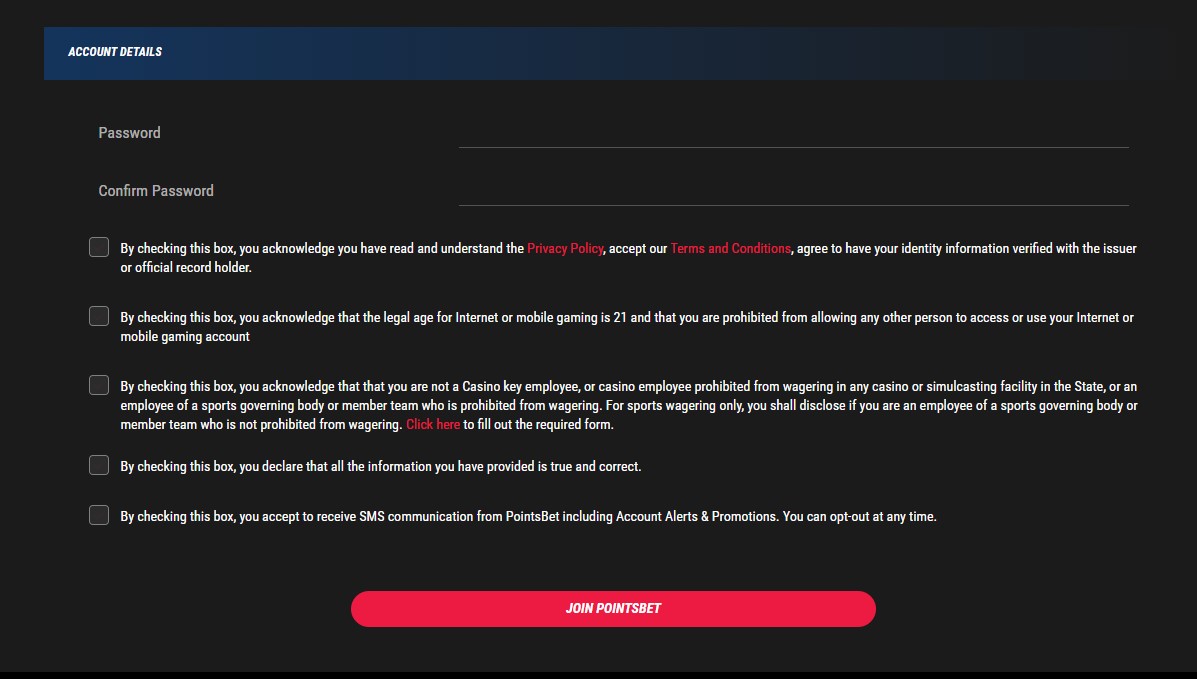 For Iowa bettors, signup will take place a little differently than the other states. In Iowa, you will need to visit the PointsBet physical location at the Catfish Bend Casino to fill out the signup form. After this is completed, you will be able to download the apps for both
IOS
and Android and begin betting on mobile.
(This Iowa signup process will be in effect until January 2021, afterwhich the registration process will become fully mobile) 
Going to any of the other available states will take you to the mobile desktop version of the site for your state. On this page is where you can begin creating an account. In order to get started, click on the red '
Sign Up
' button in the top right corner. 
Step 2: Finish Registration: PointsBet Terms and Conditions
There is nothing too difficult about completing the PointsBet registration in fully mobile states. The entire signup goes through two sections. After the process is completed, PointsBet will verify your information and send you a confirmation email stating that your account has been created.The second and final section contains a little more data that needs to be filled out. There are a few things that will need to be accurately reported in this second part. This section will contain three of the main pieces of information that are key to any sportsbook signup in the country. 
Date of Birth
Last 4 of SSN
Address
These three things are all important for some of the federal or state regulations and for making sure that your account is successfully created. The last four digits of your Social Security is the popular way for sportsbooks like PointsBet to verify your identity, and will be a key part in successfully creating your account. 
The legal age to place sports bets is almost unanimously 21 throughout the country. There are a few exceptions, but none too notable and none of which will apply here. Players hoping to make sports wagers on PointsBet will therefore need to be at least 21 to register. Putting a fake age will be noticed during verification.
Address and Geolocation
Geolocation services are widely used by sportsbooks apps in the US in order to guarantee that players are not betting from outside the state's borders. For PointsBet, there are still a number of functions that players can complete even when they are outside the state they want to bet in. 
Download the mobile apps for PointsBet

Complete the registration process 

Log in to your PointsBet account 

Check your account balance and bet history

Browse the odds for upcoming games
Players will still be able to complete a number of functions online no matter what state they are in. The main thing is that players are not doing any betting on the site or app while outside of the legal state. Bettors can also create an account while outside of the state, and log in and make bets when they are visiting. 
To enable these services, you must have a device with WiFi and have your GPS location services on. You do not need to be connected to WiFi for this to work, but the WiFi on your phone must be turned on. Upon logging in to the sportsbook, PointsBet will confirm your location.
Key Employees
In each state with legal sports betting, there will be certain persons who, depending on their occupation or affiliations, will be prohibited from betting. These will be defined by the institution in charge of betting in your state, however there are a few common individuals who will likely be prohibited. 
Member of a sports wagering service provider

Key employees of a professional sports organization (athletes, coaches, refs, etc.)

Member or employee of the institution in charge of regulating sports betting in the state

Individuals who hold or are associated with a supplier license

Union employees representing athletes or gaming officials
If you find yourself matching one of the prohibited persons, there is a chance you will still be able to make bets. In some states, there is a form that can be filled out and reviewed by the state's gaming commission allowing betting privileges to key employees who are not prohibited.  
Step 3: Payment Transactions on PointsBet 
Once your account has been approved, PointsBet will immediately prompt you towards making your first deposit. This is the final step that lies between creating an account and making sports bets. 
If you want to wait and make a deposit at a later time, then you can log in to your account at any time and go to your profile information to make payment transactions. The minimum deposit on PointsBet is five dollars, however for cash deposits the minimum will be ten dollars.
| | | | | |
| --- | --- | --- | --- | --- |
| Payment Method | Deposits | Withdrawals | Deposit Processing Time | Withdrawal Processing Time |
| Credit/Debit Card* | Yes | No  | Instantly | X |
| PayPal | Yes | Yes | Instantly | 1-2 Business Days |
| Bank Transfer | Yes | Yes | Within 24 Hours | 1-5 Business Days |
| eCheck | Yes | Yes | Instantly | 1-5 Business Days |
| Cash | Yes | Yes | Instantly | Within 24 Hours |
* Accepted credit/debit cards are Mastercard, VISA and Maestro 
Depending on the state that you are in, PointsBet may have physical locations that can accept deposits and withdrawals. To make a transaction at one of these places, you will need to go in person during business hours and provide a photo ID. The deposits made in person must be done in cash. 
Hollywood Casino - Lawrenceberg, Indiana

Catfish Bend Casino - Burlington, Iowa

Meadowlands Racetrack - East Rutherford, New Jersey
When selecting a deposit option, it is best to consider the versatility of each method in being able to make both deposits and withdrawals. For PointsBet, one of the most common methods for this is PayPal. The online wallet will allow you to make all payment transactions, with low processing times.
Step 4: Making Bets
PointsBet both follows the status quo of fixed odds betting as well as its own unique betting style '
Pointsbetting
'. The pointsbetting style gives players a way to make place high-risk, high-reward wagers on their favorite games. This unique style makes PointsBet stand out among top competition, but is not the only great betting feature available. 
Quick Parlays

Instant Live Bets

Name a Bet 

Odds Boosts

Cash Out Function

Parlay Boosts
All of these great features are available and can be accessed directly from the main page. Players can also pick up on some of the trending or upcoming games here. The emphasis will be on the popular American leagues, so a quick browse through the home page will keep you updated on the major competitions that day.
PointsBet: Fixed Odds and Pointsbetting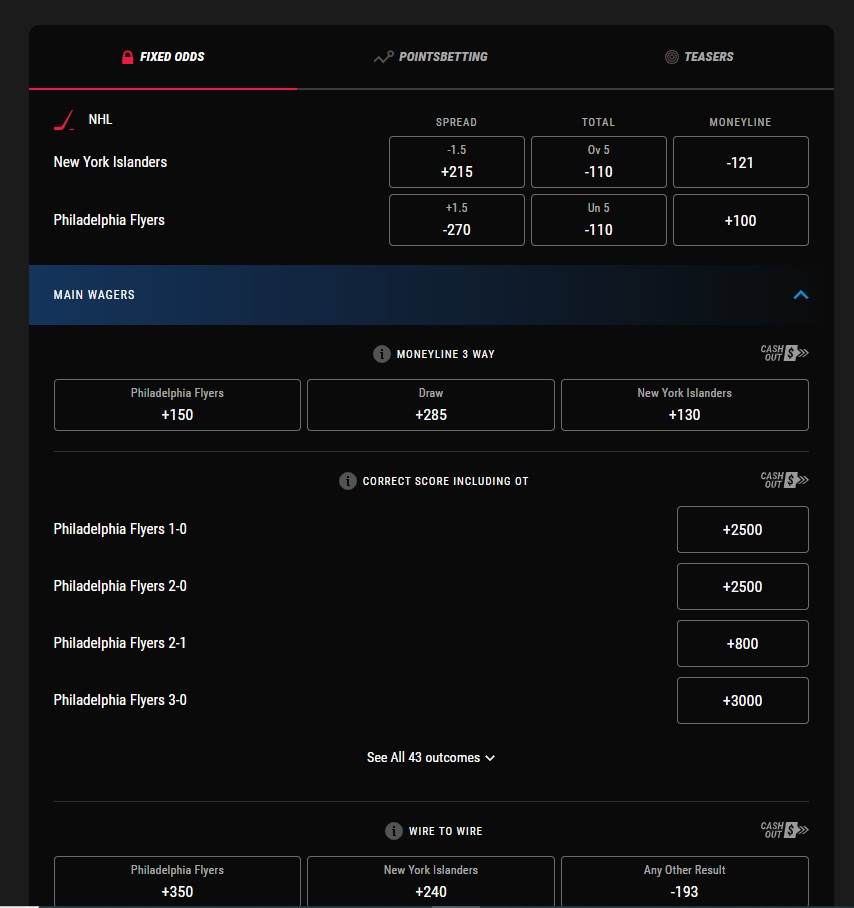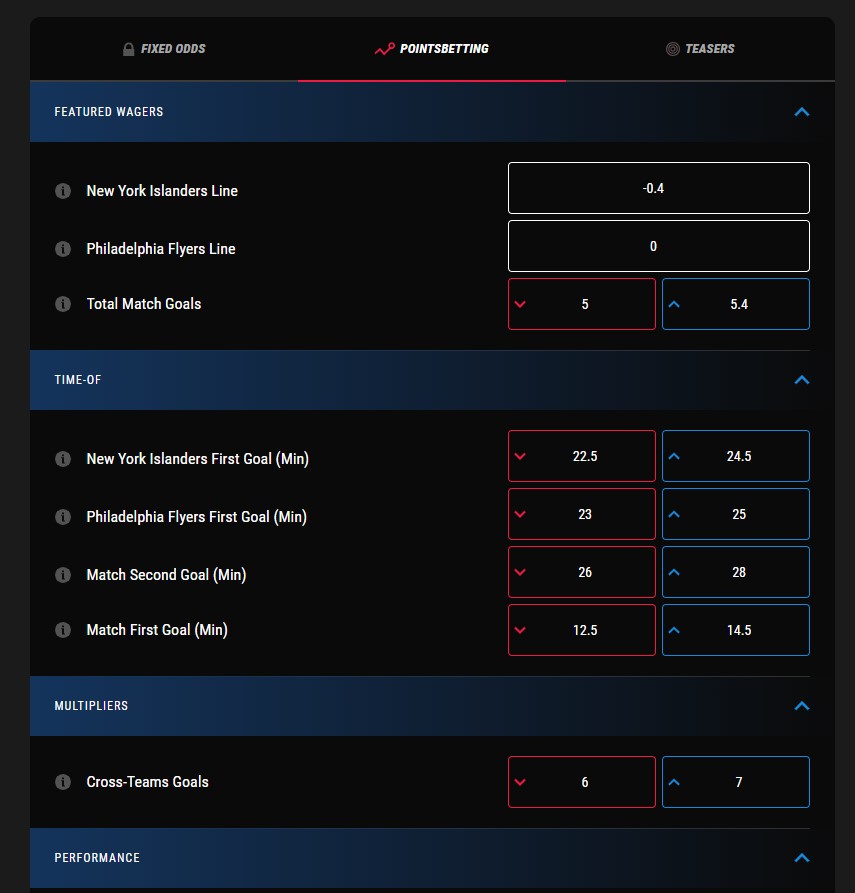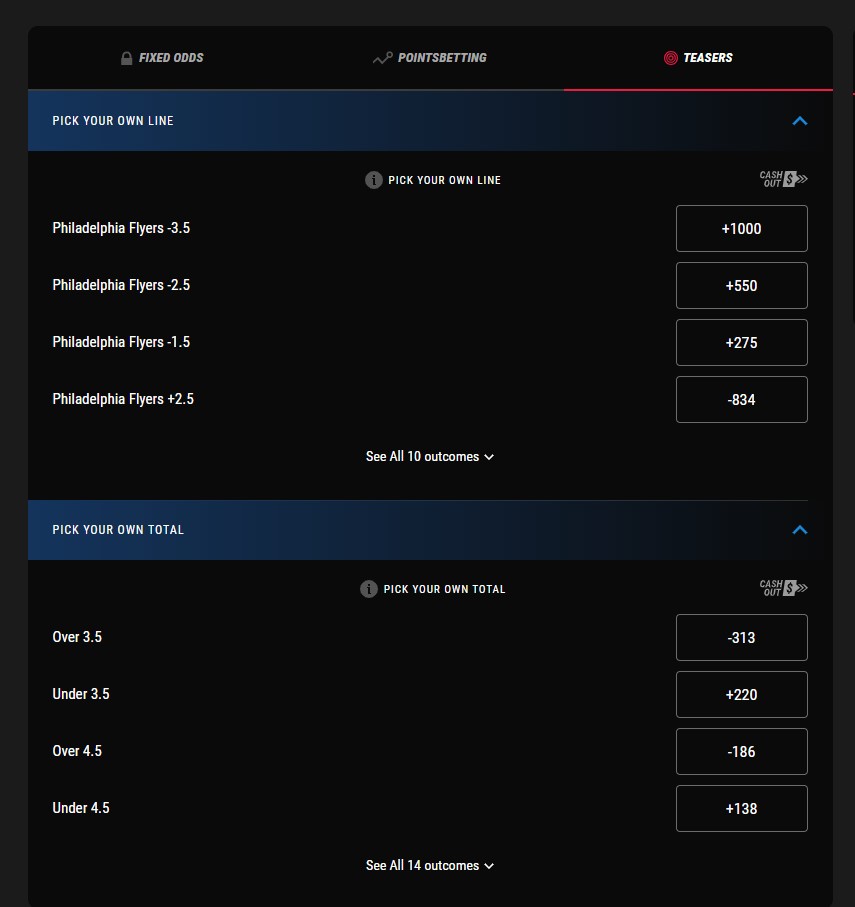 Another thing to note about wagering on PointsBet is the insanely low minimum wagering requirement, which as of now sits at 50 cents. For most of the competitions on the sportsbook, pointsbetting will be available. Pointsbetting wagers are a lot of fun, and each listed line will be accompanied by an information box describing the details of the bet.
Overall, PointsBet is certainly a top sports betting competitor and will be wherever it goes. The sportsbook has everything you would expect to see including promotions, live betting and plenty of other great competitions included on the site. Making bets is easy and with multiple ways to do it there are no limits to the wagering possibilities on PointsBet.