Registering at SugarHouse
SugarHouse Sportsbook may not be the most well-known name in the sports betting industry, but the sportsbook has many benefits for players who sign up. The bonuses and promotions are enticing, the live section is complete with live streaming and the site has many different sports to bet on. 
SugarHouse went live with its New Jersey sportsbook in August 2018. It was only the third sportsbook to open up in New Jersey at the time.
It was also the first fully integrated online casino/sportsbook in the state. SugarHouse is partnered with Golden Nugget casino in Atlantic City and the sportsbook is powered by Kambi. In other states, you can still get the same Rush Street Interactive sportsbook product under the BetRivers brand.  
1) Step One: Sportsbook Registration
You can go to the official SugarHouse sports betting site to begin registration. There are sites for both the New Jersey and Pennsylvania editions of the sportsbook, and you can easily switch from one to the other. Registration should be completed in the state that you will be betting in. 
In the top right corner of the home screen there will be an orange 'Join Now' button. Clicking here will take you to the registration form. There are three separate sections that need to be completed when signing up. 
SugarHouse Sportsbook Registration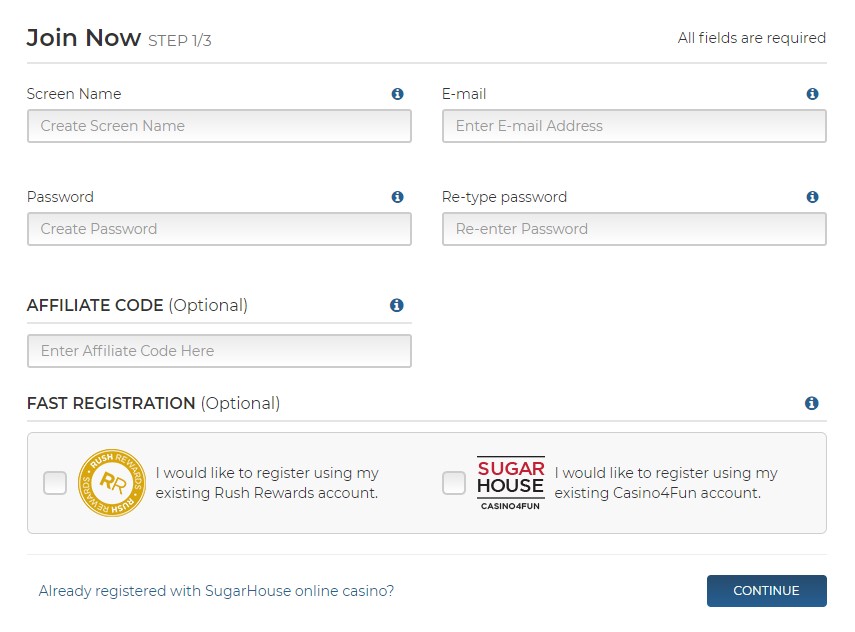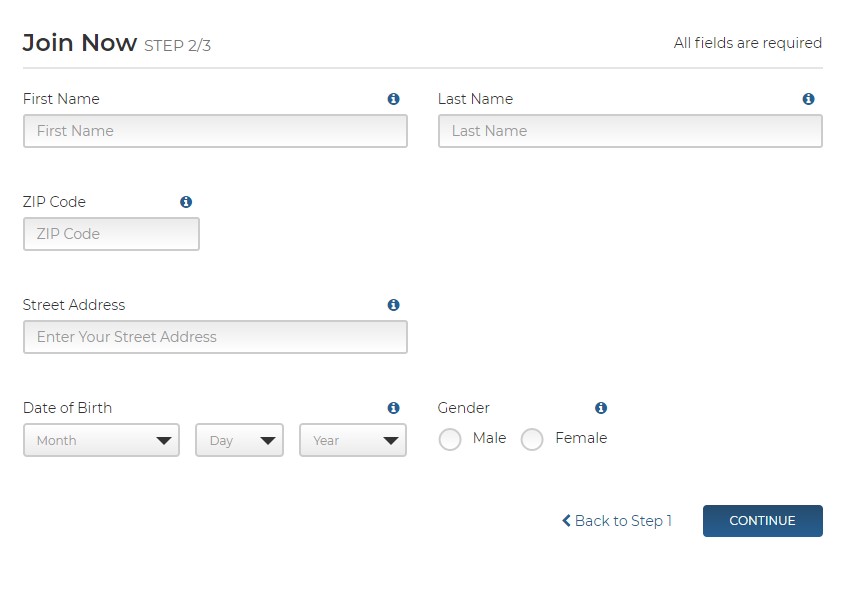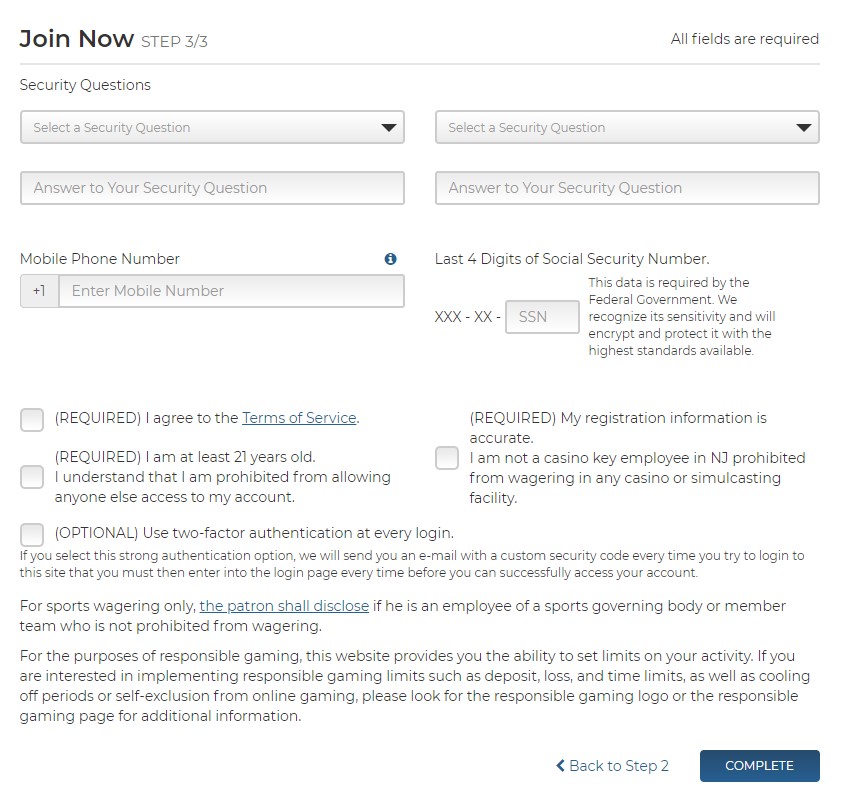 The information that you enter during registration will be verified in order to satisfy the laws and requirements of both SugarHouse and New Jersey as well as to protect you against possible disputes in the future. Therefore, it is very important to enter all information as accurately as possible. 
If you have previously played with an account at either RushRewards or Casino4Fun then there will be an option for you to use "Fast Registration". This will pull your information from those accounts and use it to help fill out your information for your new account. This is a great option that is not available on every sportsbook. 
There are three sections that need to be completed including:
Account information (username, login)
Personal information (name, address,birthday)
Terms and conditions (SSN, phone number, T&Cs)
After completing these three sections your information will all be verified using the form of identification that you entered. After this is completed you will be prompted to make your first deposit and to begin playing. 
2) Step Two: Complete Registration - SugarHouse and New Jersey Terms and Conditions
The last four digits for your social security number will be used for verification throughout the process. Additional identification may be requested at any time during the registration process or after. 
There are three main things that sportsbooks look for:
The reason that these are important is because they coincide with state and federal gambling laws. In almost all of the states offering mobile sports betting, it is against the law for an individual under the age of 21 to engage in gambling or sports betting.
Sportsbooks will also need to check and verify a user's location before they can make bets. Due to federal law and New Jersey state law, all sports betting in a legal state must be done within that state. Therefore, if you are creating an account in New Jersey, you will need to be in the state. 
However, if you are visiting the state you can still make bets as long as you are there. Some sportsbooks have sites and apps that work in multiple states. So as long as you are there you can use these without any problems.
The way that SugarHouse checks a location is through the use of 'Geolocation Technologies'. Geolocation is used by many sportsbooks and will report your location to SugarHouse when you attempt to log in and also periodically while using the site or app.  
Key Employees 
Finally, among other things, SugarHouse needs to confirm that you are not employed by a state casino, a company holding a casino license or an employee of the gaming commission holding a "key employee" license.
There is an additional group of employees that may have restrictions placed on them when betting. If you are a key member of a professional sports organization including a player, coach, owner, etc., then you may still be allowed to bet, but will not be allowed to place wagers on games associated with them.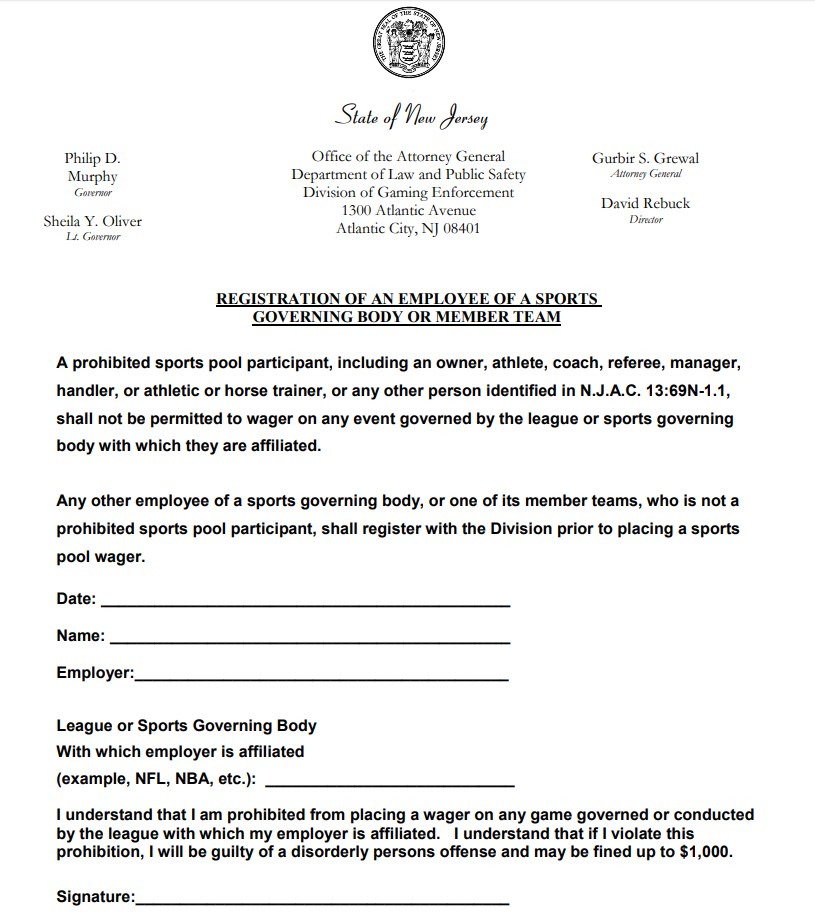 If you hold one of these positions you will need to fill out a quick form stating your name, date and who you are employed by. You will also need to sign the form signifying that you understand you are not able to wager on associated games. 
3) Step Three: Deposit into your account
Once registration is complete, you will then be prompted to deposit funds into your account. This can be done by going to the cashier section and clicking on deposits. You must have an account and be logged in to access this section. You will need to select a method for making a deposit. 
There are many different deposit methods that are available in New Jersey. Some are more common than others and will be featured on most sportsbooks. On SugarHouse, you can choose between the following deposit methods.
(The minimum deposit amount for most methods is ten dollars) 
Online Banking/ACH
Cash @ Casino Cage
Pay with Cash
SugarHouse Play+ Card
Paypal
Credit/Debit card
Depositing cash in person at the casino is available at the Golden Nugget Casino in Atlantic City. Once you are there you can talk to a cashier, show them your photo ID and tell them how much you want to deposit into your SugarHouse account.
You can also deposit money at 7-Eleven convenience stores across the state. To do this, you need to quickly register with Pay with Cash, which can be done on SugarHouse in the cashier section. Then print off a pay slip and take it to any 7-Eleven location and talk to the cashier.
4) Step Four: Making Bets
SugarHouse is truly a fully-loaded sportsbook with lots of options and extras included. The live section is definitely one of the biggest highlights about this sportsbook.
Thankfully, live streaming is spreading quickly on USA sportsbooks, and on SugarHouse it's almost difficult to find a game that is not being streamed live on the site. Many top sports and competitions are accompanied by live streaming.
SugarHouse even has streaming for darts competitions, seriously. The 'Streaming Live' section on the site gives you the opportunity to browse odds for each game, place a wager and then watch the game live without ever leaving the site. 
Making a Live Bet on SugarHouse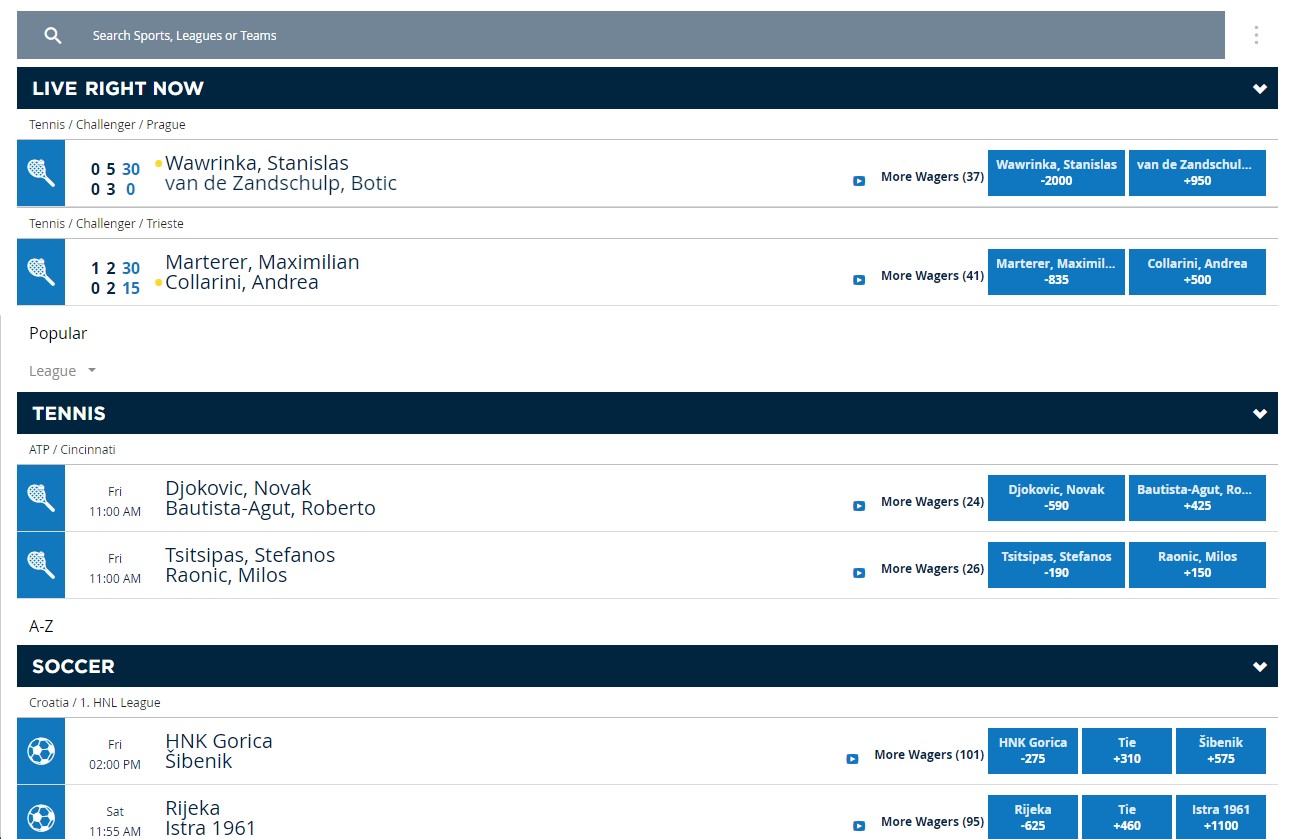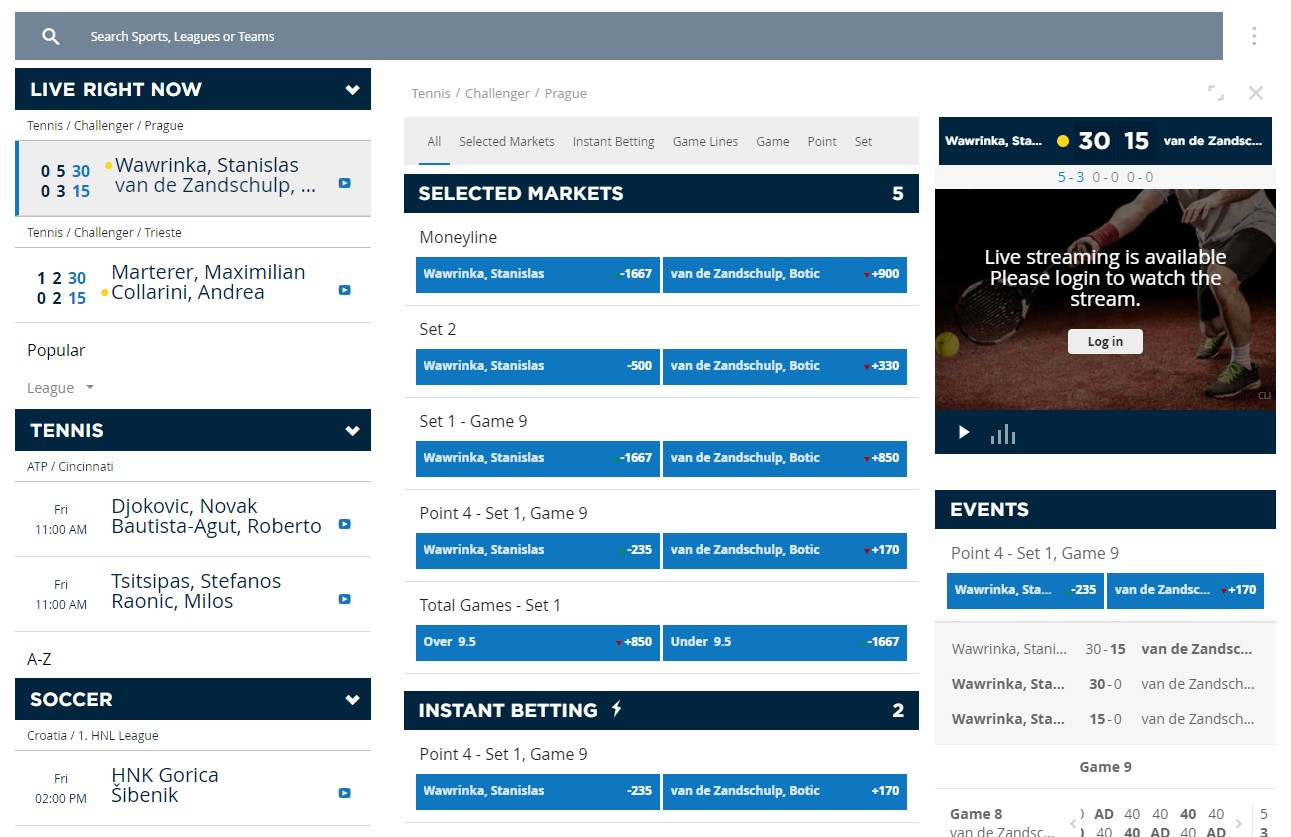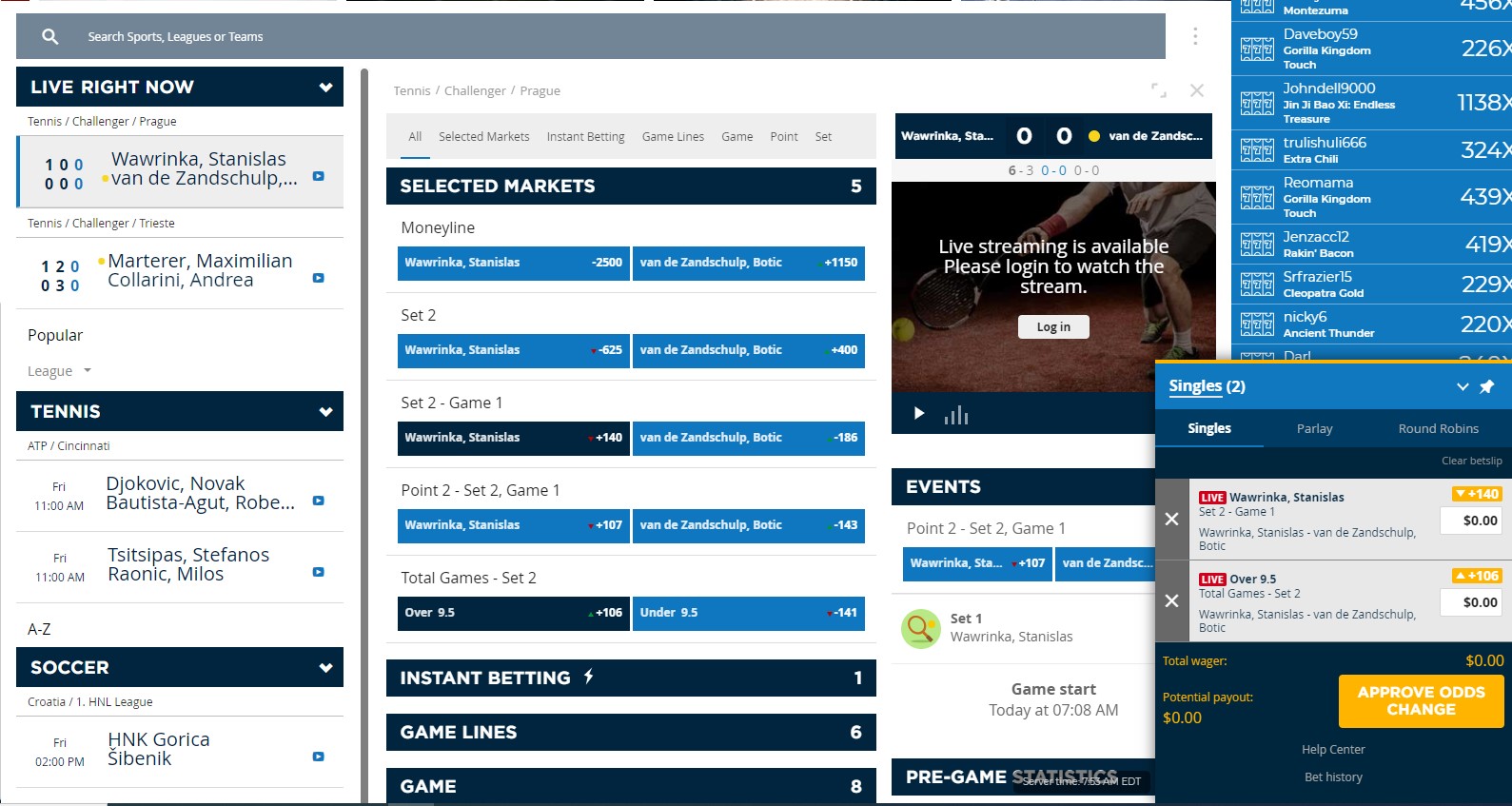 SugarHouse currently has ten sports available for betting on in the sportsbook. The sports will be listed on the left side of the screen. Football, basketball and baseball are all included. There are also some less common sports on the site like darts, table tennis and cycling.
There are also other games such as live dealer blackjack that you can access on the casino portion of the site. Among the bets you can make on SugarHouse are moneyline, parlays, over/under, futures, live, handicap and teasers.
There are also lots of loyalty and rewards programs on the site, where you can exchange points for various prizes. These are in addition to the welcome bonus on SugarHouse that matches the first deposit you make 100% up to $250. This can be received after creating your first account and making the first deposit. 
5) Step Five: Making Withdrawals
The last thing you will do after making bets is to withdraw your money. This can be done by going to the cashier section and clicking on withdrawals. The process is similar to making deposits on the site, as you will need to select a method for withdrawing and enter the amount you want to withdraw.
It is possible that when you go to withdraw an additional verification check takes place. SugarHouse may ask for additional documentation when you request to withdraw money. 
The options for making withdrawals at SugarHouse:
SugarHouse Play+ Card
Online Banking/ACH
PayPal 
Cash @ Casino Cage
Check by Mail 
The amount of time it takes for your money to be returned depends on the method you use for withdrawing money. The quickest way is to use the SugarHouse Play+ Card, as the funds will be immediately available.
You can also head to the Golden Nugget in Atlantic City or at Rivers Casino in Philadelphia and immediately withdraw your funds. With other methods, PayPal will withdraw your funds within 30 minutes whereas online banking/ACH will take two to five business days.
If there are any disputes during the process of withdrawing money or any other step listed in this guide, it is best to immediately contact the customer support team at SugarHouse. The quickest way to do this is through the live chat on the site, which runs during normal business hours. 
There are mobile apps for SugarHouse available for both Apple and Android devices. These will feature the same gameplay as the mobile version and can be accessed anywhere in New Jersey. For Apple, SugarHouse will take you to the Apple store where you can download it for free for iPhones or iPads.
For the Android version of the app, you can download it directly off the site by just clicking on the Android image. You will need to allow downloads from SugarHouse in your settings. Once you see the file you can click on it and install.