Registering at William Hill
William Hill brings a lot of great features to the betting industry in whichever state it launches in. The brand William Hill sportsbook is international, but has been operating in Nevada since 2012. So, the British-based company certainly has experience in the US sports betting industry. 
William Hill also has the most locations in Nevada, and opened its sportsbook in New Jersey at the Monmouth Park Racetrack in June of 2018. It was there that William Hill accepted the first legal sports bets in the state. 
It has also recently made deals to open up its sportsbook at the New Jersey Devils' Prudential Center in Newark. William Hill is a very well made sportsbook with a wide variety of different sports and lines to bet on, as well as consistently having good bonuses and promotions available. 
1) Step One: Sportsbook Registration
To get started betting at William Hill, you will first need to create an account. This can be done by going to the site and clicking on the 'Register' button in the top right corner of the screen. Once you click on this button, you will begin the registration process. 
When you are filling out the registration form, it is important that you enter all information accurately and correctly. William Hill will need to verify your information in accordance with state and federal rules and regulations. Failure to register correct information could result in future disputes or even account suspension or deactivation. 
William Hill Registration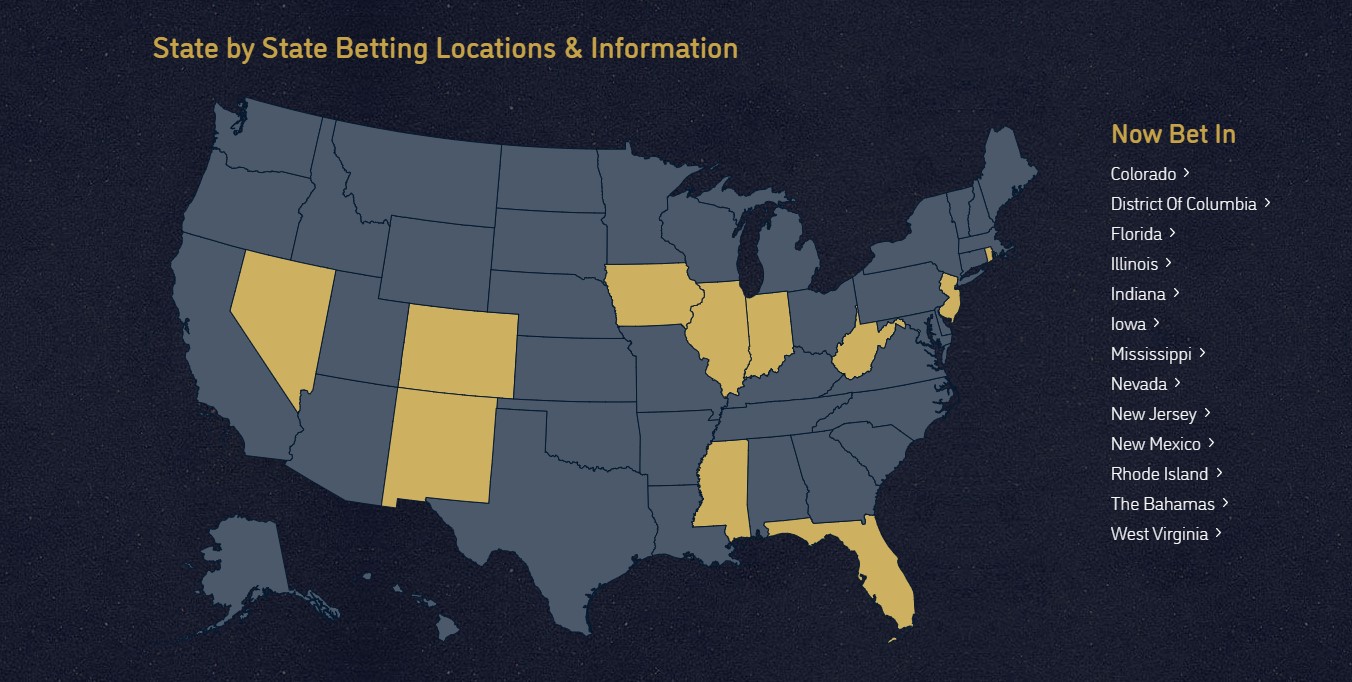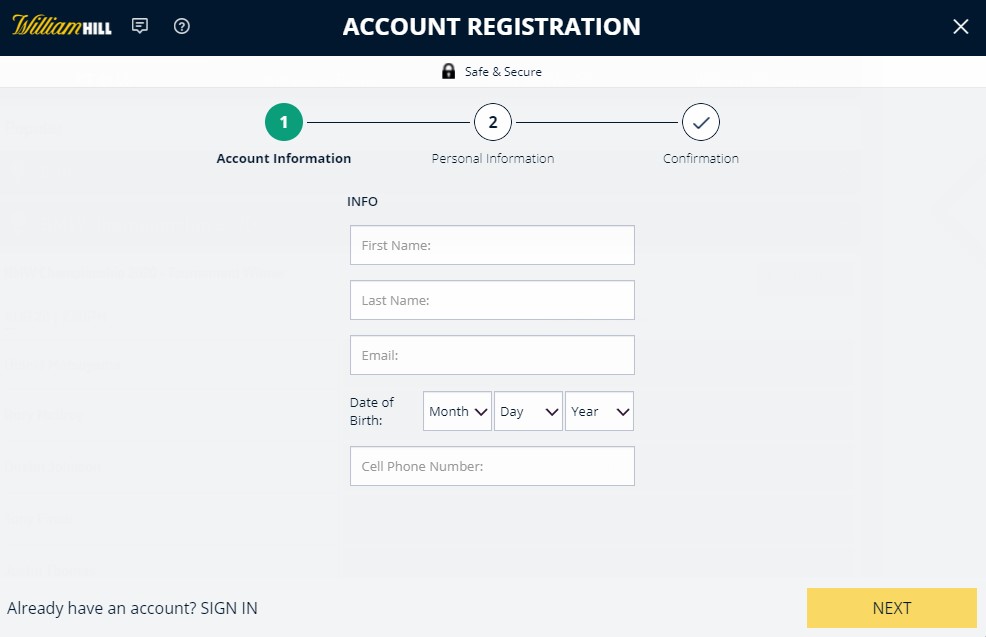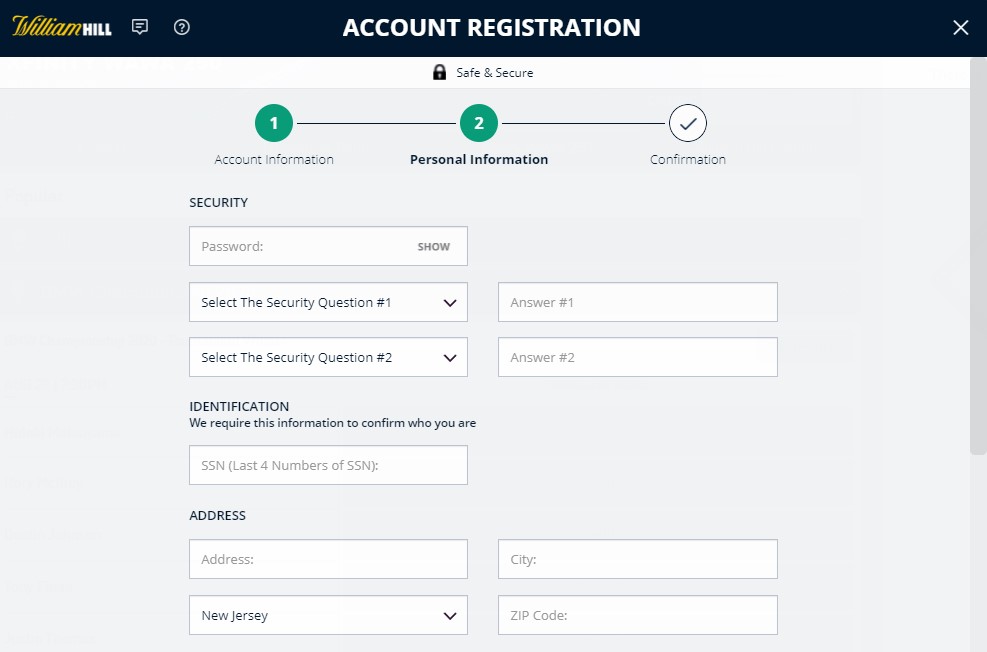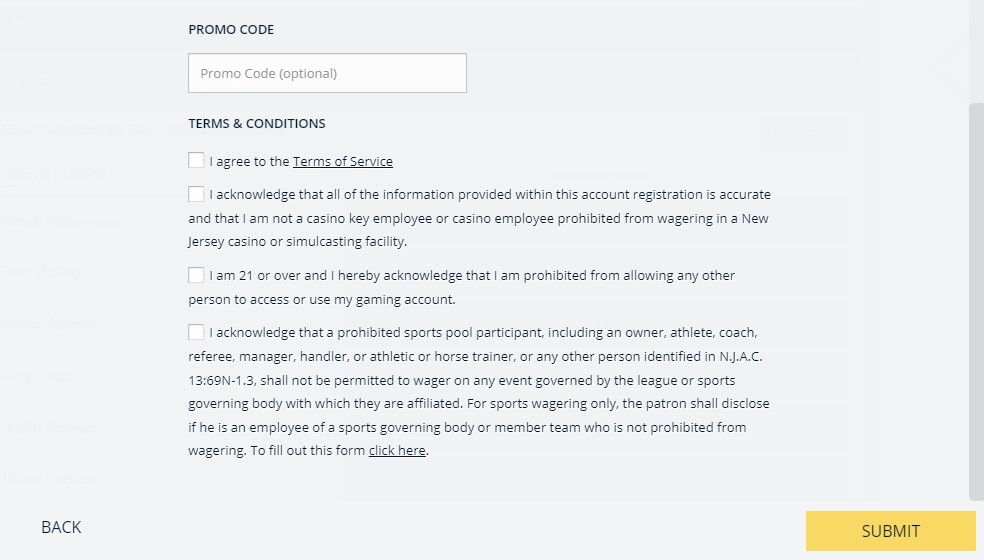 The process of creating an account at William Hill is quite straightforward, and is similar to registrations on other sportsbooks. However, instead of three sections to fill out, there are only two. The registration process will coincide with state and federal laws in relation to sports betting and gambling.
After filling out the registration form William Hill will verify your information and then approve the account. You will be notified either by email where you will need to complete the process with a confirmation. 
The main verification points in the registration:
These three things will be the main points in the process of creating an account at William Hill. This is due to the laws and rules that relate to them. For identification and verification purposes William Hill will ask for the last four digits of your social security number. 
Sportsbooks will have different rules for how betting is conducted on their sites, however all sports betting sites in New Jersey will also have to adhere to federal and state gambling laws. Therefore, these will be some key things to know before signing up at any sportsbook.
2) Step Two: Complete Registration - William Hill and New Jersey Terms and Conditions
The first step begins with simple account information. You will need to provide your full name, email address, date of birth and a cell phone number.
In New Jersey, it is illegal for persons under the age of 21 to take part in gambling. Thus, your date of birth is very important and should be written correctly. William Hill will verify this information before account registration can be completed. 
The second and final section before confirmation requires the bulk of information. You will first need to select two security questions and answers to help secure your account. The last four digits of your social security number are also necessary, as this will be used to help verify your information.
(However, you will be able to log in and use the sportsbook if you are visiting a legal state. You just need to be located within the state's borders to bet)
To help abide by these laws, William Hill uses two methods of verification:
Address (verified by SSN)

Geographic location information
You will need to enter your address in this section. This will later be verified by your social security number and possibly with additional documents if William Hill deems it necessary.
In the terms and conditions that you will need to agree to, there is a section that will talk about the geolocation services it uses and how to enable them.
It will be stated in the terms and conditions that you consent to the use of geolocation technologies. This should be known that since this is in accordance with federal and state laws, that this will need to be done on all sportsbooks that offer mobile betting and is quite normal. William Hill will check your location when you log in to your account, and periodically throughout playing. 
The box after that will require you to confirm that you are not a key employee or casino employee. If this is you it is likely you already know that you are prohibited from gambling in some form or another. Agreeing that you are 21 years of age or older is the next box you will need to check. 
Key employees can include players, coaches, owners, referees, match handlers and more. However, there is a possibility that you hold one of these positions and are still permitted to bet. If this is the case, you will need to fill out the form provided in the agreement.
3) Step Three: Deposit into your Account
Once your account has been confirmed you can begin to start betting only after making a deposit. You can either deposit on the site or go to any physical location that features a William Hill sportsbook.
The methods available for depositing depend on the sportsbook, so you will have different options available for each. However, you are able to use many of the widespread payment methods like credit and debit cards on most sports betting sites.
William Hill currently offers these deposit methods: 
Visa

MasterCard

ACH (e-check)

William Hill PrePaid Card

Deposit at Retail Locations
You can apply for the prepaid card by going to William Hill's site and clicking on the deposit funds option. Once you have completed the application and made an initial deposit, William Hill will mail the card to your home. 
William Hill also differs from many other sportsbooks in that it has multiple physical locations throughout each state. You can make a cash deposit at any of these locations which are situated in Atlantic City, Las Vegas, Biloxi and Monmouth.
William Hill has also opened its sportsbook at the Prudential Center in Newark, which will likely also feature this option in the future. The wait time for deposits depends on the method, though depositing cash on location or using the William Hill PrePaid Cards will almost certainly be your quickest options. 
4) Step Four: Making Bets
William Hill is one of the most popular sportsbooks in the world and in the United States. This is for good reason as there is not much missing in terms of gameplay on the site. 
The number of sports changes to represent the ongoing sports at the time. There are normally more than 12 sports featuring bets on the site. Bets on football, baseball, and basketball are of course included with multiple leagues available in each. 
The maximum payout for each sport on William Hill:
Football - $2 Million

Baseball - $1 Million

Basketball - $1 Million

Hockey - $1 Million

Soccer - $500k

Boxing - $250k

Golf - $250k

Tennis - $250k

UFC/MMA - $250k

Other Sports - $25k

Novelty/Specials - $10k
On William Hill, there is a large variety of markets that you can bet on, including moneylines, over/unders, handicaps, live bets, props, futures and more. 
The live section on William Hill is titled 'InPlay' and clicking on it will take you to all of the games currently being played. The games will be separated by sports and leagues, making it easy to navigate to the game you are looking for. 
William Hill Live Betting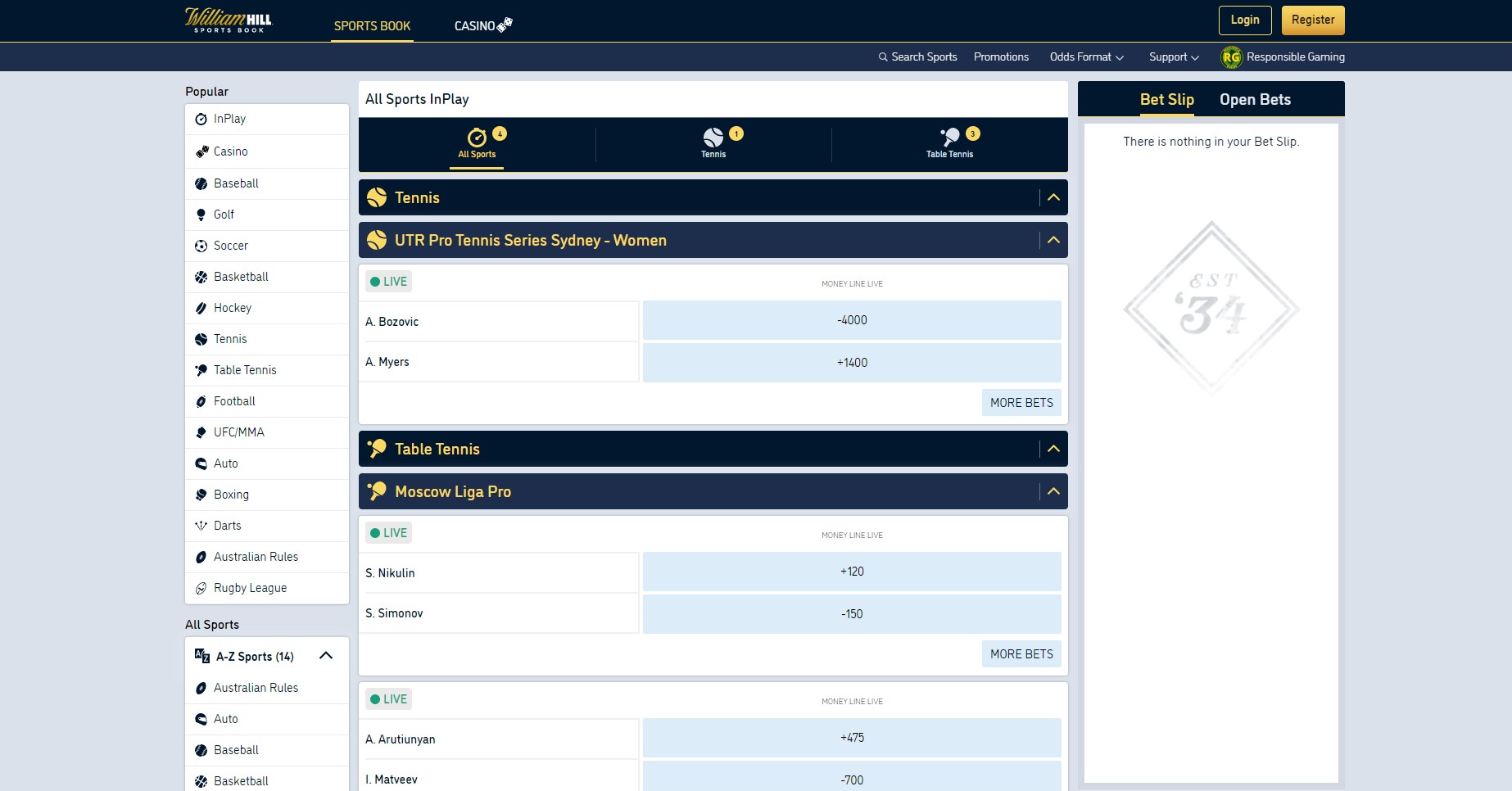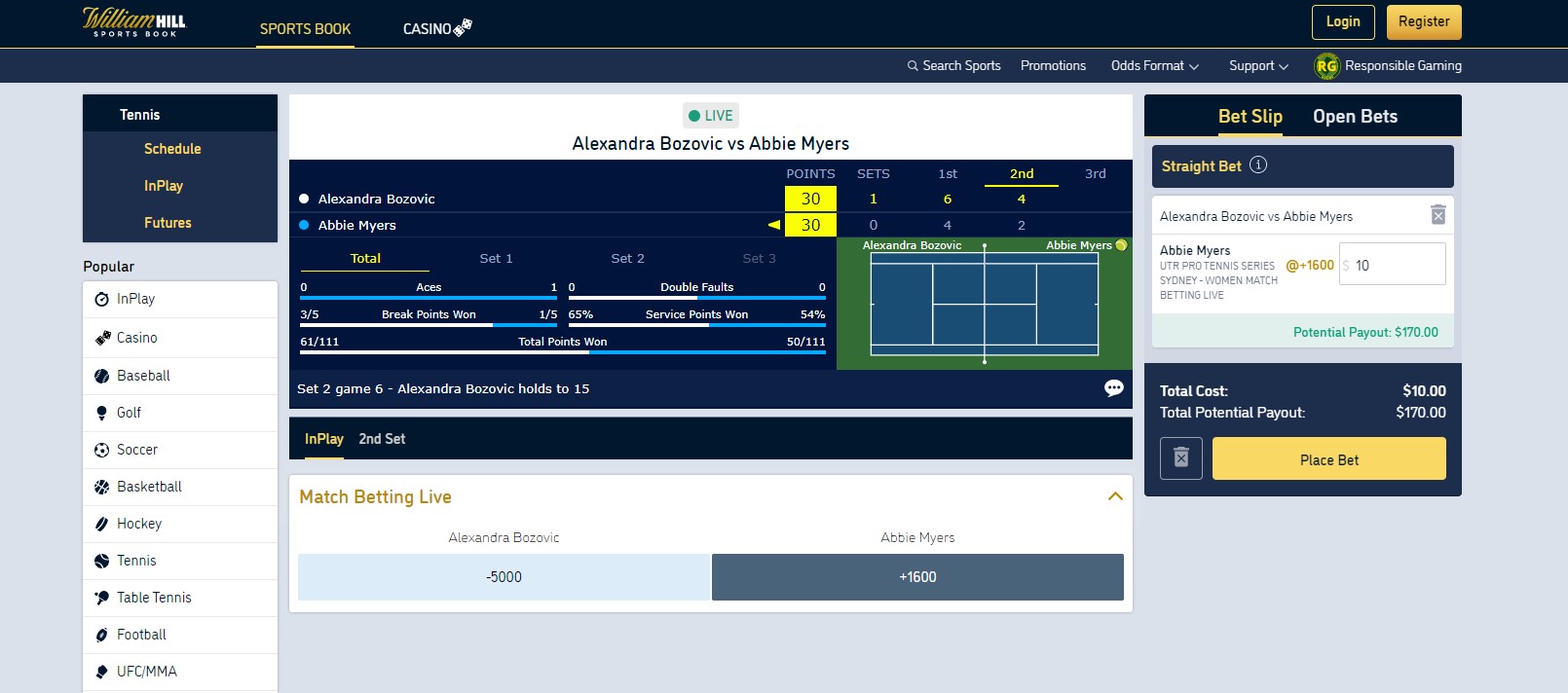 Clicking on a game will take you to that live event. There is no live streaming as of now. Instead, there will be a live match tracker at the top of the page that closely follows the game's action. Below this will be all of the markets you can bet on with the odds for each bet right next to them. These odds will update very quickly with each new change in the game.
The promotions section on the site consistently updates with new promotions and many will coincide with the seasons. For example, baseball promotions will be available during the bulk of baseball season. You can regularly check this section to find extra bonuses and promotions that are available to you. 
5) Step Five: Withdrawing Funds
The last thing you will need to do after playing at William Hill is to withdraw funds from your account. You will need to select one of the offered withdrawal methods at William Hill and choose an amount to withdraw. 
There are currently three options available for withdrawals at William Hill New Jersey. Depending on how large the withdrawal you are making is, you can contact the customer support team at William Hill to ask about the possibility of additional methods. 
William Hill Withdrawal Methods:
ACH (eCheck)

William Hill PrePaid Card

Withdraw at Retail Location
All of these methods will feature incredibly small wait times. Withdrawals using any of the available methods should take no more than 72 hours, however they are generally done much quicker.
If you have any questions during the withdrawal process you should contact the William Hill customer support team. William Hill New Jersey has a phone number, email address and a live chat available on the site. There is also a section with payment FAQs that can help to provide more information on making withdrawals.
There are mobile apps available for William Hill New Jersey for both Apple and Android devices. You can download the apps for both devices right off of the William Hill home page by clicking the buttons next to 'Bet Now'. The Apple version of the app can be downloaded directly from the Apple store.

Clicking on the 'Download Android' button will take you to a page with instructions on how to download the app. Simply select on the New Jersey edition of the app, turn on 'allow from this source' in your settings and click install.