Registering at Golden Nugget
Golden Nugget has multiple locations in the United States, and the one in Atlantic City is one of the most well known. It opened on July 19,1985 and hosts multiple restaurants, a marina and mixed martial arts and boxing matches at the casino. 
On May 23, 2011, Landry's purchased the property for $38 million renaming it to its current name. Since December 2016, Golden Nugget's online casino has been the highest revenue earner in New Jersey in every single month.
The Golden Nugget opened up its New Jersey online sportsbook in February 2019 which included a partnership with SBTech. The debut happened just in time for football season, and the first bet was made on location for the New York Giants to win the Super Bowl.
In this guide, we will take you through all of the necessary steps to begin betting at the Golden Nugget online sports betting site.
1) Step One: Sportsbook Registration
The first thing that you will need to do before betting online with Golden Nugget is to register an account. You can complete this on the Golden Nugget's online sports betting site. Once you are on the site you can click on the red 'Sign Up' button in the top right corner of the screen. Clicking on this will begin the registration process.
Golden Nugget Registration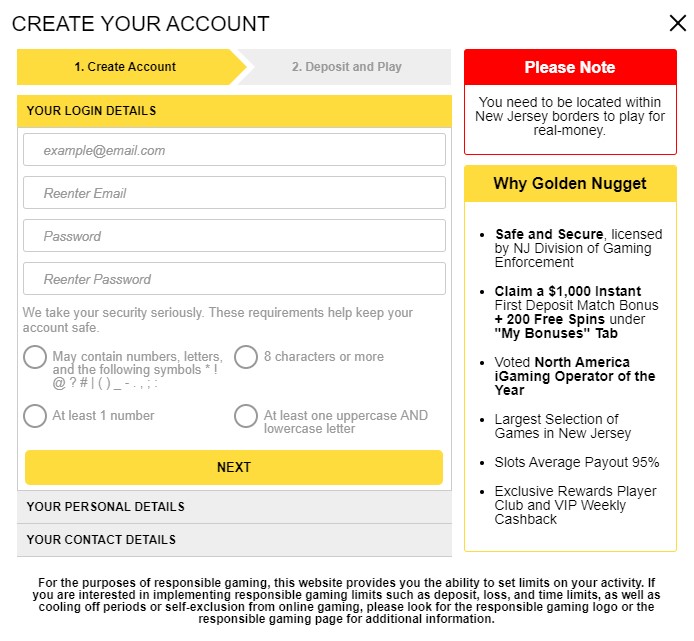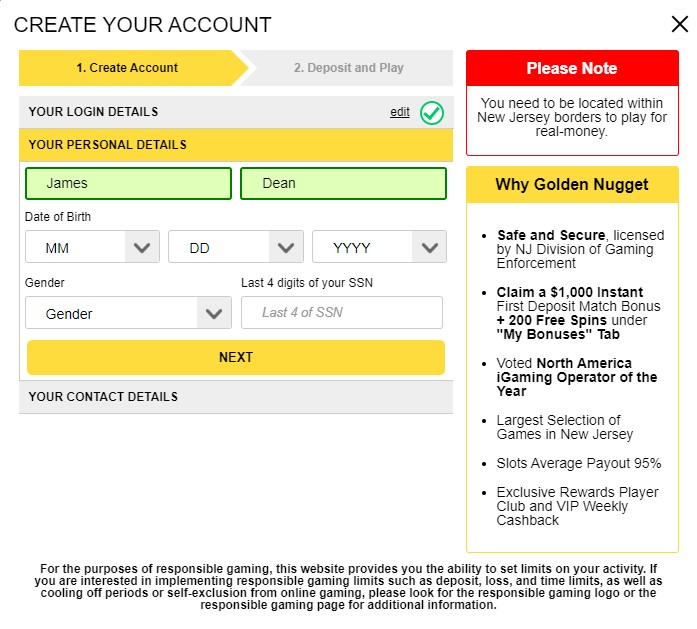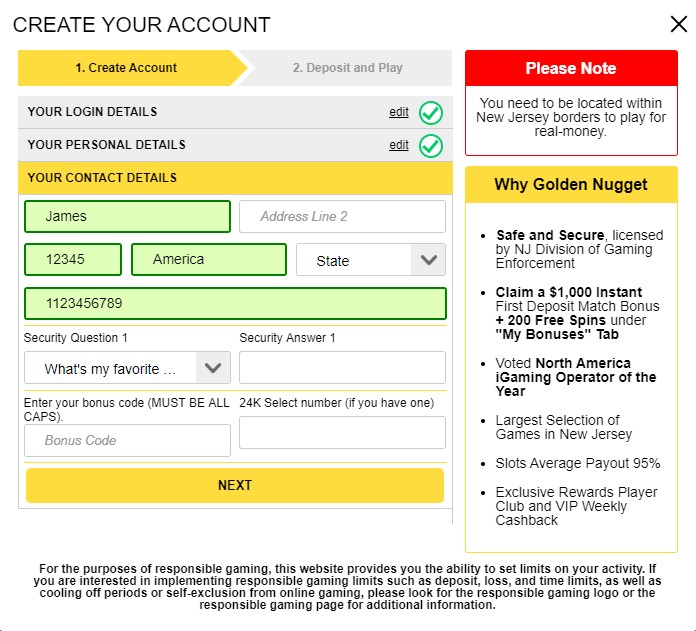 Throughout the registration process it is important that all of the information that you enter is both correct and up to date. Golden Nugget will verify all of this information after registration is completed. If something is not correct or not verifiable, Golden Nugget will not be able to approve your account and may ask for additional documents.
The registration is divided into two parts, with multiple sections in the first. The second part will simply prompt you to make a deposit into your new account. There will also be terms and conditions near the end that you will need to agree to or confirm. These will be in line with the laws and rules laid out by New Jersey, the US and Golden Nugget in relation to sports betting.
The account you create will be a general Golden Nugget account. This means that you can use this account not only for sports betting, but also for the casino and poker sections of the site. While playing on the site, you easily switch between these sections and begin playing with only a couple of clicks. 
2) Step Two: Complete Registration - Golden Nugget and New Jersey Terms and Conditions
The information that you will need to provide when going through the registration at Golden Nugget will coincide with other sportsbook sign ups in the state.
The terms and conditions laid out by Golden Nugget will have their own rules and unique information, so it is best to read through them so you can better understand how the site operates.
You will begin the registration process by filling in your login details. This includes your email address and a password that you will select for the site. The email address that you enter will also serve as a way for Golden Nugget to contact and alert you to details about your account, including its approval.
Your social security number will be the form of identification that Golden Nugget will use to verify the information you have entered. Your date of birth is also key information for the sportsbook.
Once you have entered in this information you can move onto the next section, which will include some personal details. After completing account details on the next page you willfinish the registration with the terms and conditions at the end of the registration. 
There are a couple of things that we will address in this section:
Address

Bonus codes
It is important to not that you do not need to live in the state with legal sports betting to create your account. With the use of geographic location information, you will be able to log in to your account and make bets whenever you are visiting or in the state. Use of geographic location services is due to federal regulations regarding sports betting,.
Although entering in a bonus code is optional, we believe that all players should take advantage of sportsbook bonuses. To get a bonus code, you can go to the promotions section on the site and select the relevant welcome bonus available. You can find them within the offer's description, which you can enter into this space to receive the promotion.
Filling in this section will bring up four unchecked boxes outlining various agreements and terms of conditions. The first box is the only optional one, and will give you the option to receive special offers and deals from Golden Nugget via text message.
The next two boxes will ask you to certify that both you are 21 years or older and that you will be the only one who accesses your account. Also included are Golden Nuggets terms and conditions and privacy policy., and a box asking you to confirm your information.
Key employees are persons employed either by casinos, sportsbooks or sports organizations in the state that have been prohibited from sports betting. For members of sports organizations such as players, coaches, referees, owners, etc., if you are an exception you will need to fill out a form. 
3) Step Three: Deposit into your account
After you have completed registration, you will immediately be taken to the cashier section on the site and prompted to make a deposit. Golden Nugget has many payment methods in general.
Golden Nugget Deposit Quick Facts




You can do this at any time by returning to the cashier section while logged in and clicking on deposit. There is a long list of deposit options available on Golden Nugget. The wait time and minimum/ maximum deposit amount will depend on the method that you have chosen. 
Golden Nugget offers these methods for deposits:
Visa

Discover

MasterCard

Play+ Card

VIP Preferred

American Express

PayNearMe

PayPal

Online Bank Transfer

Bank Wire Transfer

Cash Cage
This range of deposit methods offered by Golden Nugget covers all of the main options covered on most sports. There are also ways to deposit online and in person. One of the ways to deposit in person is by going to the Golden Nugget Atlantic City location and making a deposit. This can be done in cash during the normal business hours.
PayNearMe is another in-person deposit method and is more convenient due to the number of locations. To use this option, click on PayNearMe in the deposits section, enter an amount you wish to deposit and print off the payslip and take it to participating locations.
American Express, VIP Preferred, Visa and Mastercard all have a minimum deposit requirement of $20. All of the other options will require a minimum deposit of ten dollars, except for a bank wire transfer, where the minimum is $50.
The bank wire transfer also takes the most time to complete, as the process is anywhere from five to seven business days. PayNearMe will take about 30 minutes, while the rest will be instant. 
4) Step Four: Making Bets
The Golden Nugget's casino is the main focal point of the website, with the sportsbook being a section within. The sportsbook itself will carry many promotions and ads for the casino section. This is like many other online sportsbooks of major casinos in the state.
Golden Nugget Site Overview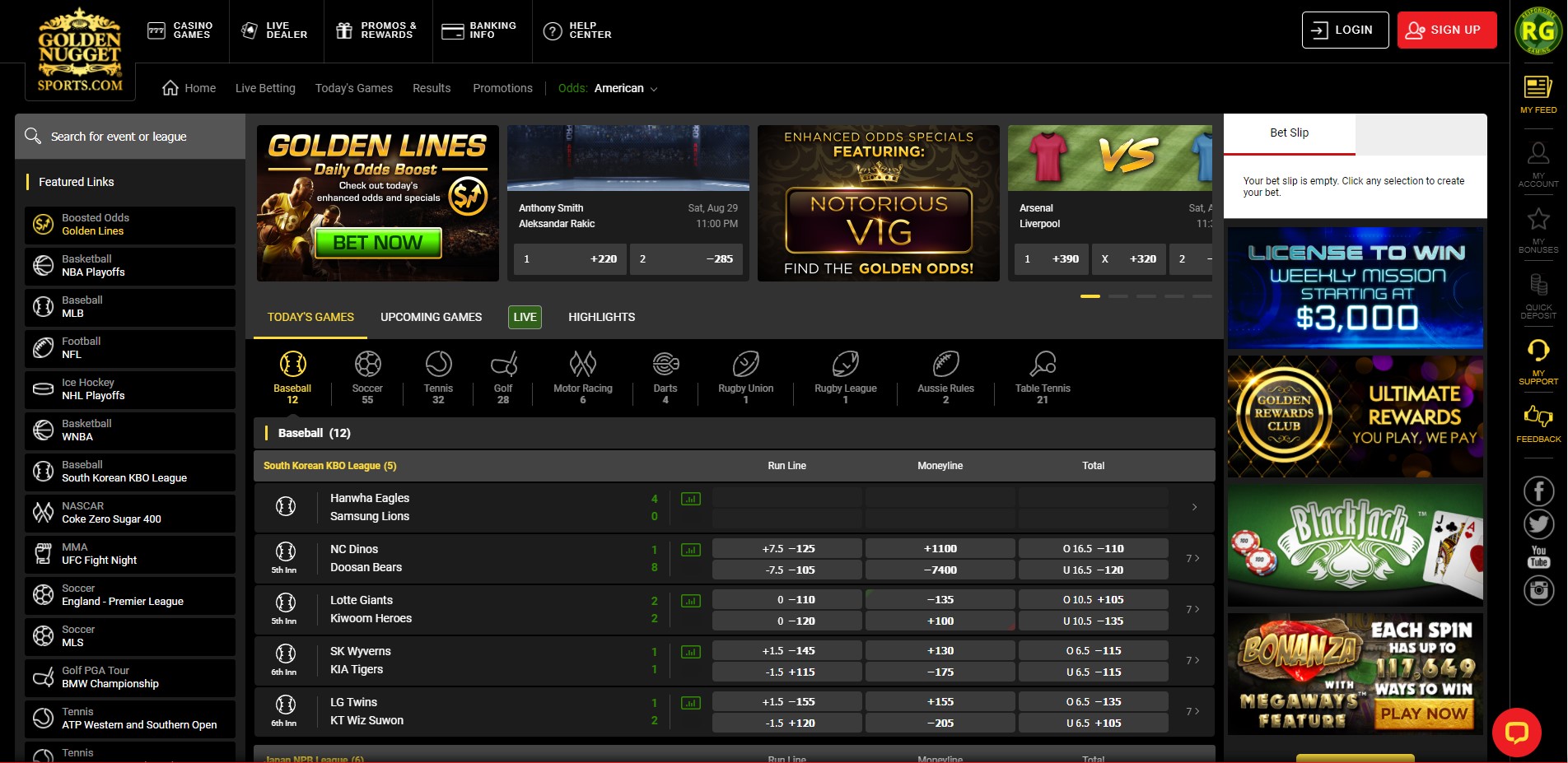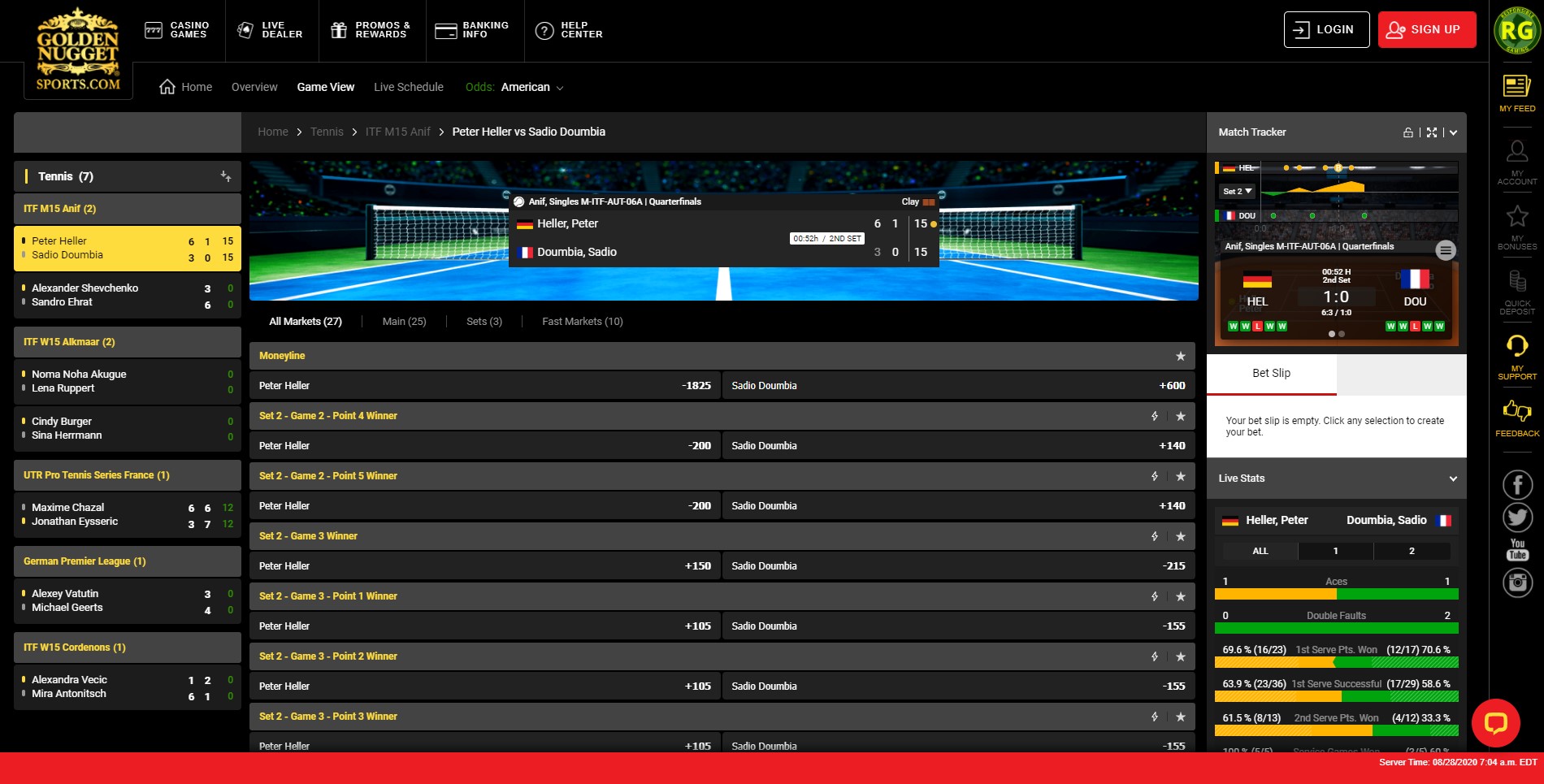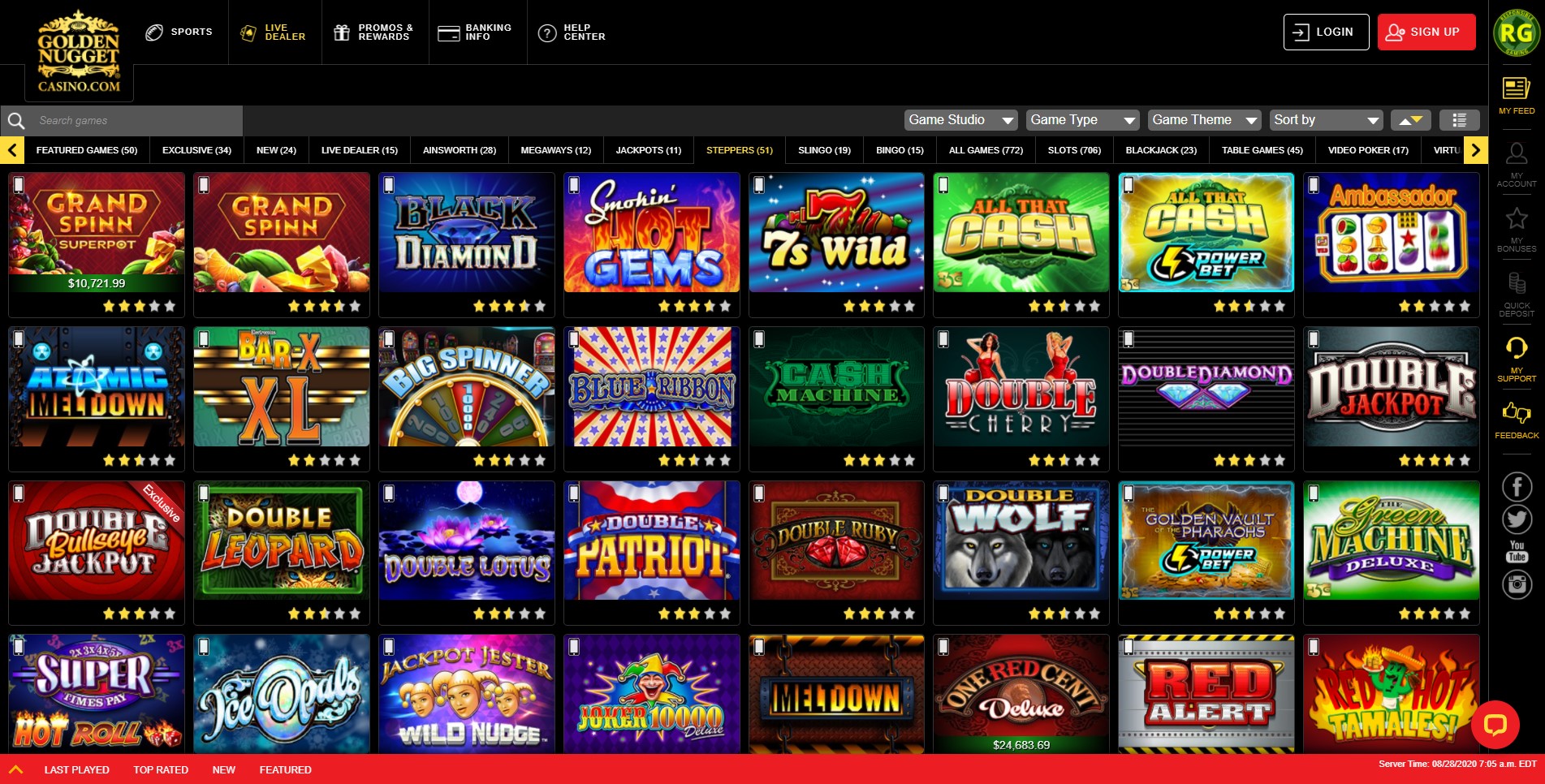 There is also a section titled 'Golden Lines' in the sports section. This will give you inflated odds on a plethora of betting markets. Although similar to 'Odds Boost' sections on other sportsbooks, Golden Nugget has a much higher number of lines here than most. 
In addition to moneylines, over/unders, handicaps, props, futures and teasers; you can also make live bets on Golden Nugget by going to the 'Live Betting' section.
This will show you all of the games that are currently being played in each sport. Clicking on a game will take you to its live screen, where you can watch a match tracker display the game's live events (not available for all games) in real time along with statistics and scoring updates. 
There are many more promotions for the casino, however you can still find more than a few for the sportsbook as well. There is also a rewards program on Golden Nugget, that allows you to accumulate points based on your activity.
5) Step Five: Making Withdrawals
During your time playing on Golden Nugget, you can make a withdrawal of your funds at any time. This can also be done in the cashier section by clicking on withdraw. From there you can choose a method and amount to withdraw.
Golden Nugget Withdrawals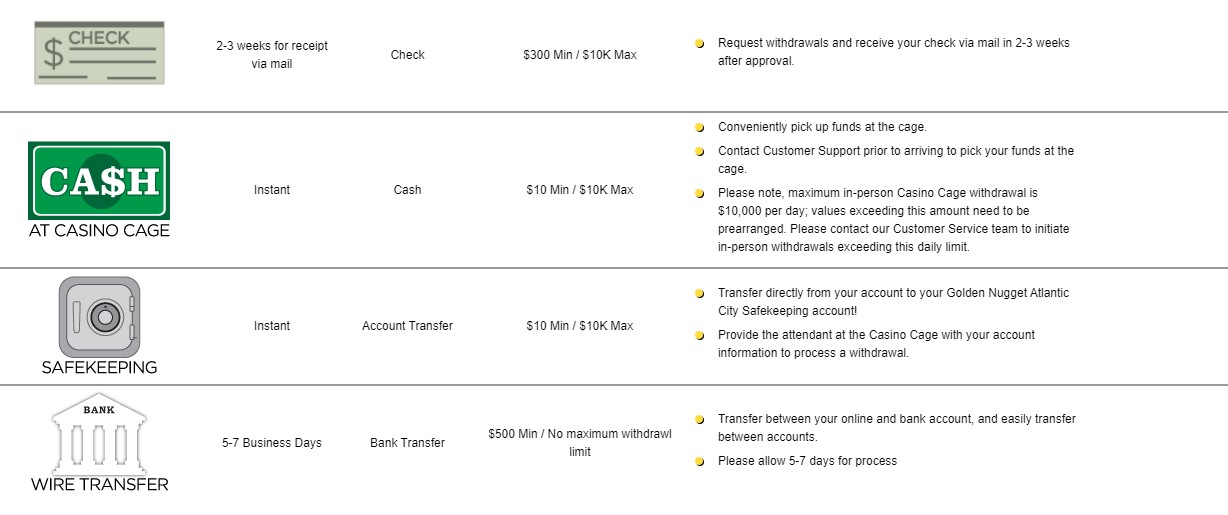 In general on most sportsbooks, the processing time for withdrawals will take longer than for deposits. There will also normally be less options. These are both true for Golden Nugget, however there is still a good number of methods to choose from.
Withdrawal methods on Golden Nugget include:
Play+ Card

PayPal

VIP Preferred

Bank Wire Transfer

Check by mail

Cash at Cage 
The quickest and best method for withdrawals is the Play+ Card. There are two reasons for this. First, the processing time is instant meaning you will not have to wait for your funds to be available after verification. Secondly, the approval time for this withdrawal method is the quickest of all the methods on Golden Nugget. You will also be able to use this for both deposits and withdrawals.
The minimum withdrawal amount for both the Play+ Card and PayPal is ten dollars. For VIP Preferred it is $20 and a wire transfer is $500. Besides the Play+ Card, the quickest method for withdrawals is PayPal, which takes up to 48 hours.
VIP Preferred will take up to two business days while a wire transfer takes anywhere between five to seven business days. Golden Nugget does a great job of displaying the payment methods available, as well as accompanying them with important information. 
Golden Nugget has apps available for both Apple and Android devices. These can both be downloaded for free. The IOS version of the app can be downloaded from the Apple store.

The Android version must be downloaded directly from the sports betting site. To do this go to the Golden Nugget mobile app page and click on the download Android app for your state. You will need to allow downloads from unknown sources in your settings. Once downloaded, go to the app and click install.