Pros
Good selection of sports available
Great customer support options including 24/7 live chat
Lots of betting markets for each competition
Cons
Small selection of payment options
Live betting section without live streaming
Mobile apps not available
Review of the bookmaker Sportsbetting.com from Legalbet
Sportsbetting.com is a relatively new face in the United States gambling industry. The desktop sportsbook was launched by iGaming brand Carousel Group in Colorado in September 2020. The launch signifies the company's first step into the American market and comes with plenty of great features.
New portion of the site complete with game previews, betting guides and predictions
Live betting section with updating odds and match tracker to follow most games
Consistent promotions and odds boosts available for all competitions
Great variety of sports including both US and international 
Despite the somewhat late release, the sportsbook is loaded with live betting, promotions and plenty of other great betting features right from the start. According to the site, Sportsbetting.com has a major focus on customer service, and backs this up with a 24/7 live chat, guaranteed payouts and high class data security on the site. The site also has contact options for social media outlets as well. 
The sportsbook should have no trouble competing in the industrious sports betting market. With a good selection of sports and long lists of betting markets for each competition, Sportsbetting.com looks to be a main player in Colorado, and possibly other states as well. The site as it sits is already a competitor. 
Sportsbetting.com Official Site
The mobile sportsbook Sportsbetting.com has a familiar design and layout that can be found on most online sports betting sites. Through the main page, tabs on the side and the top of the screen will take you to different sections of the site. Through the center of the page, Sportsbetting.com lists the upcoming games and lines in each sport.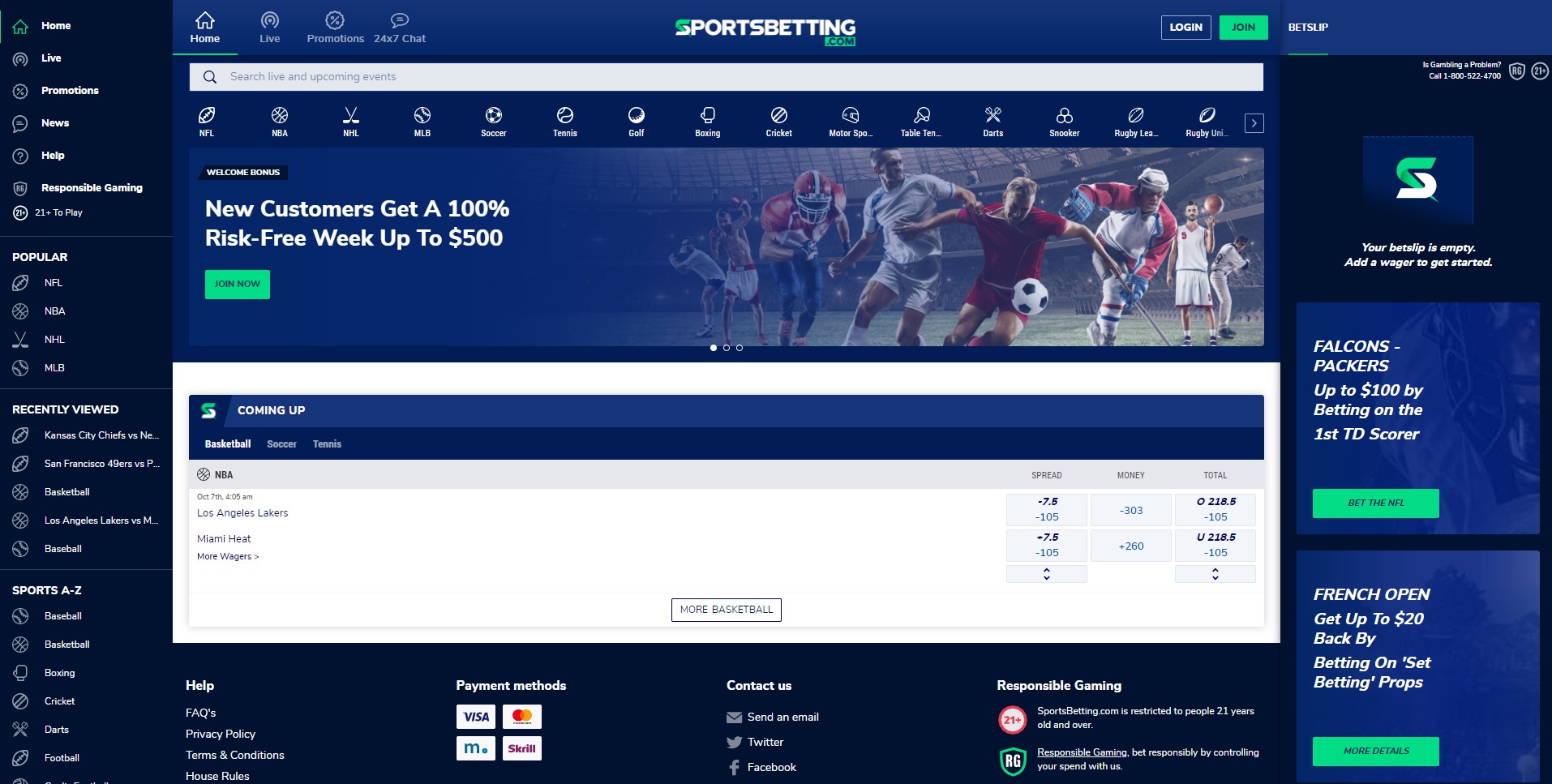 Each section on the site is easy to access and the navigation is smooth. Both live and upcoming games will take up the center of the screen. What sportsbetting.com has done extremely well is to add a filter which allows you to see the games for different sports, rather than just having one section of games. Sportsbetting.com currently has around 15 different sports available. 
Baseball
Basketball
Boxing 
Cricket
Darts 
Football
Gaelic Football
Gaelic Hurling
Golf
Hockey
Motor Sports
Rugby
Snooker 
Soccer
Table Tennis
Tennis
Motorsports include bets on popular forms of racing including NASCAR, Indy Car Racing, Formula 1 and more. There are also two different rugby leagues available including Rugby League and Rugby Union competitions.
The complete list of sports can be found by going to the A-Z sports on the left side of the screen. Whenever there is a sport with games available they will appear in this section. 
Other sections found on the site include promotions, live betting, news and a section for odds boosts. This last section will feature different wagers from sports that have recently had their odds raised.
The news section is a great added touch to the sportsbook, as players can go there to find sports blogs, game predictions and other interesting information for betting. 
Registration & Verification
Sportsbetting.com launched its online sportsbook in the state of Colorado. This is good news for bettors in and around the state, since the state allows for registration to be done completely online. Other states may require players to register in person at a physical location.
Since the process in Colorado is online, some key steps can be followed to complete registration. 
Go to the main page of SportsBetting.com 
Click on the green 'Join' button in the top right corner
Complete the required information accurately and fully
Wait for the confirmation email from sportsbetting.com
The registration process on sportsbetting.com differs from other sportsbooks mainly in the length of registration. This is a good thing for players, as the process is much shorter than other sportsbooks.
There is only one section that needs to be filled out to complete the process, which will ask you for important information such as age, address and social security number. 
After this section is completed, sportsbetting.com will send the player an email confirming that the account has been successfully created. From there, logging in can be done with the email address and password created during registration.
Players will also have the option to immediately choose a deposit method to get started playing. 
Sportsbetting.com Bonuses
The bonus section on sportsbetting.com is where you can find offers that will help to enhance your sports betting in some way or another. Sportsbetting.com will often update the promotions available in this section.
Most of the time the offers will coincide with major leagues and competitions that are currently ongoing. Players can accept any of the bonuses listed in this section.
Deposits & Withdrawals
Payment transactions can be done completely online on sportsbetting.com in the same as registration. After successfully creating an account, players will have the ability to make deposits anytime by logging into the account and clicking on the green 'Deposit' button.
Players will have a couple of options to choose from when making an online deposit. 
Minimum deposit on sportsbetting.com: $10
Unfortunately, neither of these options are widely popular or common however it is expected that more payment methods will be added in the future. Skrill and Mazooma are online wallets that allow you to store and transfer money to entities like sportsbooks. Skrill in particular is widely used by sportsbooks.
The good news, however, is that both of these methods can be used for both deposits and withdrawals. Deposits using these methods are also usually done instantly.
Like deposits, these two methods are currently the only ones available for withdrawals on the site. Making any payment transactions for the first time will require you to verify your identity.  
Sportsbetting.com News Blog
One of the more unique features that can be found on the sportsbetting.com site is the news section which can be accessed from the main page.
This section will open in a new window with a massive selection of news articles, previews, sports betting guides and other blog-related materials. The home page of this section features the most relevant materials and recent news in sports.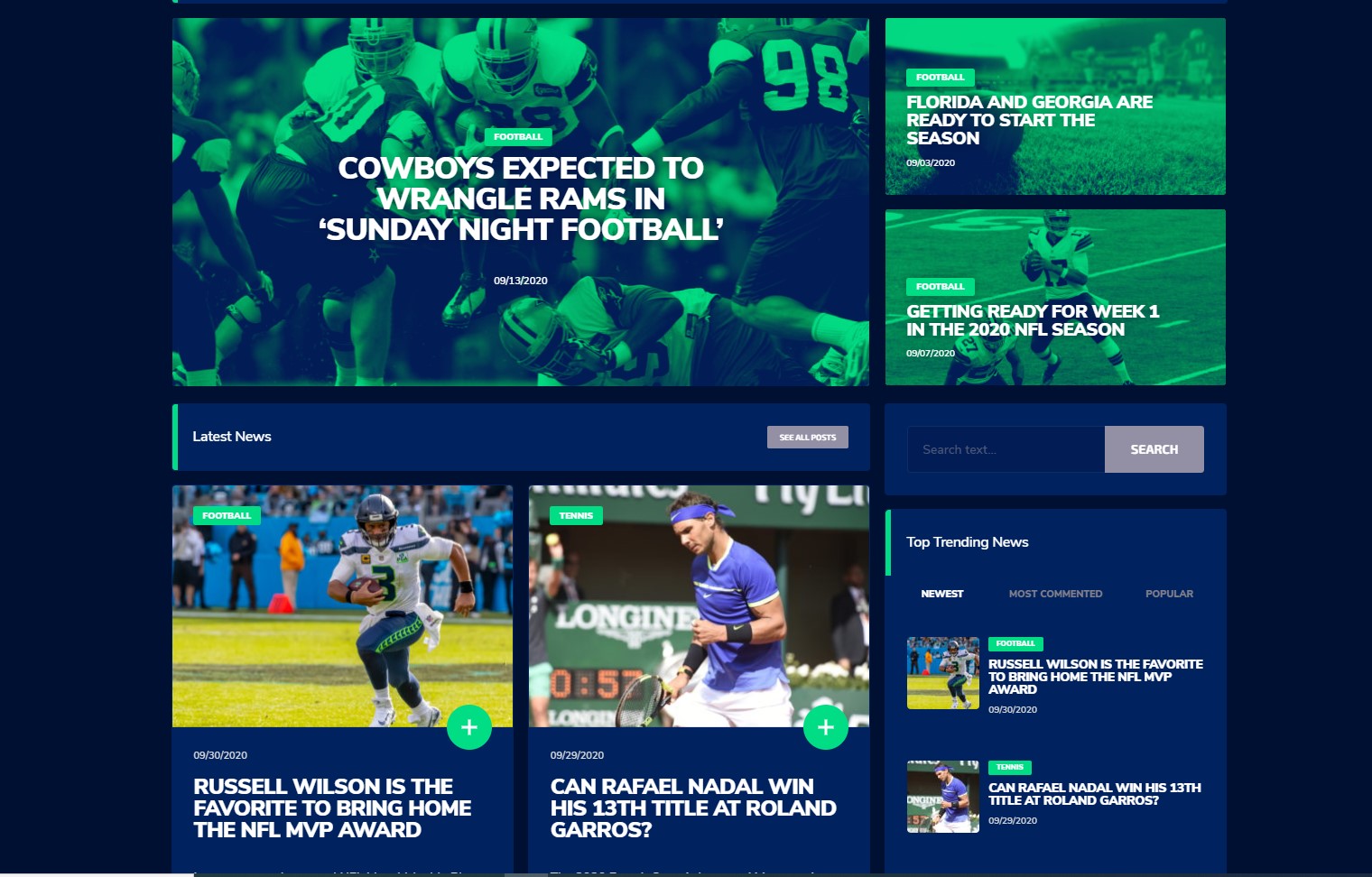 Though some other online sportsbooks have added this feature in one way or another, sportsbetting.com stands out for a couple of reasons. Firstly, the selection and variety of news materials is incredibly vast.
Players can search for game previews filled with free predictions, previews and odds updates. This serves as a great source of information for upcoming events. 
Sportsbetting.com also presents this section with a great design and layout, making different sections easy to navigate to. Each different sport or section in the news category can be found easily, saving time browsing for specific competitions.
The sportsbook also does a great job with the sports that it features. This news section adds another dimension to sportsbetting.com that does an excellent job benefiting users on the site. 
Updated: 04.06.2023
Information about the company